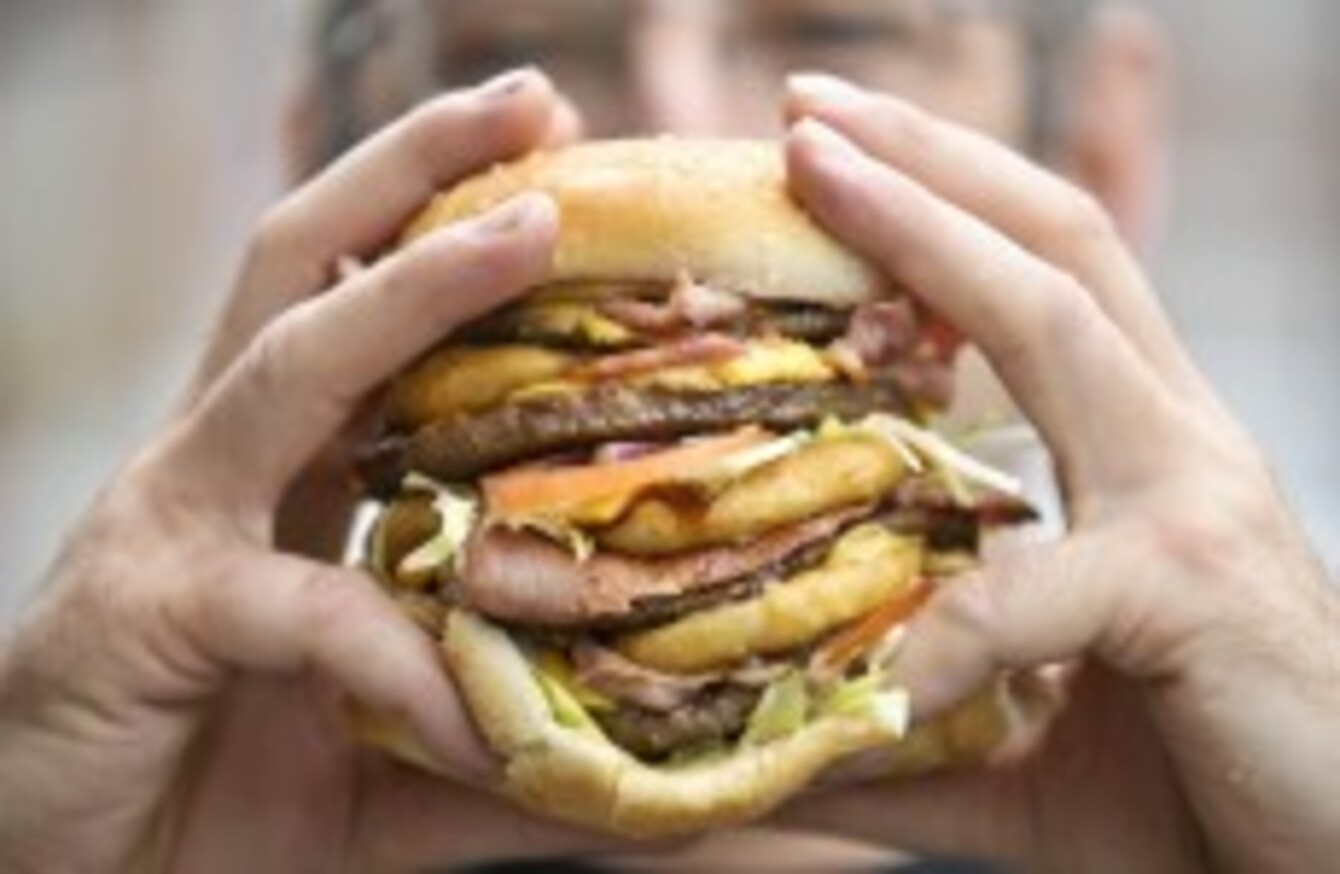 File photo
Image: Ben Birchall/PA Wire/Press Association Images
File photo
Image: Ben Birchall/PA Wire/Press Association Images
HOW MUCH FAT and salt is in a burger meal – and what about the calories?
A new report reveals that what may be a lunchtime treat for some contains more than a day's worth of calories, fat and salt for adults.
Safefood has published new research that shows that eating a burger meal with extra toppings, large portion side dishes and a large soft drink can provide up to 100 per cent of an adult's Guideline Daily Amounts for calories, fat, and salt.
Children
Children don't escape either – the research looked at 'kids' burgers and found that one third of takeaway burgers marketed as 'kids' size are actually larger than a 'regular' size burger.
The research carried out across 240 takeaways found that an adult ordering a standard quarter pounder with all the trimmings (bacon and cheese topping), a regular portion of chips and a medium soft drink would be consuming, in one sitting, approximately 1,500 calories.
This  contributes to over two thirds of the adult guideline amount for calories without accounting for other food consumed during the day.
If some larger portions are added, the recommended calorie intake for an adult for the entire day could be met.
Without the trimmings the burger alone provided greater than 50 per cent of an adult's guideline amount for protein and almost 40 per cent of the guideline amount for fat.
Fast food
According to safetrak research, 24 per cent of people across the island of Ireland said they ate fast-food or a takeaway once or twice a week.
Dr Cliodhna Foley-Nolan, Director of human health and nutrition at safefood said:
Almost a quarter of food adults consume today is prepared outside of the home, and consumers consistently say they want the appropriate information to make better choices. While takeaway burgers are a source of iron and protein they contain considerable levels of fat and salt.

In addition, the usual burger meal is not balanced and is practically devoid of vegetables and fibre.
An examination of 240 burgers within three categories (kids, regular and quarter pounder) from 47 takeaways found:
An average 'quarter pounder' takeaway burger had almost twice the calories of a 'regular' sized burger
There is no difference in the nutritional content of burgers per 100 grams between independent takeaway outlets and international franchises
Independent takeaways provided larger size 'kids' burgers compared with international takeaway premises
A topping of cheese and bacon on a regular burger can add 200kcals
In theory, 'kid's' size burgers should be proportionately smaller in size when compared with an average 'regular' sized burger. However the research found that both burger types were similar in size, weighing on average 4oz (113 grams).
Portion sizes
Foley-Nolan said that people "need to be aware of portion sizes when it comes to ordering takeaway burgers".
Takeaway burgers are a meal and should not be considered as just an in-between meals or late-night snack. More often than not, when ordering burgers, people also order a portion of chips and soft drinks. Some of the 'kids' burgers (meat and plain bun only) that were analysed contained up to a quarter of recommended calories and saturated fat and roughly half of recommended salt intake for a child.
She said that people need to consider healthier options when eating takeaway burgers:
Ask for smaller burgers or a regular burger without toppings ie; bacon and cheese
Eat more vegetable such as lettuce, tomato, onions, and pickles
Ask for lower fat cheese options
Consider eating chips or the bun rather than both so we don't have too many starchy foods in the one meal
Reduce or do not ask for sauces on burgers
If choosing sauces opt for relish, tomato ketchup or low fat mayonnaise
Consider burgers as an occasional food
The report "What's in that Bun?" can be downloaded from the safefood website.