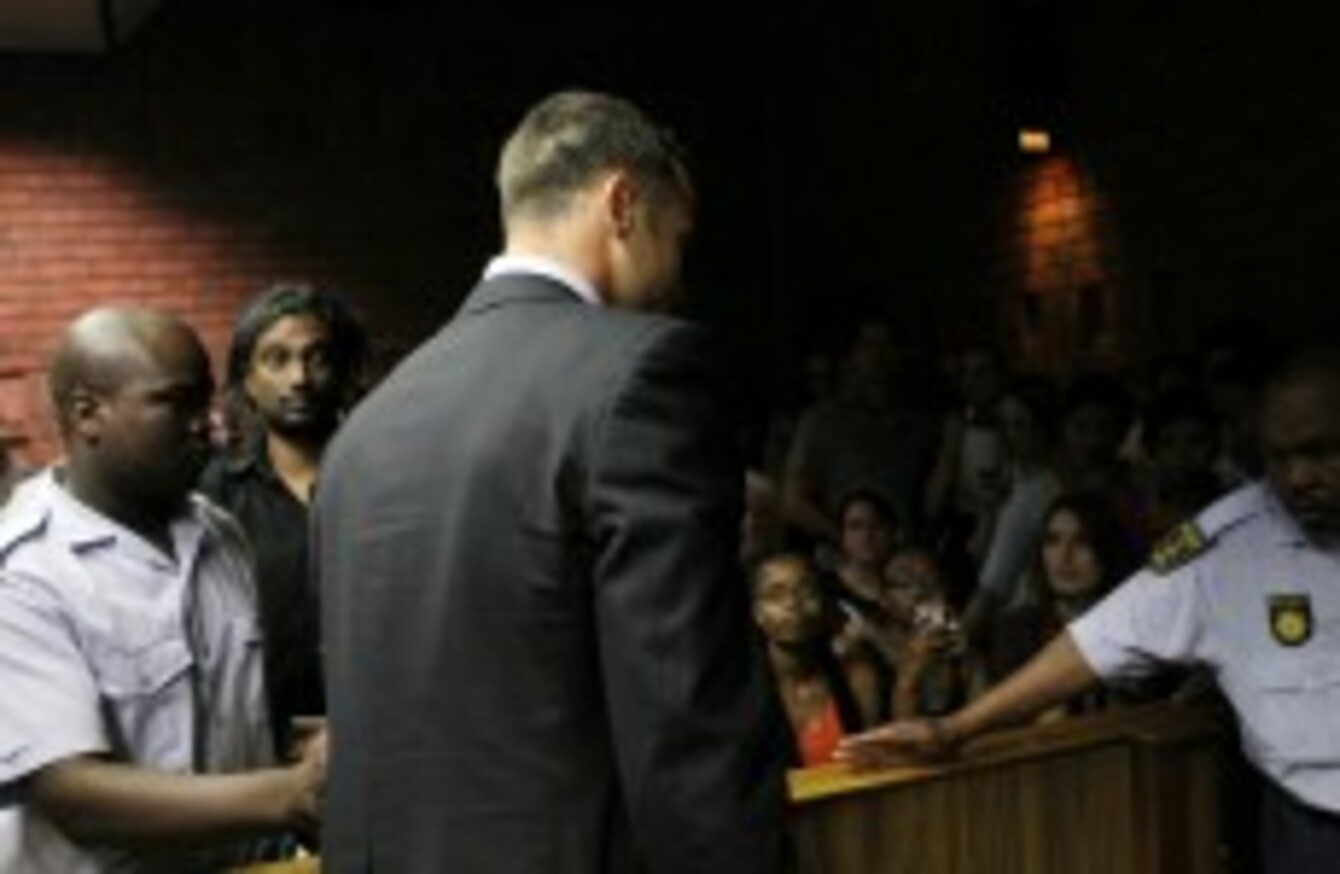 Pistorius in court last Friday.
Image: Themba Hadebe/AP/Press Association Images
Pistorius in court last Friday.
Image: Themba Hadebe/AP/Press Association Images
OSCAR PISTORIUS IS to face a pre-meditated murder charge, a South African court ruled today.
An emotional and exhausted-looking Pistorius, accused of killing his 29-year-old girlfriend Reeva Steenkamp, appeared at a Pretoria courthouse today to apply for bail.
It is less likely the Paralympic athlete will be granted bail after the magistrate outlined the charge – for the purpose of the application – will be considered as pre-meditated murder. His defence team will have to outline 'exceptional circumstances' for a successful outcome. Before court took a short break, the magistrate said the charge may be reduced after this bail hearing, depending on evidence.
According to Karyn Maughan, an ENCA reporter in court, the Pistorius family held an "impromptu prayer meeting" after the ruling. The defendant was also seen weeping as the decision was voiced.
Reporters and family packed into the courtroom this morning for the hearing, during which prosecutors argued pre-meditated murder, while the defendant's team tried to dismiss the claim.
The 26-year-old appeared in the dock at the Pretoria magistrate's court in a black suit, blue shirt and grey tie and stared straight ahead anxiously. Magistrate Desmond Nair greeted Pistorius and asked if he was "well".
Journalists tweeting from the hearing said the accused was 'sobbing' into a hankie and blowing his nose during the initial part of the proceedings.
Barry Roux, Pistorius's lawyer, said that there was no murder at the athlete's house on the morning of St Valentine's Day. His team continue to argue that the shooting was accidental, a result of a perceived intruder.
The State, however, has brought forward a case of schedule six premeditated murder, which carries a life sentence. Prosecutor Gerrie Nel said that the Paralympic champion had a motive for killing the model but did not elaborate.
Both camps agree that Steenkamp was shot a number of times through the bathroom door, which was locked.
Nel's version of events include Pistorius getting out of bed, putting on his prosthetic legs, walking seven metres to the toilet door and shooting the victim.
"It was pre-planned up until the time that he shot her. If he felt bad after that, that's something different."
There was no mention of a bloody cricket bat reportedly found at the scene during the morning's proceedings.
Earlier this morning, the Steenkamp family gathered for an intimate memorial for the 29-year-old victim.
-Additional reporting by AFP