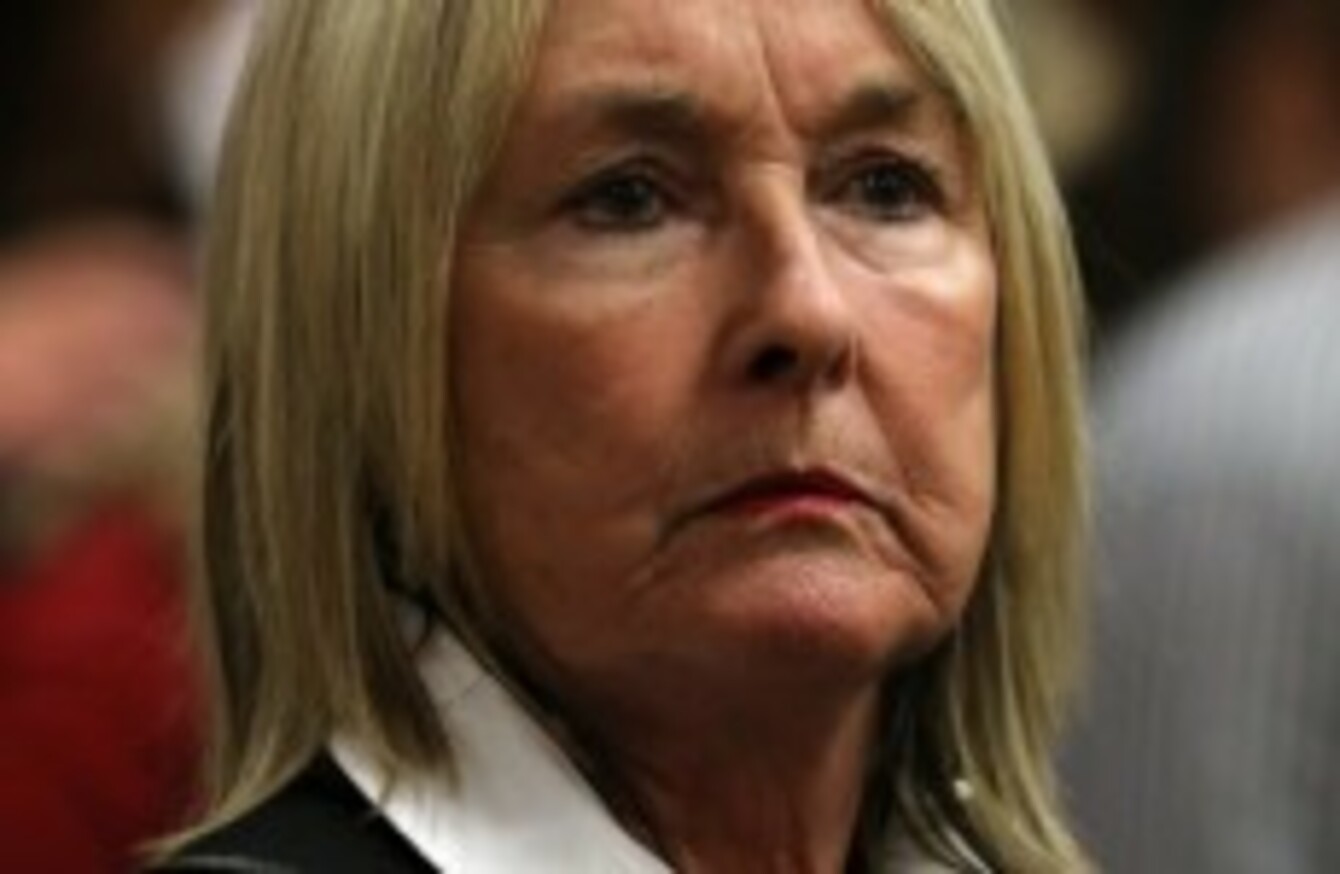 June Steenkamp, mother of the late Reeva Steenkamp in court today.
Image: AP/Press Association Images
June Steenkamp, mother of the late Reeva Steenkamp in court today.
Image: AP/Press Association Images
Updated 1.45pm
A TEARFUL OSCAR Pistorius apologised to the family of Reeva Steenkamp when he took the stand at a South African court this morning.
The 27-year-old, who is accused of the pre-meditated murder of his girlfriend last year, said he "was trying to protect Reeva".
"My lady, if I could please just start off my evidence by tendering an apology," he asked the judge.
"I would like to take this opportunity to apologise to Mr and Mrs Steenkamp, to Reeva's family, to those of you who knew her who are here today – family and friends," he said while pausing, stammering and his jaw trembling.
"I would like to apologise and say there is not a moment – and there hasn't been a moment – since this tragedy happened that I haven't thought about your family.
I wake up every morning and you are the first people I think of. The first people I pray for. I can't imagine the pain, the sorrow, the emptiness that I have caused you and your family.
"I was simply trying to protect Reeva. I can promise that when she went to bed that night, she felt loved.
"I have tried to put my words on  paper many, many times to write to you but no words would ever suffice," he said as the Steenkamps sat stone-faced in the courtroom.
Source: eNCAnews/YouTube
The defence team started to put its case forward today.
Pistorius revealed that he has difficulty sleeping and that he suffers with "terrible nightmares".
His lawyer, Barry Roux, questioned him softly about his childhood and upbringing, including his medical history.
He also noted that he has been taking medication. He also recalled a moment, in the middle of the night, where he could not calm himself so he hid in a cupboard and called his sister.
Pistorius sounded more comfortable as the questioning shifted to his childhood and his background in sport. He spoke about being "one of the boys" and about never feeling that he had a disability.
He described his prosthetic legs, not as a disability, but a means to allow him to overcome some difficulties.
Roux pushed a number of questions about Pistorius's mother, who passed away when he was a teenager.
"When she passed away, it was very unexpected," the Paralympian said.
"My brother and I didn't even know she was sick…We weren't informed she was sick, by the time we were, she was already in a coma."
Pistorius also gave a chronological account of his sporting career and his humanitarian work, again sounding more comfortable with the topics.
Before breaking for lunch, the court heard some details about Pistorius's habits with his prosthetic legs – when he takes them off, where he leaves them – a subject that will be of interest when discussing that fateful night.
After the break for lunch, there was just 50 more minutes of proceedings before the defence asked for an early adjournment on account of the witness's exhaustion.
Pistorius had said he got "no sleep" last night.
"The weight of this is extremely overbearing," he told the court.
The judge agreed that Pistorius looked and sounded exhausted and granted the request. There was no objection from the State but Gerrie Nel noted that he would not like to see this reason used daily.
At the end of the day, June Steenkamp left the courtroom after exchanging hugs with members of the ANC's Women's Leage who have been with her throughout.
Pistorius was surrounded by his family as he left the witness box.
During his post-lunch evidence, he mentioned how he was "bowled over" by how much he felt for Reeva. He also told the court how she was a "strong Christian" who would pray for him.
There has been no mention of the Valentine's Day shooting since his apology.
The trial resumes tomorrow morning.