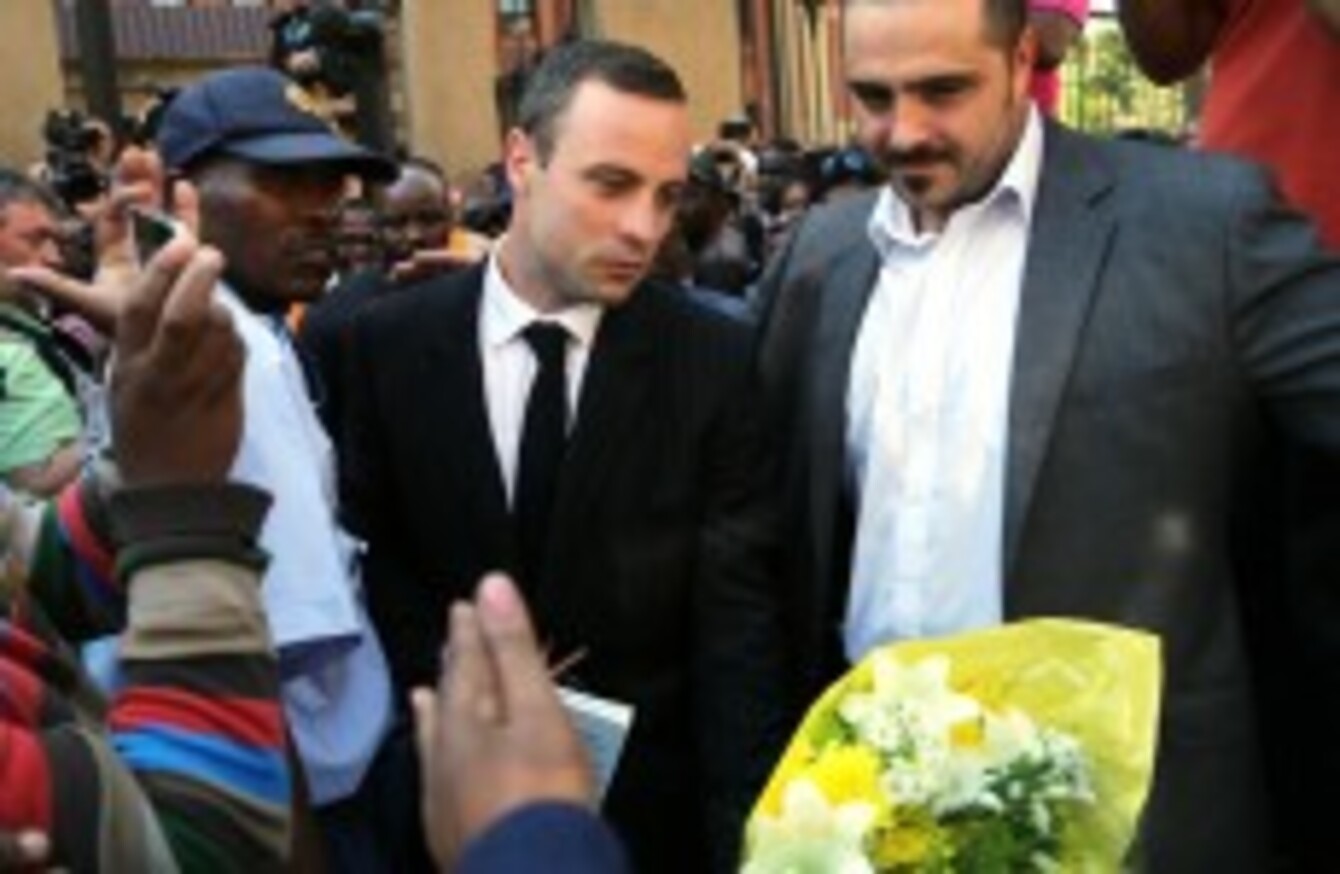 Image: AP/Press Association Images
Image: AP/Press Association Images
IT WAS A charged and emotional week at the Pretoria courtroom where Oscar Pistorius stands accused of murdering his girlfriend Reeva Steenkamp on Valentine's Day last year.
The 27-year-old athlete continued to give evidence and was under consistent pressure during a cross-examination by the State's counsel, Gerrie Nel.
Also known as the Pitbull, Nel used every opportunity to remind his witness what he had done in the early hours of 14 February 2013 – regardless of which version is accurate, the State's or the athlete's.
"You shot and killed her, won't you take responsibility for that?" he asked, while taking as many opportunities as he could to remind the court that a life was lost because of the accused's actions.
The Paralympian has admitted to shooting dead his girlfriend on Valentine's Day last year but claims it was an a case of mistaken identity. He says he believed there was an intruder in his home when he shot four bullets through a locked bathroom door in his bedroom.
The trial is expected to continue into next month but South Africa's focus on it intensified this week because of Pistorius's time in the witness box.
Here were some of the key points from the week's proceedings.
1. Zombie Stopper
A Sky News video clip was the centre of much controversy between the two legal teams.
Source: travelchannel34/YouTube
Nel wanted to show Pistorius the video but his legal team, led by Barry Roux, objected on the grounds that it was an 'ambush' of new evidence.
After legal arguments and a short adjournment, Judge Mapisa ruled that the video could be shown – but only after it was shown to the defence team privately.
In the video, Pistorius is seen shooting a watermelon and laughing uncontrollably.
Judge Mapisa objected to Nel comparing the shooting of Reeva Steenkamp to what was seen with the fruit.
The Pitbull had told Pistorius: "It is the same thing as the watermelon. You had it now in practice."
2. Graphic Content 
June Steenkamp, Reeva's mother, bowed her head in the gallery as a picture of her daughter's bloodied head was flashing on screen on Thursday.
Talking to reporters afterwards, she said she understood why the State used the image, where Reeva's brain matter was visible outside her skull.
Pistorius refused to look at it and became extremely distressed.
"I've taken responsibility…waiting for my time on this stand to tell my story for the respect of Reeva and for myself.
I've taken responsibility but I will not look at a picture where I'm tormented by what I saw and felt that night.
"As I picked her up, my fingers touched her head. I remember. I don't have to look at a picture. I was there."
Source: CCTV Africa/YouTube
3. Tailored Evidence
The prosecution was visibly exasperated by Pistorius's behaviour on the stand, throughout the week.
Nel accused him of tailoring his evidence to suit his version. He also pointed out on a number of occasions that Pistorius has a selective memory about that fateful night.
The accused countered the claims, stating he recalls most things from before the shooting but that his memory is not good from that moment on.
Seeking to pick apart his timeline, Nel said that the Paralympian was "trying to cover up for lies".
"Your version is so improbable that nobody would ever think it's reasonably, possibly true it's so impossible," he shouted to the courtroom on Thursday.
"Your version… is a lie."
4. Pistorius is under pressure
"This is the night I lost the person I most cared about, I don't know how people don't understand that," Pistorius said through sobs yesterday.
The athlete has barely been able to keep his composure during the proceedings.
The court was adjourned early on both Monday and Tuesday because of breakdowns.
His psychologist and his family have been at his side within seconds of court adjournments. He also noted that he is not sleeping well and tires easily.
5. Pistorius did request a meeting with the Steenkamps
On Thursday, Nel accused Pistorius of apologising to the Steenkamps at the beginning of his evidence to make himself feel better.
Yesterday, however, the lawyer began the day by confirming that Pistorius had requested a meeting with the Steenkamp family.
June Steenkamp wanted to put it on record that the request was made but that they weren't ready.
On Monday, he started his evidence by tendering the apology. Watch it here:
Source: eNCAnews/YouTube
6. The Judge was not happy
Judge Mapisa, who will decide on Pistorius's fate with her two assistants, chided members of the public gallery.
Leaning forward in her chair and obviously annoyed, she chided them for treating the trial as entertainment.
"For those of you who possibly think this is entertainment, it is not," she said after there was a brief burst of laughter from both Nel and the gallery.
7. Pistorius says he was 'besotted' 
Questioned by his own counsel early in the week, Pistorius spoke about how he had fallen for Reeva.
"The first six days we knew each other we called each other every day," he said, mentioning that he was 'besotted' by her.
I was very keen on Reeva. I think if anything I was more into her, than she was at times with me.
His defence lawyer, Barry Roux, asked him to go through a vast array of WhatsApp messages that the couple sent to each other.
The majority were caring texts, sent with numerous kisses (x), words of endearment such as 'Boo', 'Baba' and 'Angel' and Pistorius telling Steenkamp that he liked her a lot.
However, there was much commentary on the lack of the word 'love' being used. In one of the WhatsApp messages sent by Reeva to Pistorius, she explained that she wanted to tell him that she loved him on a certain weekend but then they had a fight.
Pistorius told the court he was upset that she mentioned love for the first time in this context.