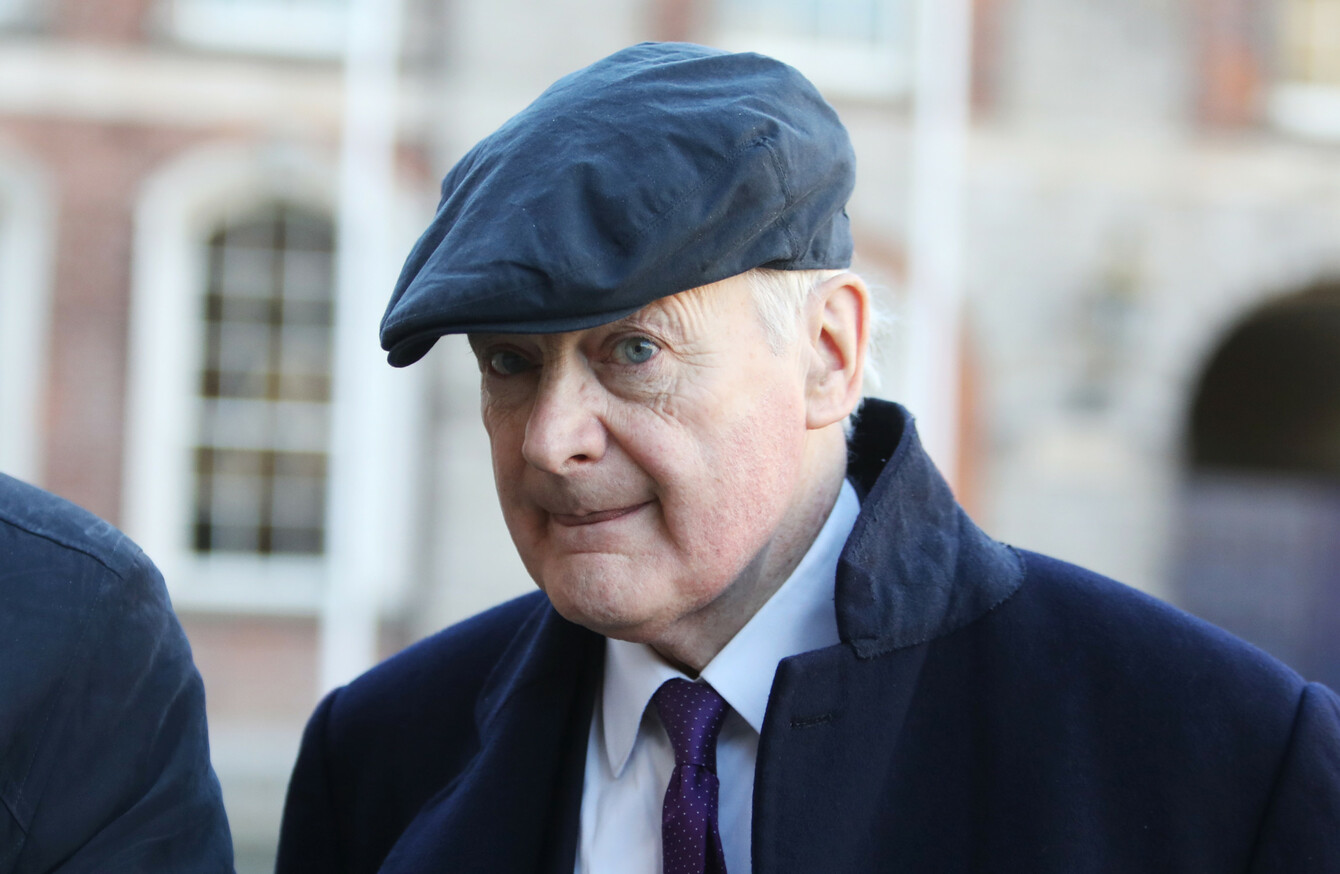 Image: Leah Farrell/Rollingnews,ie
Image: Leah Farrell/Rollingnews,ie
THE SENIOR BARRISTER who represented the garda commissioner at the O'Higgins Commission into complaints by whistleblower Sergeant Maurice McCabe has said that he regretted errors made in a letter outlining the instructions the legal team received.
Colm Smyth SC said that it was remiss of him not to apologise when the error became clear.
"I regret that it was done. It was done on the explicit instructions of the client, who got it wrong," Smyth said.
The Disclosures Tribunal is examining whether unjustified grounds were inappropriately relied upon by the former Garda Commissioner Nóirín O'Sullivan to discredit Sergeant McCabe at the O'Higgins Commission.
The commission, which sat in private in 2015, investigated complaints made by McCabe about certain policing matters but also serious allegations against senior officers including then-Garda Commissioner Martin Callinan.
"Paranoiac"
Smyth and two junior counsel represented the garda commissioner and several senior garda officers before the Commission of inquiry in 2015.
The Tribunal heard that a document given to the legal team described Sergeant McCabe as a "paranoiac".
Michael McDowell, representing Maurice McCabe, said the document, which had been circulated to legal teams yesterday, appeared to be an extract of an internal garda report into the allegations made by McCabe.
He said that he was never aware that Nóirín O'Sullivan had access to this document, so would like her to be recalled for questioning on that basis.
The Tribunal also heard that Smyth felt that, given his analysis of the evidence, that Maurice McCabe was the "accuser" at the O'Higgins Commission.
Crucially, he also said that he didn't receive instructions by Nóirín O'Sullivan to challenge McCabe's integrity.
Smyth said he never used the word "integrity" or "malice", and that those words were introduced by Mr Justice O'Higgins at the inquiry.
Error in letter
The letter, prepared by the garda commissioner's legal team, said that Sergeant McCabe had told Superintendent Noel Cunningham that he made complaints against a senior officer, Chief Superintendent Michael Clancy, in order to pressurise the chief superintendent into releasing directions from the DPP not to prosecute a case against McCabe.
A historic allegation of abuse made by Ms D against Sgt McCabe was investigated in 2007, and the DPP recommended no prosecution, saying there was no evidence any crime had taken place.
Smyth said that in fact Chief Superintendent Clancy had requested that Sgt McCabe make a report outlining difficulties he was having after the case was closed, so the DPP would understand the situation he was in and consider releasing his directions to the families involved.
Smyth said that notes taken by Superintendent Cunningham tallied with the transcript of an audio recording made by Sergeant McCabe, but what was put in the letter by his legal team was a wrong version.
#Open journalism No news is bad news Support The Journal

Your contributions will help us continue to deliver the stories that are important to you

Support us now
Smyth said he remembered hearing the words "political dynamite" after he was asked to clarify that he was acting on instructions from the garda commissioner at the commission hearings on 15 May 2015, but did not recall the context in which it came up.
He said that his solicitor, Annmarie Ryan, was always of the view that the hearings were "a very sensitive area" because of the publicity surrounding McCabe and media momentum.
Smyth said he told Ryan he was available that weekend if the garda commissioner needed to meet him. He told the tribunal that he was concerned to meet her as she was his primary client, but he was informed she wasn't available.
Smyth said that a meeting with the commissioner in her office on 21 May 2015 was not a consultation. He said that he was not comfortable meeting without a solicitor present. He said that it was not a formal meeting and the commissioner just wanted to meet him personally.
Smyth said there was general conversation, including about family links to Kerry, but she never mentioned Sergeant McCabe's name or any of the other clients' names.
Cross examined by Michael McDowell SC, who represents Sergeant McCabe, Mr Smyth said he had never questioned the sergeant's integrity at the O'Higgins Commission.
Smyth said that McDowell had persuaded the Commission that Sergeant McCabe's integrity was being attacked, and nowhere in the transcript did Smyth do this.
With reporting from Sean Murray