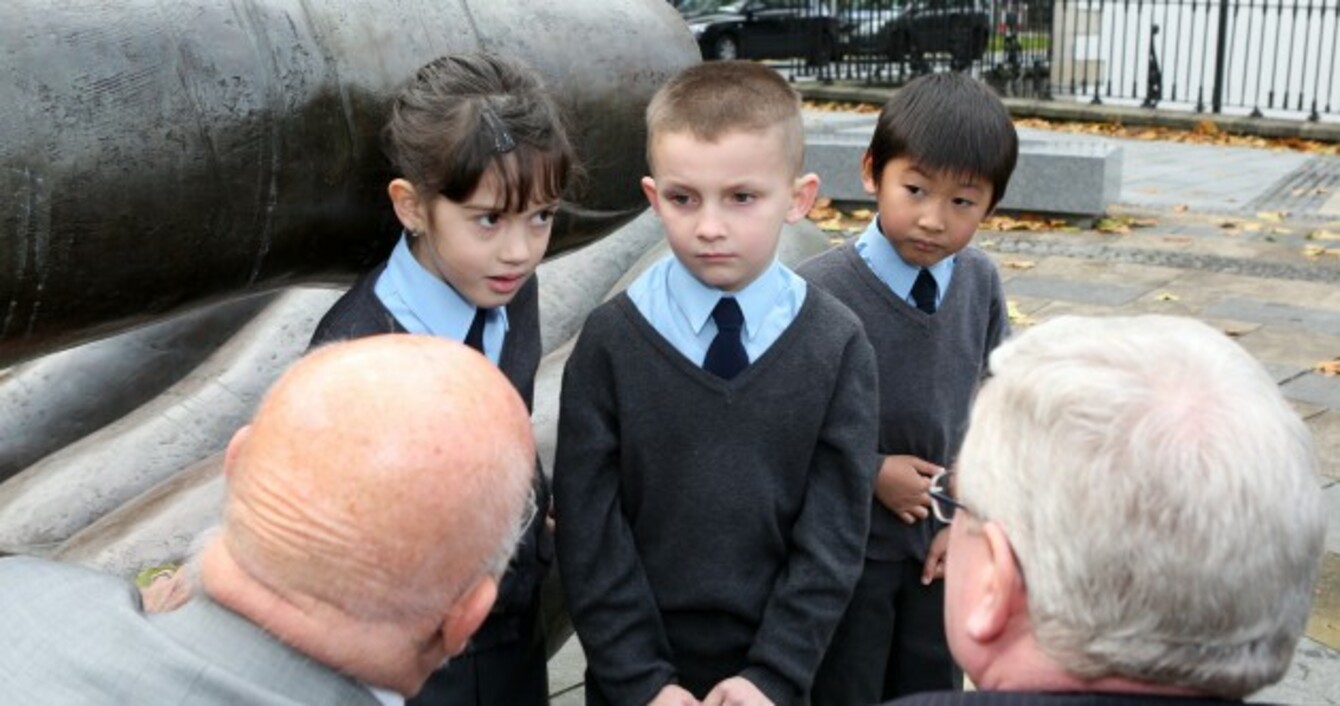 Ruairí Quinn and Tánaiste Eamon Gilmore speaking to schoolchildren today
Image: Sam Boal/Photocall Ireland
Ruairí Quinn and Tánaiste Eamon Gilmore speaking to schoolchildren today
Image: Sam Boal/Photocall Ireland
Updated 4.25pm
PARENTS ARE TO be asked if they want their child to wear a school uniform or not and if so what type of uniform they want them to wear.
Under plans announced today by the Education Minister Ruairi Quinn schools will be asked to consult with parents and provide them with a questionnaire to help determine uniform policies.
The Department will issue the template questionnaire to schools by the end of this month with schools expected to complete the ballots by the end of February.
All schools that have uniform policies, or are contemplating one, will ballot parents ahead of the 2014/15 academic year with the Minister anticipating that parents will be given the following options:
Do they (parents) want a school uniform or not?
If they opt for a uniform, do they want trousers, jumpers, blouses, shirts and skirts in colours and shades available in the large retail chains?
Do they want a school blazer, a school crest on garments and, if so, what type?
Speaking at the launch of the new initiative today, Quinn outlined how savings might be made on school crests on uniforms

Quinn said it is his belief that by empowering parents to determine school uniform policy the cost of school uniforms and overall education costs can be reduced.
"Specifically I want all schools that currently operate a uniform policy, or contemplate introducing one, to ballot parents during the current school year before deciding on the policy to be adopted for the 2014/15 school year," Quinn said in a statement today.

"I have consistently said that schools should listen to the parents on this matter since it is parents who incur the costs arising from the decisions that schools make. Balloting all parents should ensure that a school fully captures the views of its parent body."
The verdict of parents will go to the schools' Boards of Management who will determine the schools' uniform policy for the next school year.
The Department also said today that it is working on developing a Parents Charter that, it said, will "further strengthen the position of parents generally" within the school system.
The measures were broadly welcomed today with the Irish Primary Principals' Network saying "a school's crest is important but it does not have to be on the school uniform for it to be understood".
Labour TD and former teacher Aodhán Ó Riordáin also welcomed the announcement, saying in a statement: "Time and time again parents have come to me to talk about how excessive uniform costs are pushing them into financial hardship. Quite simply there is no need for school uniforms to be so expensive."
First published 1.13pm