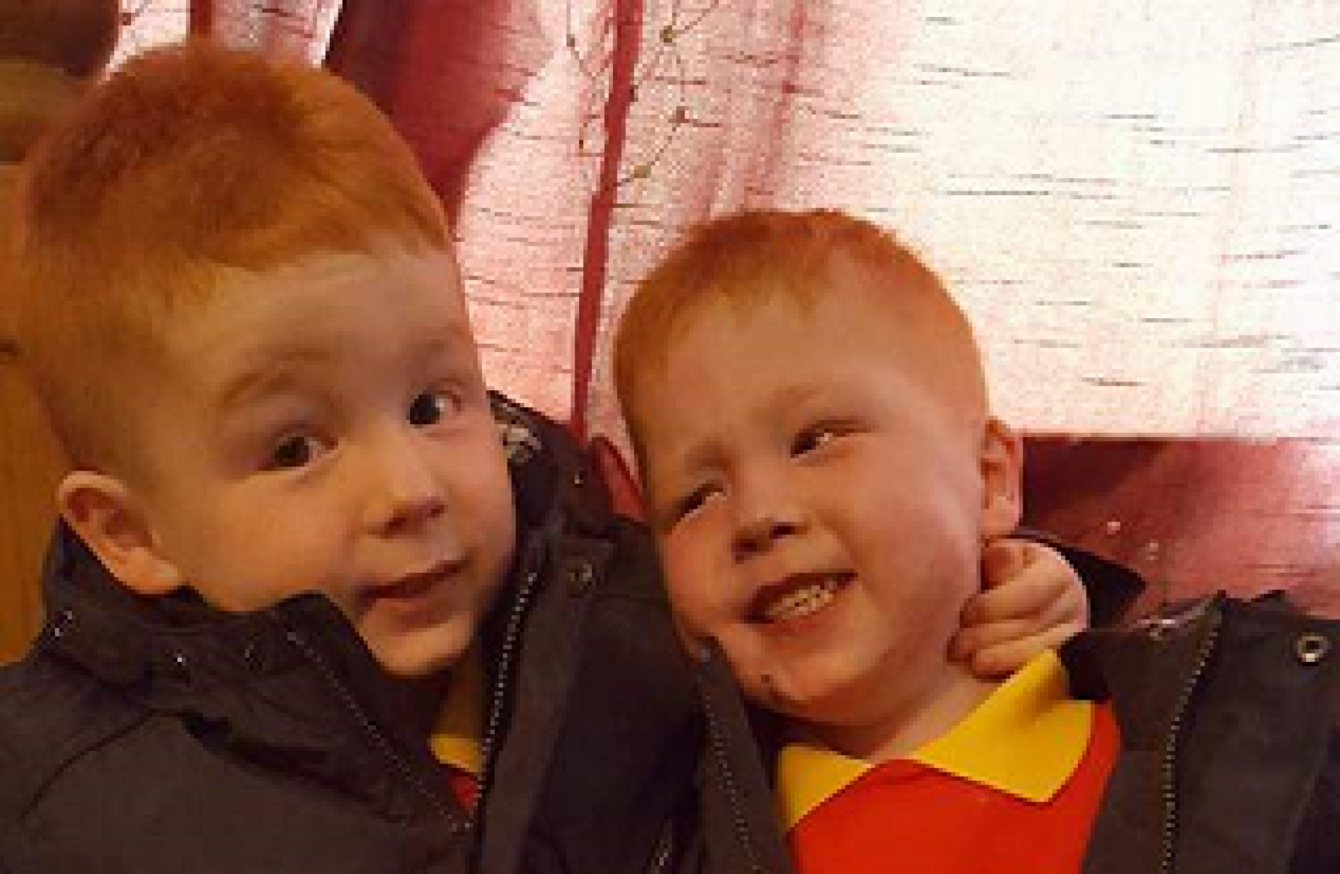 Kayden (right) with his twin brother Jayden
Image: PSNI
Kayden (right) with his twin brother Jayden
Image: PSNI
THE PARENTS OF Kayden Fleck have said the "pain will never leave" just over a week after their son drowned near Ballymena, Co Antrim.
The five-year-old was with his twin brother Jayden by the River Braid, and his parents Leanne and Darrel are pleading with anyone who saw them on 10 February to get in touch with police.
Kayden was swept away by the current and, despite the best efforts of emergency services, he died after the river swept him several kilometres downstream.
Speaking to BBC News NI, the parents explained what had happened on the day Kayden died.
They described how they were in the process of moving house, and were removing their final belongings when the boys asked if they could play in the garden.
Leanne said: "I said 'yes, but please don't go away.
We didn't think that was going to be the last time that we were going to see the two boys as the two musketeers.
Darrel said that he was taking down a shed in the back garden where the boys were playing.
"I set the drill down and the boys were gone," he said. "I turned my back and they were away within seconds.
We never thought to look near the river first because they've never been there alone in their lives.
The couple have asked Jayden why they went by the river at all.
Leanne said: "Jayden has just told us that Kayden wanted to see the ducks.
He's saying that they were playing and then Kayden wanted to go home but that he wanted to take a path that he thought would take him home more quickly. We can't understand how they got so far… Other than that he's been very quiet. He's playing, but he's just lost.
After the alarm was raised, a massive rescue operation was launched. Teams from the Community Rescue Service and the Northern Ireland Fire and Rescue services assisted in trying to locate and rescue the boy from the fast-flowing river.
Kayden's parents have said they now just want to know what happened.
"We need answers," Leanne Fleck said. "We cannot put the pieces of this puzzle together.
I just want to know if anyone saw them, what were they doing? Were they with anyone? What directions did they take? We just need to know what happened, and how it happened.
The family described how Kayden was born with a congenital heart defect that meant he spent the first year of his life in hospital. "He was our little fighter," they said.
The parents also addressed negative commentary about them on social media in the wake of their son's death.
Leanne said: "People have been commenting, 'Where were the parents, what were they doing?' Those people don't know us, they don't know what kind of family we were.
The boys never went that far. They never got the chance to go that far but children will be children, they will explore… It's just so hurtful that people could think that we didn't care or that we just let them run wherever they wanted to run because that's not the way we are.