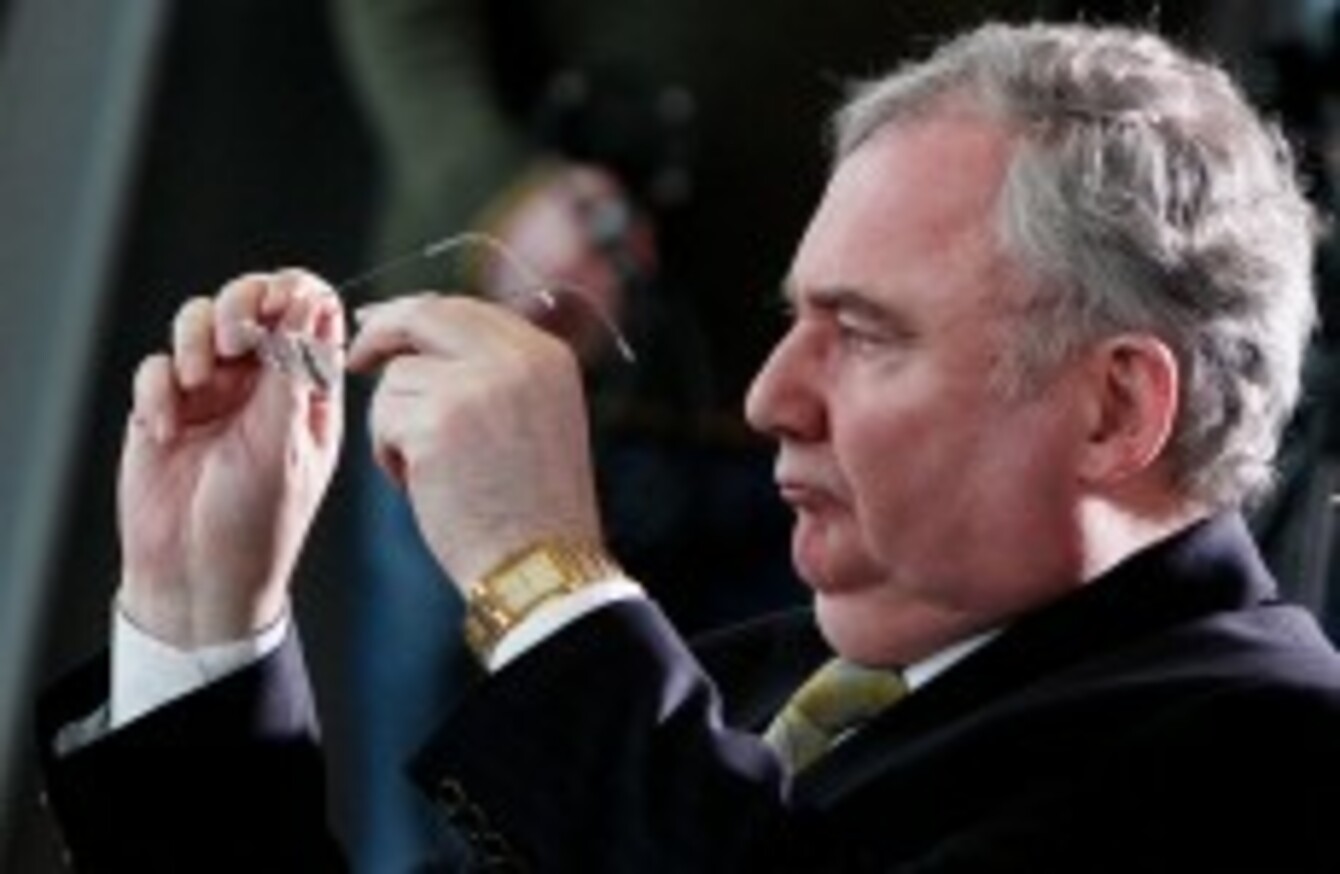 File photo of Minister Pat Rabbitte
Image: Niall Carson/PA Wire
File photo of Minister Pat Rabbitte
Image: Niall Carson/PA Wire
COMMUNICATIONS MINISTER PAT Rabbitte has criticised the "anti-politics" political commentary in sections of the media. The Minister for Communications, Energy and Natural Resources made the comment in opening remarks at a Seanad discussion on media standards today.
He said that "we've gone from excessive deference to corrosive cynicism". He said that there was once an air of deference towards institutions like the Church or Government but;
The age of deference is over now.
Rabbitte said that the incessant promotion of "cynical" discourse about politics went on in the boom years too and he found it to be "destructive of both politics and journalism". He acknowledged that journalism had come under pressure from reduced resources and the immediacy of internet publishing but derided what he said had led to a decline in specialist journalists and an increase in "mildly reworked press releases" and "copy and paste journalism" in all media.
He also suggested that while "some" online media outlets were signed up to the Press Council, the rise of online media might lead to the establishment of a code to which outlets can sign up to if they wish to adhere to guidelines.
Following Rabbitte's speech, several senators gave their take on the need for regulation of media – and the concerns and challenges facing the industry. Independent Senator David Norris gave the most forceful contribution to the Seanad, saying that he felt media had bullied public figures. He also claimed that a tabloid editor told him that stories published about him at the time of his presidential run were "payback time" for his defence of "victims of invasion of privacy". Read more of that contribution here.
In a response to Norris, the minister said that while the points he raised about bullying were "very serious", he could not accept "that we have sunk to the standards in this country such as we have seen in the neighbouring island (as evidenced in the Leveson Inquiry)".
#Open journalism No news is bad news Support The Journal

Your contributions will help us continue to deliver the stories that are important to you

Support us now
He also claimed that the Press Council had been working well and had only been in place for four years so needed more of a chance. When it was first established, a Privacy Act had been mooted to operate alongside the Council but that suggestion was rejected. Since then, the approach had been one of 'suck-it-and-see' and let it work as a "non-statutory Press Council".
Some of the senators making statements yesterday had other questions for the Minister to consider:
Paschal Mooney (FF) asked if the future of investigative journalism needed to be looked at, claiming that investigative journalism was under severe threat because of some mistakes made but that it should be at the core of democracy.
Michael Mullins (FG) asked if the family of the deceased Brother Gerard Dillon, against whom allegations were also made in the Mission to Prey Prime Time Investigates programme, should not be allowed to have their complaint to the BAI allowed. It had been returned because it had not been made within the statutory 30-day limit.
Aideen Hayden (Lab) wondered if the Government would consider reporting a 'Buy Irish' campaign to ensure people would buy Irish newspapers – she had praised the Irish press for not publishing salacious stories about politicians' private lives as the press in some other countries do.
Fidelma Healy Eames (FG) asked if the Government is going to legislate on social media as while its positive effect was clear in the "Twitter revolutions" in Moldova and during the Arab Spring, there was an issue between the boundary of freedom of speech and privacy and safety. She was also interested in whether the Press Ombudsman had remit over regional press.
John Whelan (Lab), a journalist and regional newspaper editor for 30 years, claimed that the Press Ombudsman "really has no powers" and that he had himself been subject to a story of misinformation. He said that it should be the case that the taxpayer and the Government be entitled "to ask what bang are we getting for our buck" from the State broadcaster. He also had strong words about political spin doctors coming on radio and TV programmes "masquerading" as independent commentators.
Trevor O Clochartaigh (SF) was concerned about the meshing of the wealthy and the media in Ireland and that journalists have a "duty to highlight issues which would not otherwise be in the public domain". He was concerned about "inaccurate pillorying" of the public sector in "certain Sunday publications".
Paul Coghlan (FG), who declared that he is a small shareholder in a radio station in Kerry, asked if perhaps smaller county broadcaster should also be in line for State funding in order to ensure a "level playing pitch".
Susan O'Keefe (Lab), a former BBC investigative journalist, also wondered if part of the licence fee could be given to local radio stations, "many of which perform within a public broadcasting remit". She also asked if the code of fairness and impartiality which is being explored at the moment would be effective.
Ronan Mullen (Ind) asked Pat Rabbitte if his perception of the Press Council as a "reasonable success" was based on any particular process of assessment within the Department. He also asked if such assessment would be enough to determine what should happen with proposed privacy legislation.
John Crown (Ind) said that on the issue of "hypothetical intrusiveness" by the media, as far as he was concerned, they didn't intrude enough in some areas which are of critical importance such as in the area of his own 'day job', the provision of cancer services. He said a free press is "one of the most important things that we have" and that there should be ways to enforce the responsibility of the media to expose wrongdoing.