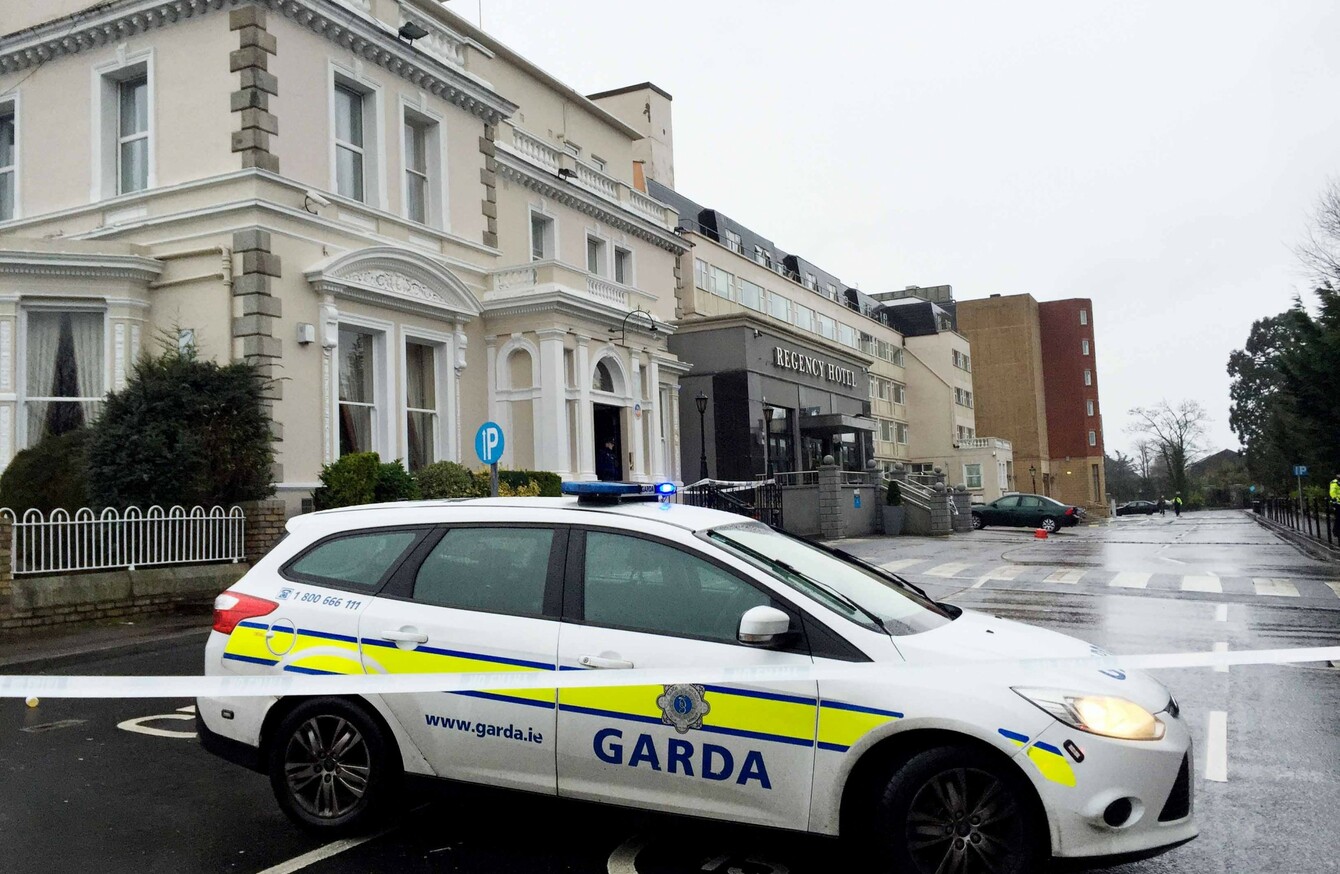 The scene of the Regency Hotel shooting.
The scene of the Regency Hotel shooting.
PATRICK Hutch Junior, who has been charged with the murder of David Byrne at the Regency Hotel in Dublin, could face a non-jury trial in the Special Criminal Court.
David Byrne (34) was shot dead during a boxing weigh-in at the popular hotel in north Dublin on 5 February by a gang of heavily armed raiders.
On the evening of 18 May, Patrick Hutch (24) of Champions Avenue, Dublin 1, was brought to appear before a special sitting of Dublin District Court.
He was charged with the murder of David Byrne and was remanded in custody. Hutch, who "made no reply to the charge", faced his second appearance today at Cloverhill District Court.
Book of evidence
Detective Sergeant Mick Mulligan told Judge Victor Blake that the Director of Public Prosecutions has directed trial on indictment and is deciding whether to issue a certificate for the Special Criminal Court.
A book of evidence has yet to be prepared.
Dressed in a grey shirt and black jeans, Hutch remained silent during the hearing and nodded when asked if he agreed to the case being adjourned for four weeks. His barrister Hugh O'Connor confirmed his client consented.
Patrick Hutch Jr, who has not yet indicated how he will plead, was further remanded in custody and will face his next hearing on 22 June next.
No bail
Due to the nature of the charge the district court cannot grant bail meaning Hutch will have to bring an application to the High Court to get released pending trial.
His solicitor has already said he wanted to prepare a bail application and he would notify the prosecution.
Meanwhile, a man in his 50s who had been held at Ballymun Garda station in connection with the David Byrne murder was released without charge today. He had been held for seven days under section 50 of the Criminal Justice Act.
Patrick Hutch Jr is a nephew of Gerry "The Monk" Hutch and also a cousin of Gareth Hutch (35) who was shot dead outside his home in north inner city Dublin on Tuesday morning, and Gary Hutch who was killed in Spain last year
David Byrne, who was from Crumlin, was killed when gunmen arrived at the Regency Hotel. Daniel Kinahan, who runs the MGM boxing promotion, was also at the weigh-in but avoided injury.
It followed the murder of Dublin criminal Gary Hutch who was shot dead in Spain last year and has sparked a wave of killings: Eddie Hutch (58), Noel "Kingsize" Duggan and dissident Michael Barr.
Homeless man Martin O'Rourke was also was shot dead in Dublin city-centre last month in what is believed to have been a case of mistaken identity, and yesterday Gareth Hutch was shot dead as he was getting into his car outside Avondale House flats on North Cumberland Street.