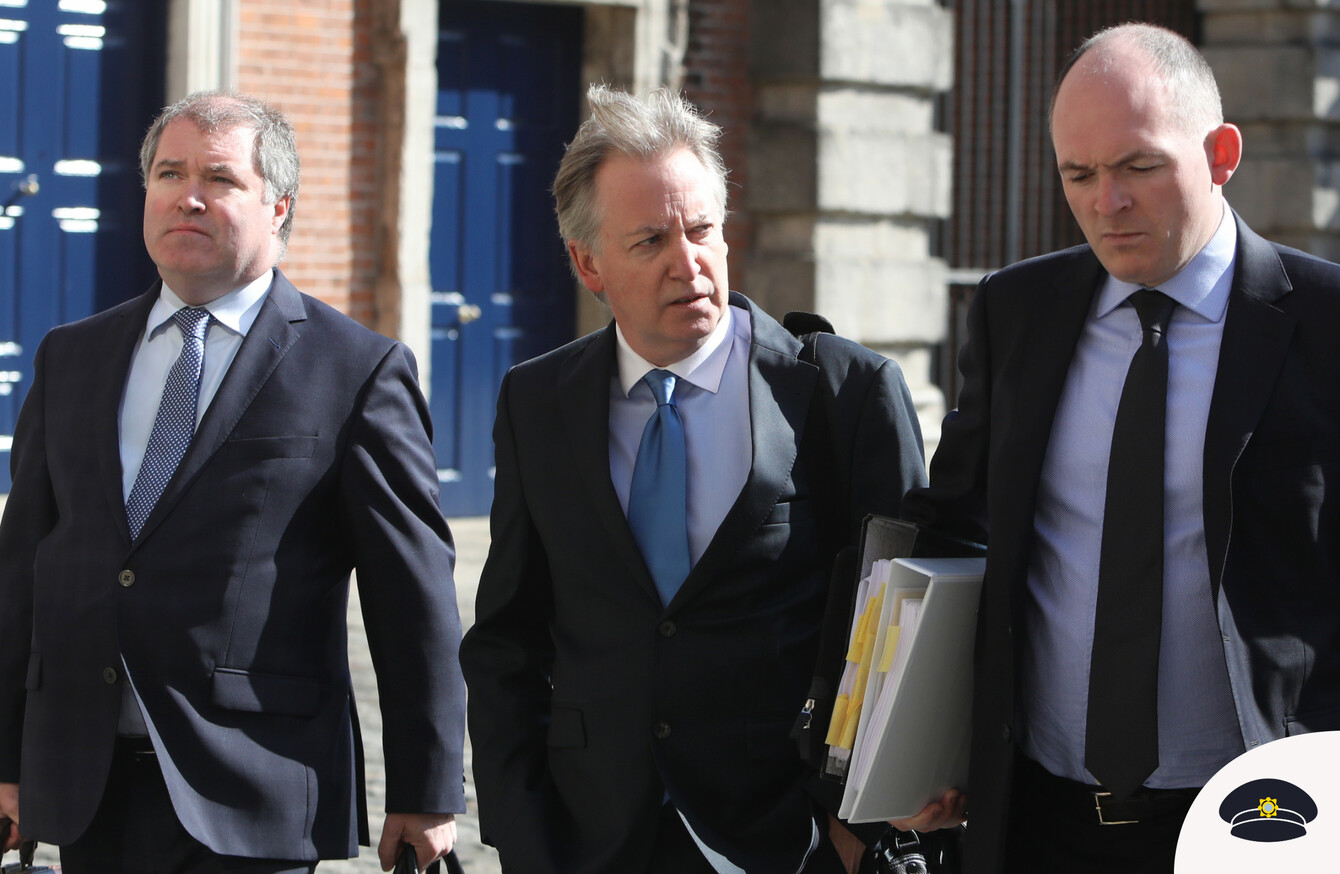 Disclosures Tribunal.Pictured (Centre) witness Crime Correspondent Paul Williams on day 10 of the public hearing at the Disclosures Tribunal in Dublin
Image: Leah Farrell
Disclosures Tribunal.Pictured (Centre) witness Crime Correspondent Paul Williams on day 10 of the public hearing at the Disclosures Tribunal in Dublin
Image: Leah Farrell
CRIME JOURNALIST PAUL Williams has denied orchestrating events he was reporting on concerning allegations made against garda whistleblower Sergeant Maurice McCabe.
Williams also told the Charleton Tribunal that it was "absolutely false" that he was "in some way acting as a puppet for the guards" when he met with Ms D in 2014, the woman who made allegations against McCabe in 2006.
Lawyers for Sergeant McCabe said that news reports by Williams were intended to increase pressure on Fianna Fáil leader Micheál Martin to meet with Ms D.
Williams wrote a series of articles in early 2014 after he interviewed Ms D. Sergeant McCabe was not named in the articles.
"It was deceiving the reader into believing you were a journalist reporting on events when in fact you were orchestrating events," Michael McDowell SC, for Sergeant McCabe, asked the witness.
"I wasn't orchestrating events. I've done it before and I'd do it again for people wanting to meet politicians. She wanted to be heard," Williams said. He said that he did not know the substance of Ms D's allegations until he met her.
Allegations
The tribunal is looking into whether Sergeant McCabe was the target of a smear campaign.
The tribunal has already heard that in January 2005 Ms D's father, a garda at Bailieboro garda station, moved to other duties after a disciplinary tribunal into his performance was launched on foot of steps taken by Sergeant McCabe. Ms D first made allegations against Sergeant McCabe 11 months later.
Williams said that it was Ms D's decision to meet with politicians. "She knew exactly herself what she wanted to say, I had nothing to do with it. She was a very wilful and determined individual," he said.
Williams said that he went to garda press officer Superintendent David Taylor to confirm that there had been an investigation into Sergeant McCabe in 2006, and the press officer confirmed that the DPP had decided against bringing charges at the time.
He said that David Taylor "made a throwaway remark" that Sergeant McCabe's case was known about in the Phoenix Park Garda HQ and in government.
Asked if he had access to a garda investigation file on the case, Williams said the allegation, made by journalist Gemma O'Doherty in a letter to the tribunal, was "completely baseless and false".
"I don't know where she got her allegations. I don't know what her motivations are," he said. He claimed to the tribunal:
I don't know her. I never worked with her. She may have an axe to grind with Independent Newspapers. That may be her motivation.
Williams told Mr McDowell he did not think the information he received from Superintendent Taylor confirming there was a garda investigation was confidential information.
"We ask questions like that every day of the week.
"I asked the question, was there an investigation, what did the DPP decide, who was involved, because it was pertaining to an allegation of malpractice by the original complainant," he said.
Anonymous
He said that he did not contact Sergeant McCabe for a comment because the report was anonymised.
McDowell said it would be clear who the article was about to the station party in Bailieboro, to senior officers in Garda HQ, and in government.
A letter from the DPP's office deciding against a prosecution of Sergeant McCabe said that "the allegations didn't constitute a sexual assault or indeed an assault at all". Williams said he would not have written the article if he had seen this letter.
"I ran a story based on the fact this individual wanted the circumstances of her complaint investigated as part of a malpractice report," Williams said.
Williams said a story that the Taoiseach was expected to order an inquiry into Ms D's allegations was written after Micheál Martin's office confirmed they had passed on details from Ms D, and the Taoiseach's office confirmed they received the report.
McDowell said the report was "utterly unfounded speculative journalism to create a headline".
Asked by tribunal chairman Peter Charleton about suggestions that he was "too close to Garda HQ", Williams said, "Absolutely not."
I'm glad you asked me that. I am absolutely not and have not been. I'm not dependent on them and I was not dependent on them at that time.
#Open journalism No news is bad news Support The Journal

Your contributions will help us continue to deliver the stories that are important to you

Support us now
"I'm 30 years in the business, I don't need to depend on them," Williams said.
Williams said the garda press officer was "the eyes and ears of the presiding commissioner".
He said he did not know if Superintendent Taylor was on a "solo run" or had authority when he confirmed that there had been an investigation of Sergeant McCabe in 2006.
Conor Dignam SC, on behalf of the Garda Commissioner, said a GSOC inquiry following a complaint from Ms D concluded the 2006 investigation into Sergeant McCabe was properly run.
The DPP decided not to bring any charges as no crime had been committed and the case was formally closed in 2007 after Ms D 'disengaged' from child protection services.
Nominated
Also in evidence to the tribunal, Detective Superintendent John O'Reilly denied nominating Williams to Ms D's father.
The senior garda officer said that in 2014 Mr D told him his daughter wanted to give her account of what had happened in 2006, but said she didn't want to go public.
The witness said that Mr D asked him if he knew Paul Williams.
O'Reilly subsequently contacted the journalist and passed his phone number on to Mr D.
O'Reilly said he was not the one who suggested contacting Mr Williams, and he "would have no reason to suggest Paul Williams over any other journalist."
In his evidence yesterday Mr D said that O'Reilly had first suggested contacting Mr Williams.