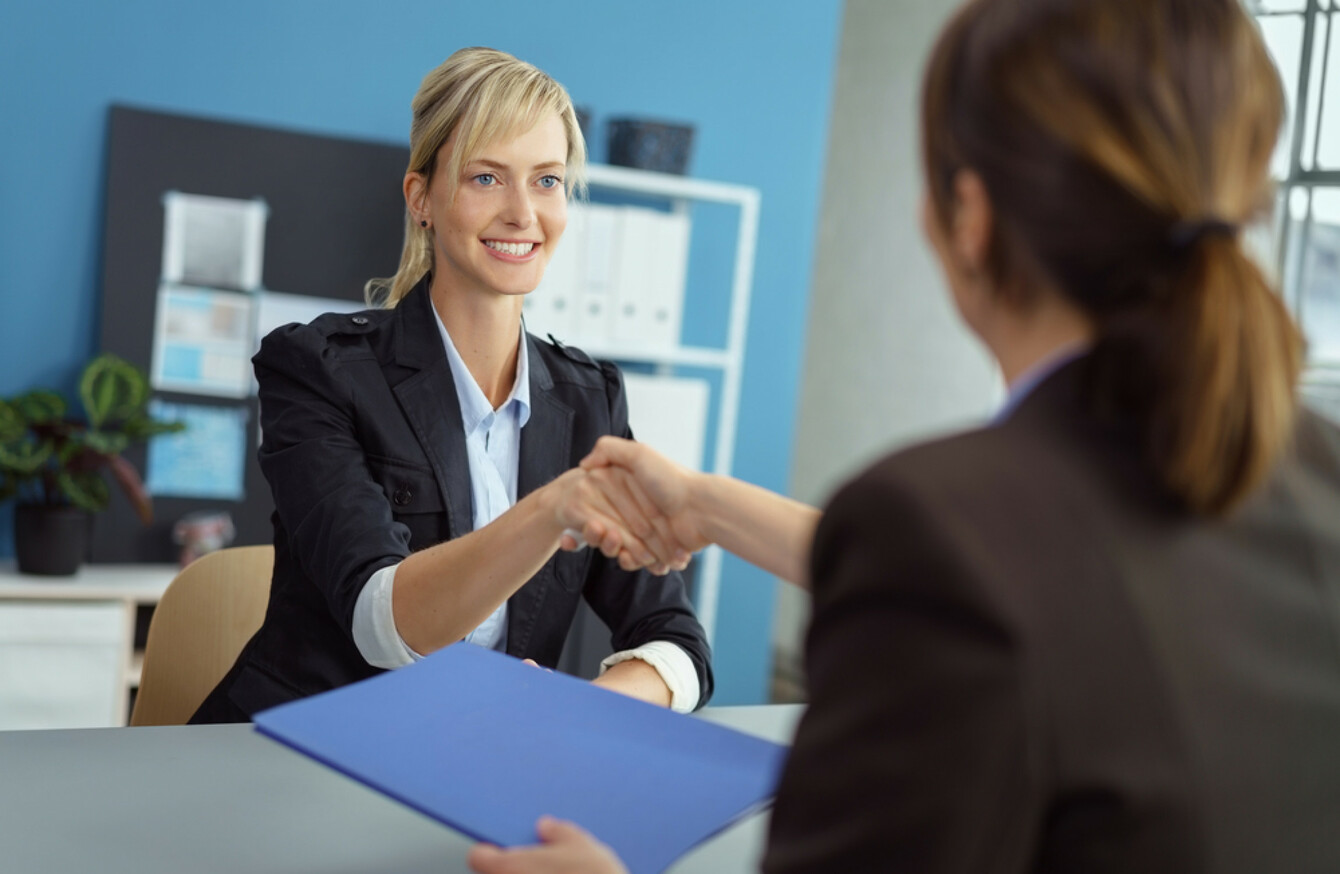 Image: Shutterstock/stockfour
Image: Shutterstock/stockfour
THE OLD ADAGE, 'If you don't ask, you don't get' applies more in the arena of salary negotiation than anywhere else in the business world.
Unless you're on a fixed progression track with incremental reviews and performance-based salary increases, the chances are you'll reach a point in your career where you enjoy your job, but feel that your contribution merits a higher salary or better conditions. But how do you go about negotiating that rise?
Orla Coughlan is a Senior International Human Resource Executive with experience of operating at C-suite level in Europe, US and Asia. She says that most people find engaging their managers in conversations about salary extremely challenging and prefer to avoid it.
"If you are not a naturally confident person then you may experience stress, or even fear, about how to begin the discussion," says Orla. "So the first thing to do is look on this as a project, just like any other in your professional and personal life. For example if you want to review your pension – you will go and seek expert advice. The same is true for matters of salary."
Here, Orla, who recently left her role as Chief Human Resources Director at eir to become a Director of CDP Leadership Consulting, gives TheJournal.ie her top tips on having those difficult money conversations with your boss.
First ask yourself some key questions before you even raise the matter with your manager. For example, 'Why do I think I should be earning more money?' and 'What do I know about how my company manages the total compensation budget?'
The information you gain prior to even requesting a meeting will give you both confidence and information that can help the conversation be a fully professional one. It is critical that you approach this as a business and professional element of your working life. Do not make it personal or emotional or you will lose credibility with your manager and other stakeholders.
Ask for 'a quick five minutes' with your boss. If you approach this as a process rather than an 'immediate action required' style of engagement, you will allow them and the people they need to consult (eg HR) time to prepare fully. You can simply say, 'I would like to organise a time to discuss my current salary with you in the coming weeks; can we set up a time to do this?'.
Avoid at all costs a demanding, aggressive style of approach. This will cause your manager to become defensive and potentially dismiss your request immediately.
Never ever have a casual conversation about your salary with your manager. In particular, don't do it over lunch or drinks. Nor should you try to engage them in discussing your salary when you are meeting to discuss normal business operations. By all means, mention you would like to meet them at a later date to discuss.
Once you've secured your meeting, start the discussion with a brief summary of why you are asking for your salary to be reviewed. It cannot be based purely on personal financial issues, as no employer is responsible for the finances of their employee, as each person has different commitments and family circumstances.
In your preparation write down clearly your reasons for asking for the raise – increased workload, a broader role, low increases during recessionary times and be concise. Back up your reasons with solid examples of your achievements and key deliverables over the past year, as your manager will need these to build any business case for the increase.
It's OK to refer, in an unemotional way, to any external benchmarks in your industry. There are some excellent salary surveys published annually in Ireland available to all. Review these and make sure your expectations are not unrealistic. All companies have clear salary bands/goals and metrics, and some do have collective bargaining agreements in place so keep those in mind when preparing for the meeting.
#Open journalism No news is bad news Support The Journal

Your contributions will help us continue to deliver the stories that are important to you

Support us now
Prove your raise is a good investment by outlining your value to the company. At times a company may have a restricted budget for salary increases, so consider whether investment in training or additional benefits such as an increased annual bonus might also be attractive to you.
Leave the jargon for the HR professionals and stick to what you know. Keep your language clear and consistent with your company's normal business style and also your own personal style. Always act in a professional, authentic and fact based manner.
Avoid dramatic, emotional or aggressive tones. No employee has a contractual right to an increase unless it's agreed in their contract.
Never threaten to resign if you do not get the raise or the level you expect. Positive language such as 'productive', 'focused', 'committed', 'engaged', 'personal development', and 'return on your investment in me' will show your manager how committed you are to your company.
At the end of the day, all good employers want to retain their staff in these competitive markets, so you should should feel confident that conducting the discussions in a mutually beneficial way will win most results.
Orla Coughlan is a Senior International Human Resource Executive with experience of operating at C- Suite level in Europe, US and Asia. Her roles included: HR Director at HP, Global Vice President HR at Activision Blizzard, and most recently she was Chief Human Resources Director at eir. On leaving eir she has become a Director of CDP Leadership Consulting and is a member of the Steering Team of 30% Club Ireland . A Psychology and Economics Graduate from UCC, she completed a Diploma in Executive Coaching at IMI in 2017.