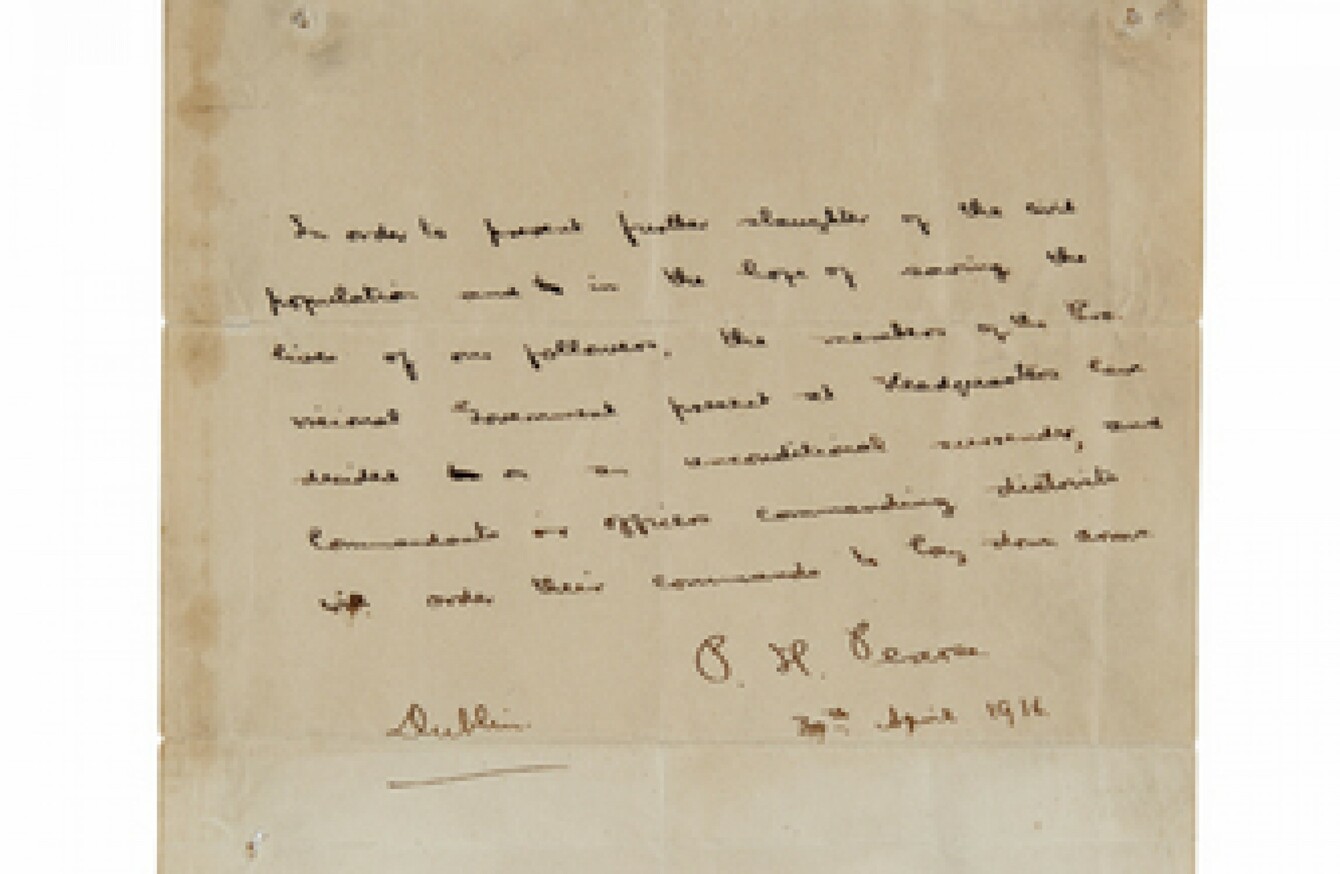 Image: Adam's auctioneers
Image: Adam's auctioneers
THE GOVERNMENT HAS delayed the sale of the last surrender letter written by 1916 leader Pádraig Pearse in the hope that other buyers might come forward.
Last month the letter, which was written by Pearse in the aftermath of the Easter Rising, was withdrawn from auction after it failed to reach the guide price of €1.5 million.
The Department received a request for an export licence for the letter this afternoon, but the Minister for Arts and Heritage Heather Humphreys had already added the surrender letter to the Register of Cultural Objects last Friday evening.
This will have the effect of delaying the issuing of an export licence for the letter for a year.
Minister Humphreys said that the price for the letter was still too high, especially since there are a number of Pearse letters are already in the National Library, the National Museum and the National Archives.
"I remain of the view that the guide price on this letter is too high. However, I have taken the decision to add the letter to the Register of Cultural Objects, given its heritage value.
Adding the letter to the Register effectively delays the granting of an export licence for the letter for one year. This will provide some space and time, when other potential buyers may come forward and I think it is the right thing to do in this case.
The Minister added that if someone were to buy the letter and donate it to the State, they could claim 80% of its value back in tax relief under the "very generous Section 1003 scheme".
"As set out in the legislation, it is not open to me to refuse to grant the export licence, but by delaying it for a year, I am providing an opportunity to allow other options to keep the letter in the country to emerge."
Members of Sinn Féin have been very vocal about this issue, with party leader Gerry Adams asking An Taoiseach Enda Kenny in the Dáil to purchase the letter. Kenny echoed Humphreys' thoughts when he said that the price was too high.