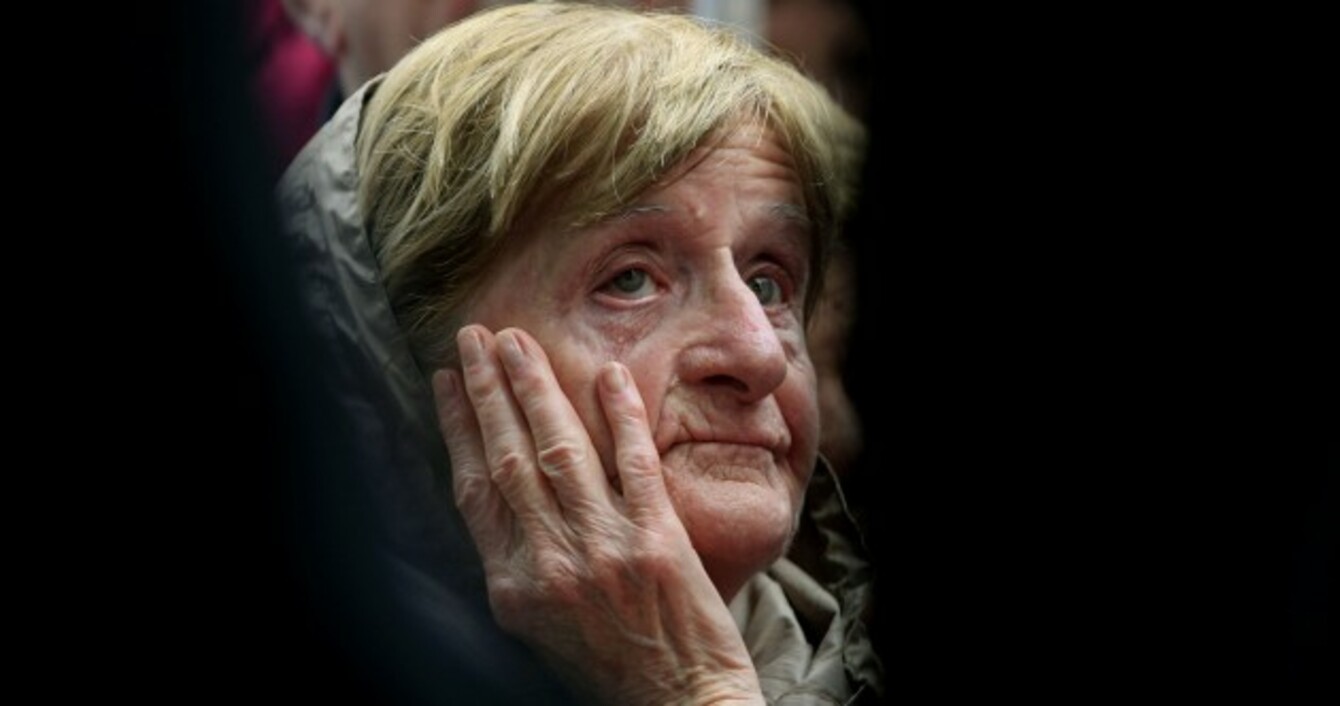 Image: Brian Lawless/PA Wire
Image: Brian Lawless/PA Wire
Updated: 19:00
THOUSANDS OF PEOPLE joined a protest earlier today at Leinster House today against cuts announced by the government in the Budget last week.
Most of the crowd were older people who oppose a number of cuts that are likely to affect them, including an increase in prescription charges for those on medical cards and a lowering of the income limit on medical cards for over 70s.
They are also protesting against the abolition of the telephone allowance and the bereavement grant, which was the cause of much controversy after the announcement last Tuesday.
About 100 people broke off from the main group and blocked traffic at College Green and O'Connell Street but they have now made their way back to the main crowd at Leinster House.

(Video: Nicky Ryan/TheJournal.ie/YouTube)
The protest comes five years after a huge demonstration by seniors that forced the government to roll back on a decision to remove the automatic entitlement to medical cards for over 70s. It was organised by Irish Senior Citizens Parliament, with some 350 affiliated organisations also involved.
At the demonstration, SIPTU Retired Members Section Secretary Paddy Moran called on those affected by the Government cuts to draw upon the example of the 1913 Lockout.
"One hundred years ago in this city some of its citizens were battered and starved and in some cases lost their lives in the struggle for a decent standard of living for their loved ones," he told the crowd.
"We here today are the advocates for our generation and we owe it to the memory of those brave people of 1913 to ensure that the vulnerable people in today's society have a reasonable standard of living and the right to a dignified existence in their remaining years."
A garda spokesperson said there have been no reports of public order incidents during the protest. However a Dublin Fire Brigade ambulance attended an elderly man who collapsed outside Leinster House after giving a speech over a megaphone.
Pensioners' Protest

Patrick Touher from Balbriggan makes a speech during the protest. He collapsed soon afterwards and an ambulance was called. Source: PA Wire/Press Association Images

Pensioners' Protest

Source: Laura Hutton/Photocall Ireland

Pensioners' Protest

Source: Laura Hutton/Photocall Ireland

Pensioners' Protest

Source: PA Wire/Press Association Images

Pensioners' Protest

Source: Brian Lawless/PA

Pensioners' Protest

Source: Laura Hutton/Photocall Ireland

Pensioners' Protest

Source: Laura Hutton/Photocall Ireland

Pensioners' Protest

Source: Laura Hutton/Photocall Ireland

Pensioners' Protest

Source: Brian Lawless/PA

Pensioners' Protest

Source: Laura Hutton/Photocall Ireland

Pensioners' Protest

Source: Laura Hutton/Photocall Ireland

Pensioners' Protest

Source: Laura Hutton/Photocall Ireland

Pensioners' Protest

Source: Brian Lawless/PA

Pensioners' Protest

Source: Laura Hutton/Photocall Ireland

Pensioners' Protest

Pensioners protest. Thousands of pensioners protest outside Leinster House this afternoonSource: Laura Hutton/Photocall ireland

Pensioners' Protest

Source: Laura Hutton/Photocall Ireland

Pensioners' Protest

Source: Brian Lawless/PA

Pensioners' Protest

Source: PA Wire/Press Association Images