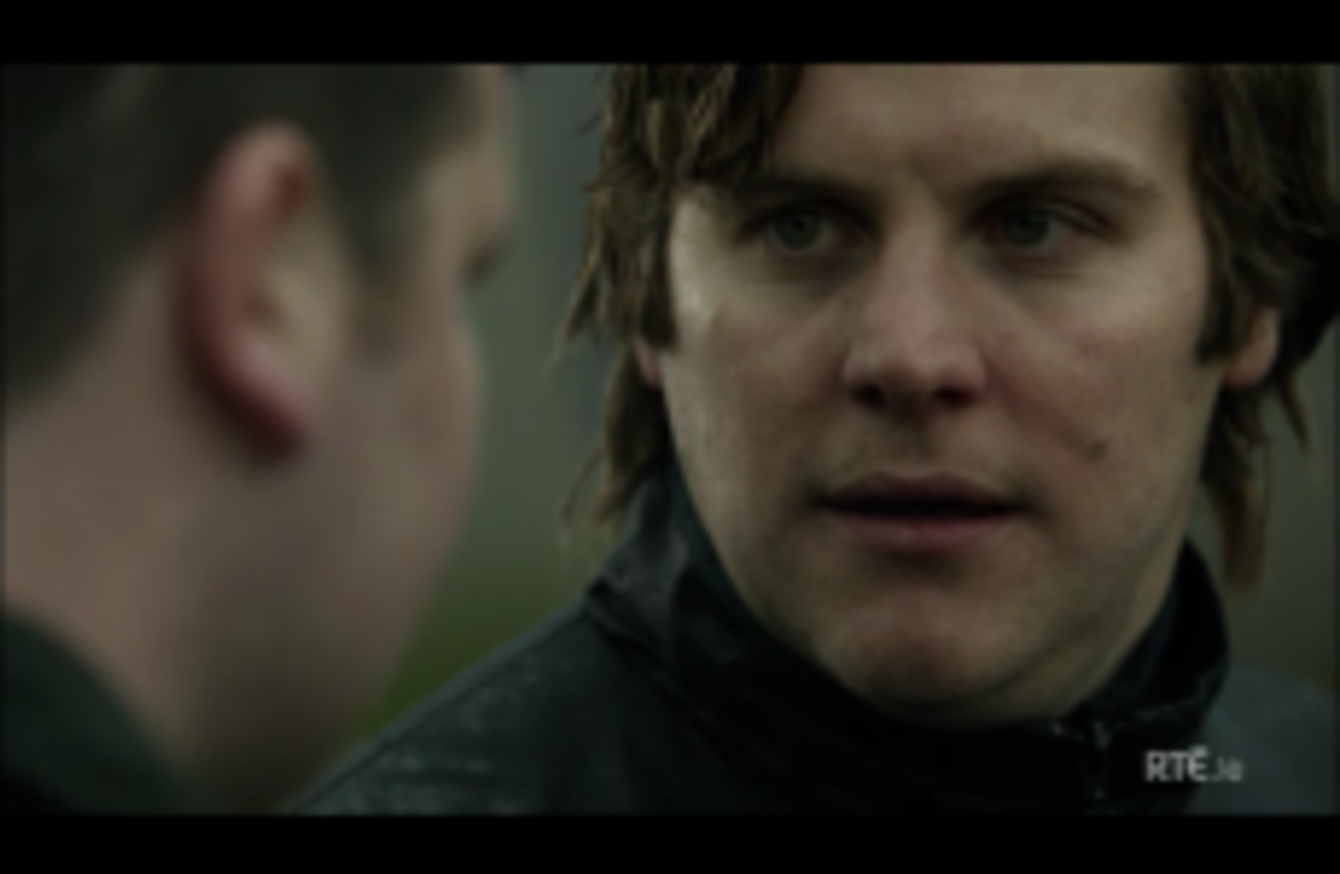 Peter Coonan as Fran in Love/Hate
Image: RTE
Peter Coonan as Fran in Love/Hate
Image: RTE
IT'S A LONG way from playing a gangster on Dublin's inner city streets to being an Italian named Marco, but actor Peter Coonan likes nothing better than freshening things up.
The Irish actor, best known for his turn as Fran on Love/Hate, is currently starring in a production of Arthur Miller's 1954 play A View From The Bridge in Dublin's Gate Theatre, one of a number of roles that has seen him treading the boards of late.
Miller's work centres on the tragic story of Eddie Carbone, who lives with his wife Beatrice and her orphaned niece Catherine. When two of Beatrice's cousins – Marco and Rodolpho – arrive in Brooklyn and move in with the family, Catherine and Rodolpho's burgeoning relationship has terrible results.
'I sounded Russian'
Coonan plays Marco, and said it was hard at first to master the Italian brogue. "With my accent it's harder, because I never would have done an Italian accent before," he noted. "My first reading I sounded closer to Russian than Italian."
It meant "lots of listening and reading the script", and even a visit from a man from Rome to pick up more tips, like elongated vowels.
"We wanted to make it so the audience could understand it as well," said Coonan. "There's no point in going so deep into the accent that they don't understand."
Having loved the play since he was a child, Coonan knew that the role of Eddie was "incredible", but beyond him due to the age of the character.
Unlike the wild Fran, Marco is a much quieter man. "For me it's all about getting into the headspace of a character who says very little, who's reading a situation, because you don't necessarily have to speak the language to understand the emotions," said Coonan.
That was very interesting for me, especially going from characters I've played in the past, both on stage and off stage, [who] would be quite vocal.
When [Marco] says something he means it, he doesn't waste his words. In some ways it's black and white, and you say what you mean. You don't go back – your word is your word and honouring your word and family are first and foremost to him.
Coonan was able to use his late mother's scripts when preparing for the role, and it's thanks to her that he has the acting bug. As a family man now himself, the play had him reflecting on life for the less fortunate families today.
As the refugee crisis began to grow, the cast became aware of how much the play – with its themes of family, immigration, relocation – connected with the current situation.
"The idea of leaving your family behind to get another life for them… It was foreign to me, but an idea that I thought was worth exploring," said Coonan.
"I think what's going on with the refugees around the world has affected the play as a whole but not necessarily my interpretation of Marco," he said. "It has given me more to feel and think about on a personal level."
I worry about leaving my daughter at four or five in the afternoon and not seeing her till the next day. Imagine not seeing your kids for five or six years… it's unbearable.
Does Coonan bring his characters home? "I think I do that more in rehearsals," he admitted. At rehearsals for A View From The Bridge, he wasn't as chatty as he usually would be, channelling Marco's silence.
"It's hard not to. You invest so much of yourself into a character that ultimately pieces of it are going to come home with you."
He's drawn to theatre because it's where he started as a young actor. "It was all exams, it was all poems, prose, monologues, duologues, plays, musicals at the end of year. That's where I learnt how to do it all."
There's a serious adrenaline [buzz] that you get from it that you don't get from film.
Does he ever see himself venturing abroad for work? "You'd be lying to yourself if you said you didn't want to spread your wings," said Coonan, who has one young daughter.
"I definitely have aspirations to work outside of Ireland but I still want to keep a good connection with the theatre here and any other place I go. It would be nice to try and work on TV projects elsewhere as well."
Speaking of TV, it's impossible to chat to Coonan without mentioning Love/Hate. He said he still gets people approaching him on the street with lines from the show, but he doesn't mind.
It's something that's going to stay with you. If Love/Hate was the only thing you did in your career you'd be very proud. It's not a burden.