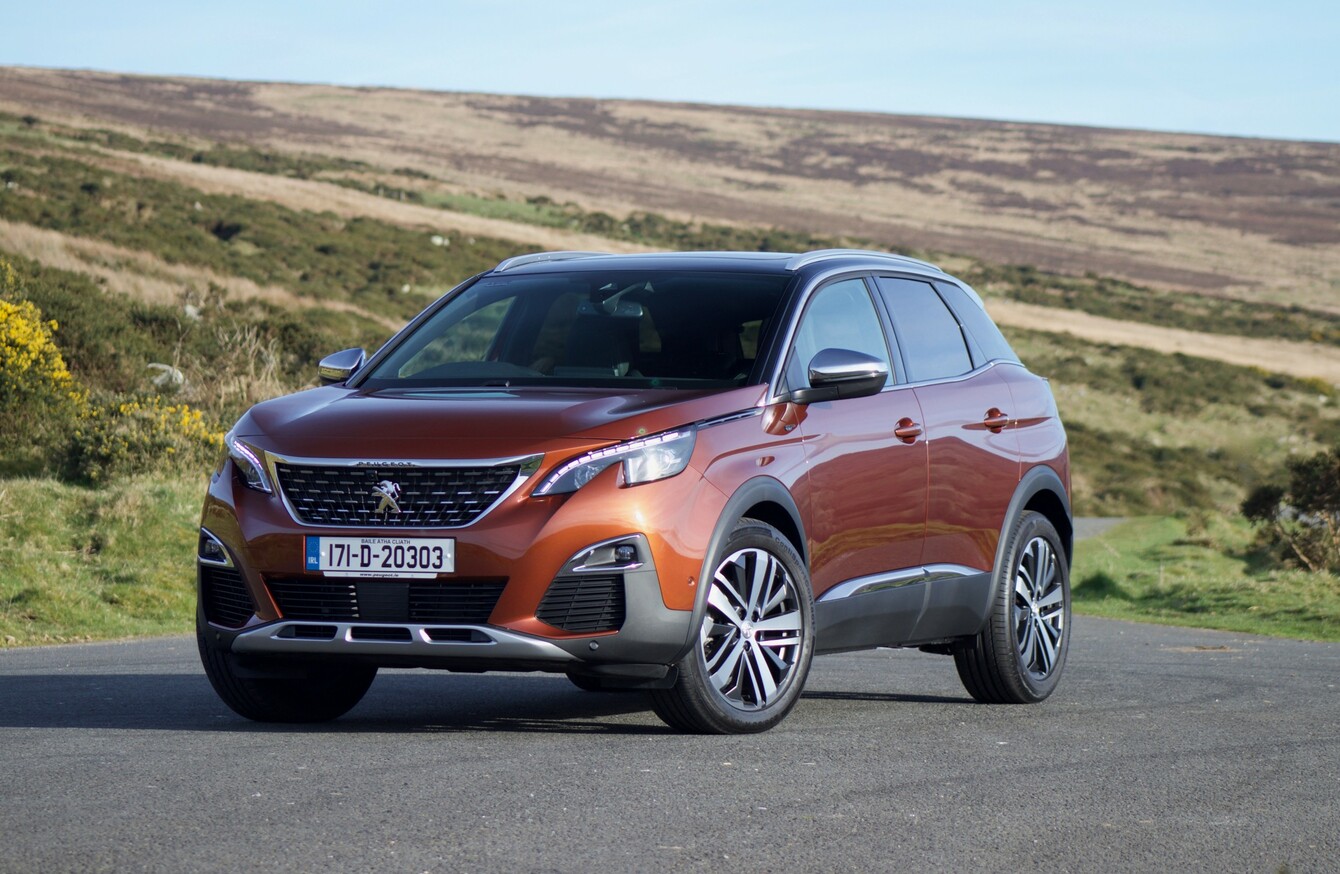 Image: Dave Humphreys
Image: Dave Humphreys
THE PEUGEOT 3008 used to be a dumpy MPV.
It has now blossomed into a beautiful sassy SUV. But the 3008 hasn't just jumped onto the SUV bandwagon. It has, in fact, leapt over the bandwagon and is now way out in front of it.
With its new 3008, Peugeot has really upped the style stakes and has given us a design that is bold and daring. It looks rugged and sporty with interesting design elements including a floating roof line thanks to a blacked out rear pillar, clamshell bonnet, and curves and creases in all the right places. Smashing.
And it gets even more interesting inside. There is so much to like but I will just touch on the highlights. The actual shape and flow of the whole dash area is reminiscent of a concept car. The materials are a wonderful mix of soft buttery leather, wood, fabric, brushed chrome, soft plastics and minimal scratchy plastics.
The centre console features an eight-inch touchscreen which is very responsive with great graphics. Underneath is a delightful bank of piano keys and there are buttons underneath those in case you don't want to use the touchscreen. All of these combine to make everything quick and easy to use.
The main draw, however, is the iCockpit – a perfectly positioned 12.3-inch digital instrument panel that really is a treat to use. While systems like this aren't a new thing, what is very refreshing is that it is standard on all models. Nice one, Peugeot.
The new 3008 is mighty practical too with loads of cubby holes, large storage areas and even lined door bins to stop things rattling around in there. Very premium. The boot holds 591 litres of cargo which expands to 1,670 litres with the rear seats folded. All models come with a nifty ski hatch and the front passenger seat folds forward and flat too. A very clever feature.
The back bench seats are comfortable and there are good amounts of leg and headroom even with the panoramic opening glass roof of my test car. There is virtually no transmission tunnel either so the middle seat is quite usable except for the fact that the centre console juts out a bit and rubs against your shins. What a shame.
My test car was the GT model powered by a 180hp 2.0-litre BlueHDi diesel engine mated to a six-speed automatic gearbox and came with 19-inch alloy wheels.
At speed, this engine was refined, smooth and quiet, although perhaps a tad grumbly at lower speeds and the 180hp and 400Nm of torque produced were more than adequate for my needs, for building up speed quickly and for confident overtaking. The six-speed automatic transmission was also smooth and slick.
When it comes to handling, the steering is light and accurate and the car is easy to manoeuvre and never feels bulky or cumbersome. There is plenty of grip and the car feels surefooted when cornering. It's not an exciting drive but for me, but the design makes up for that.
In terms of niggles, well there is a bit of body roll, which is to be expected with a tall car like this and the steering feels a bit fidgety at times, but I suspect that is to do with the small steering wheel in the big car. The suspension feels a little bit firm although it still does a good job of smoothing out road surfaces even on those larger 19-inch wheels, so it's nothing too much to complain about.
And finally, there is only one USB connection, which is a bit poor nowadays although some models do come with a smartphone charging plate and a 220v three-pin socket.
If you will be using the 3008 for towing then opt for one of the 2.0-litre diesel engines. The 180hp version has a max braked trailer towing weight of 1,700kg and the 150hp unit with the manual gearbox has a max braked trailer towing weight of 2,000kg.
If you don't do thousands of motorway kilometres every year then think about going for the 130hp 1.2-litre PureTech petrol engine, which is offered with either a manual or automatic gearbox. There's also a 1.6-litre BlueHDi diesel unit with power outputs of 100hp and 120hp, both of which can be had with a manual or automatic gearbox and fall into tax band A3 (€190 a year to tax).
The Peugeot 3008 starts from a competitive €25,995.