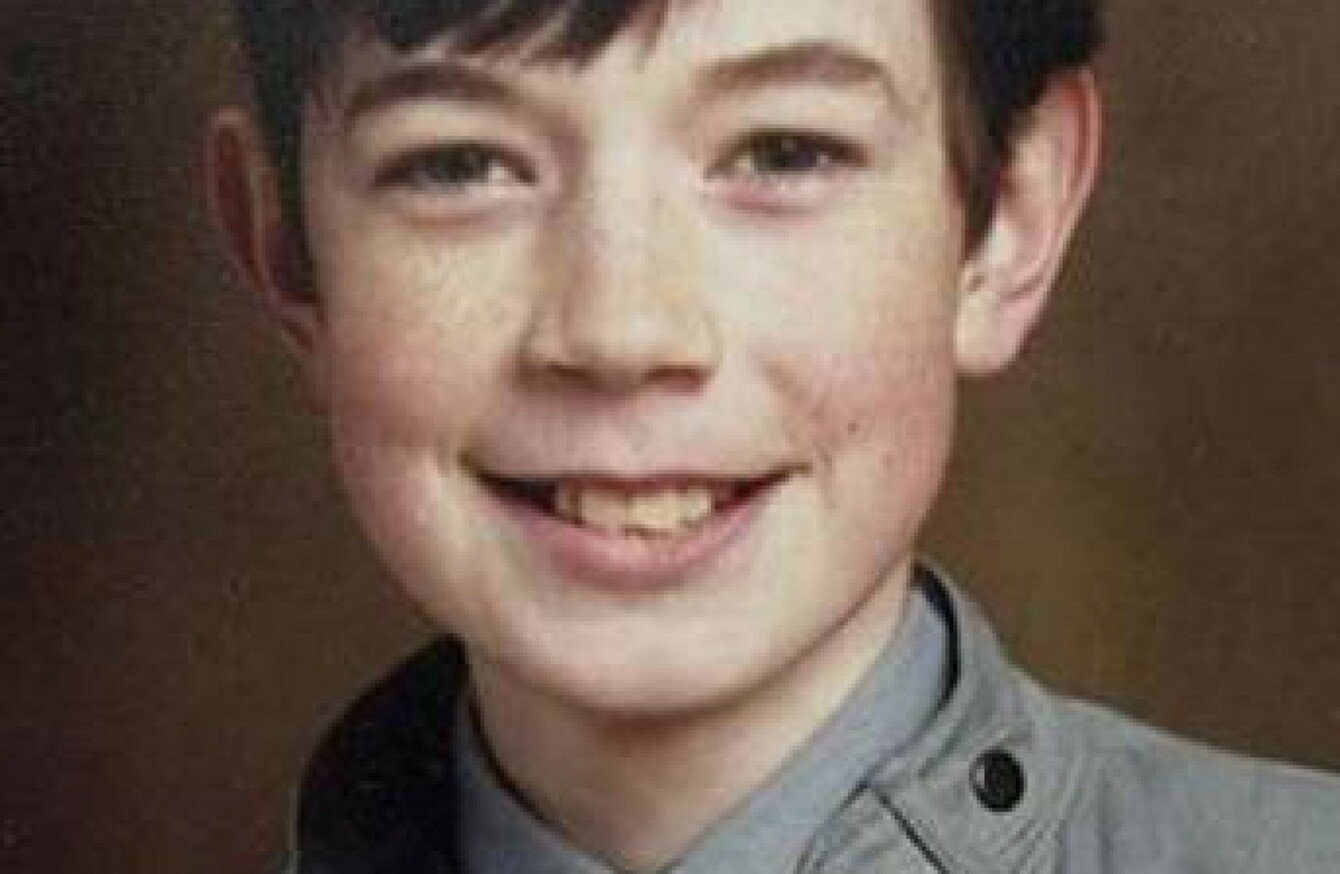 Schoolboy Philip Cairns, whose disappearance 30 years ago is being linked to recently deceased celebrity paedophile Eamon Cooke
Schoolboy Philip Cairns, whose disappearance 30 years ago is being linked to recently deceased celebrity paedophile Eamon Cooke
EAMON COOKE WAS a former radio DJ and serial paedophile who gained minor celebrity status in Dublin in the 1970s.
Since his death earlier this month, Cooke has been linked with the case of Philip Cairns, the 13-year-old who disappeared 30 years ago while walking to school in Dublin.
His disappearance sparked off one of the biggest manhunts in the history of the State at the time, and remains one of the highest profile missing persons cases in the country.
Gardaí announced last week they may have made a significant breakthrough in the case to find Cairns, after a former child victim of Cooke volunteered fresh information linking the paedophile DJ to the case.
Cooke quickly became a household name among the capital's  youth after setting up a pirate pop radio station Radio Dublin from his cramped living room in Inchicore.
By 1977, Cooke was a "public hero" for youngsters everywhere, according to one of his victims Siobhan Kennedy McGuinness, the author of a 2010 memoir Playing In The Dark.
In 1978, thousands of people turned out to protest the authorities' imminent closure of Radio Dublin, which was cherished as a musical alternative to the regular talk radio output of Radio Eireann.
A quietly spoken IRA man
The DJ earned the nickname of 'Captain Cooke' – quickly shortened to 'The Captain', and his broadcasts would be presaged with his own 'captain's address'.
A 1978 report in Magill describes Cooke, the 'godfather' of pirate radio in the capital, as "an innocuous, quietly spoken IRA man".
Yet they focused primarily on 'harassment' Cooke was suffering at the hands of the authorities.
He had been a radio and TV repairs man and he started transmitting over 11 years ago, largely as a hobby. He built his own transmitters from spare parts, learning the technicalities as he went along. Initially, he broadcast for a few hours on Sunday afternoons and his DJ at the time was a local butcher. Because of harassment even at that time, from the Department of Posts and Telegraphs, they transmitted from several different locations – Ballyfermot, Clontarf, Cabra and finally from his own home at Inchicore.
Career launchpad
Radio Dublin, with Cooke still at the helm, lasted into the late 90s – and launched the careers of an array of household Irish broadcasting names, including RTÉ stalwarts Marty Whelan and Dave Fanning.
Years later, Fanning recalled his years at the pirate radio station:
Station founder "Captain" Eamon Cooke was a bizarre character – a wizened, mature man of indeterminate but possibly pensionable age who drove an old white Rolls Royce and who largely left me alone as he pottered around the house.I always thought he was a harmless eccentric – until, years later, a journalist phoned with the news that the Captain had been sent to jail for sex offences.
Dark side
Yet rumours had swirled around 'Captain Cooke' for decades.
A contemporaneous report from the Irish Press describes how, in 1978, the staff of Radio Dublin quit en masse and sabotaged the station transmitter, while Cooke was away on holidays in Spain, amid allegations about his 'personal conduct'.
By the turn of the millennium, a Garda investigation had established him as a serial child abuser, and he was brought to court in 2003.
In court, victims described Cooke's slightly more sinister moniker – 'the Cookie monster'.
Cooke was convicted for attempted rape, attempted unlawful carnal knowledge and sexual and indecent assault of four girls in the 2003 case, but the conviction was later quashed on a legal technicality.
Convicted again
Although Cooke was released in May 2006, he was again brought to court and convicted, in 2007, on 42 counts of sexual abuse of children.
The conviction, which related to abuse between 1974 and 1978, was upheld on appeal.
He is believed to have abused hundreds of children before he was jailed.
One of the victims told the court that the abuse had started when she was around seven and continued until some time before her 11th birthday. She said local children regularly played in Cooke's garage, which contained broken televisions and telephones.
He had 11 children between the ages of four and 18 at the time of his 2007 conviction.
New allegations
Last month, prior to his death, Angela Copley, a Dublin community worker who supports victims of sexual abuse, passed on information from one of Cooke's victims to Gardai.
The new information related to the disappearance of Philip Cairns, the 13-year-old who went missing in Dublin almost 30 years ago, and was never seen again.
On 23 October 1986, Philip returned to his house on Ballyroan Road from Coláiste Éanna Secondary School in Rathfarnham.
He left the house at 1.30pm and was never seen again.
The victim who came forward linked Cooke with Cairns' disappearance, and claimed that she was with Cooke, as a child of nine, on the day he was abducted.
Gardaí spoke to the 79-year-old Cooke before his death, at a hospice in Dublin where he was receiving palliative care.
Cairns case
He is thought to have confirmed aspects of the statement, but refused to say where Cairns was buried or admit responsibility for his death.
Earlier this month, on Saturday, 4 June, he died aged 79, in St Francis Hospice in Raheny, Dublin, to which he had been transferred.
Gardai are now attempting to trace Cooke's other victims in an effort to solve the Cairns case.