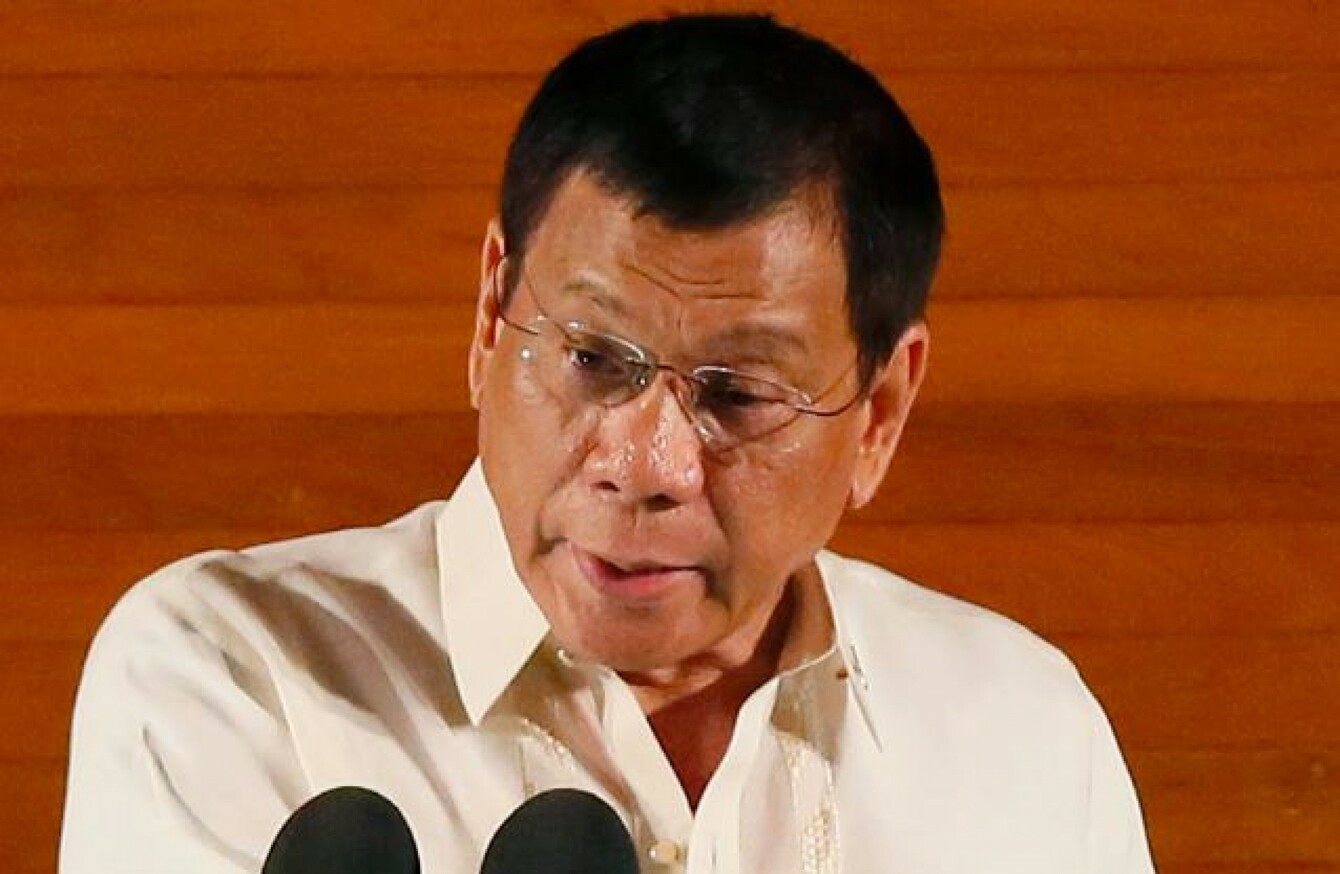 Philippine President Rodrigo Duterte
Image: Bullit Marquez/AP/Press Association Images
Philippine President Rodrigo Duterte
Image: Bullit Marquez/AP/Press Association Images
THE PHILIPPINES' POLICE chief has today hailed the "momentum" in a war on crime that has claimed more than 1,700 lives, as a Senate inquiry heard allegations that security forces committed murder and torture.
President Rodrigo Duterte won the presidential election by a landslide after promising that tens of thousands of people would be killed in an unprecedented law-and-order crackdown.
Security forces have relentlessly followed his orders since he took office on 30 June.
"I admit many are dying but our campaign, now, we have the momentum," national police chief Ronald dela Rosa told the Senate inquiry into the killings.
Dela Rosa said police have killed 712 people in anti-drug operations since Duterte came to power, and there were another 1,067 deaths at the hands of unknown attackers.
Human rights groups, the Catholic Church and the United Nations have expressed alarm at the bloodshed, warning of mass extrajudicial killings.
Duterte and Dela Rosa have insisted the security forces are only acting in self-defence, while claiming the unsolved deaths are due to drug gangs killing people who could implicate them.
However, two officers have been charged with murder over the death in custody of a father and son in Manila on 7 July, the local district police chief told the inquiry.
Dela Rosa described such abuses as "very rare".
"Any policeman found violating the law against self-defence will be punished," Dela Rosa said.
'He couldn't even stand up'
Harra Kazou, the pregnant partner of the son killed on 7 July, gave tearful testimony at the inquiry alleging that he reported being beaten at the police station after being arrested the previous night.
"I saw how he held the jail bars. He couldn't even stand up," Kazou said of her partner, Jaypee Bertes.
Kazou said her partner was a small-time drug trafficker but her father-in-law was not.
The two policemen claimed in an affidavit they killed the men at the police station because the father had tried to grab one of the officer's guns.
However, the Philippines' Commission on Human Rights – which carried out an autopsy on both victims – said they had been beaten up so badly they suffered broken limbs, and each was shot three times.
"There was torture," commission regional chair Gilbert Boiser told the inquiry.
Senator Leila de Lima, who initiated the inquiry, warned there were likely more similar cases.
"The campaign against drugs seems to be an excuse for some law enforcers and other elements like vigilantes to commit murder with impunity," she said.