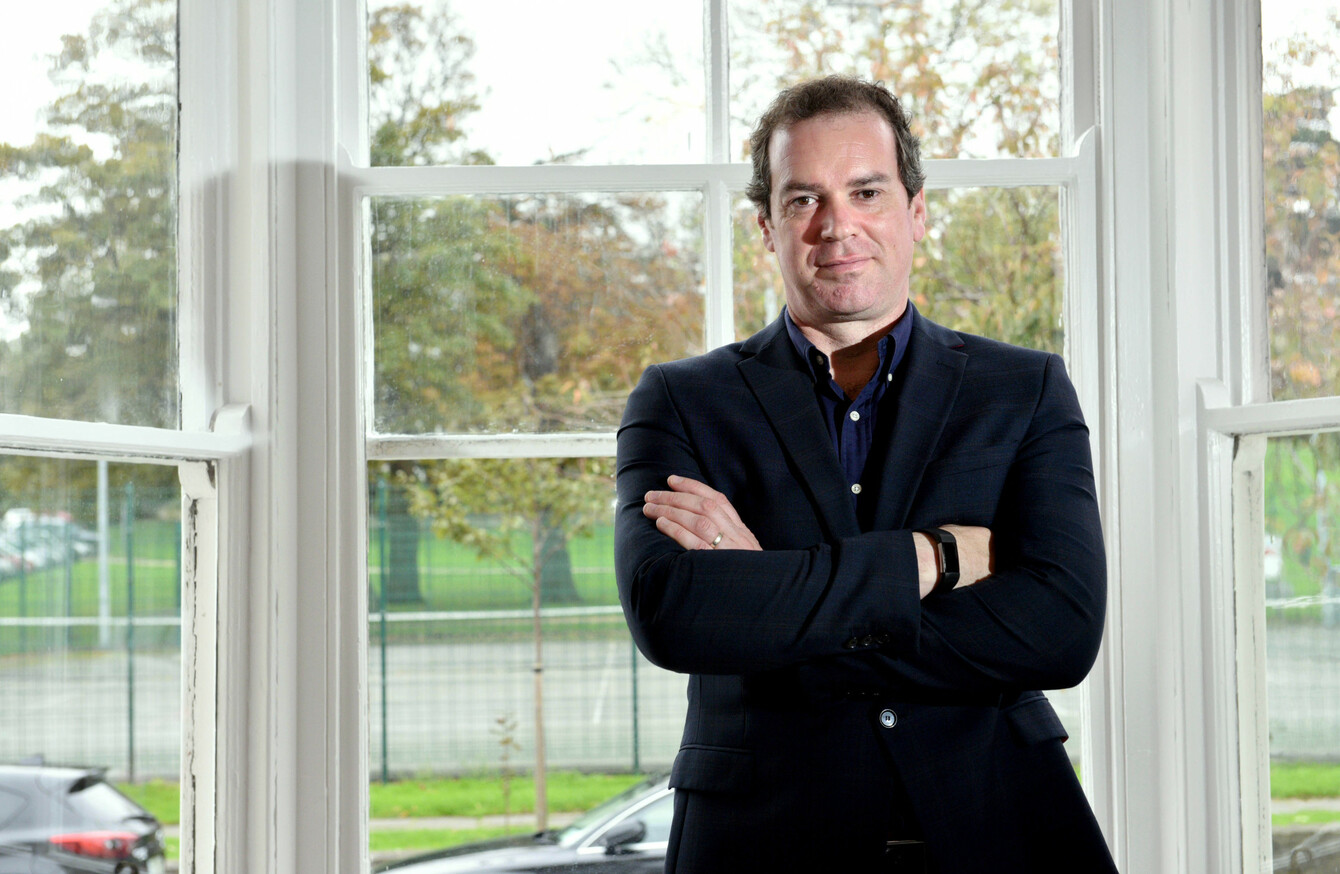 Image: Maura Hickey
Image: Maura Hickey
RUNNING A SMALL business can be a deeply personal affair. Spending a few years in the same building working towards the same goal is a good catalyst for strong personal bonds to form.
This also makes it very tough whenever disaster strikes. It has the potential to scar a company and its workers.
Phonovation boss Gavin Carpenter discovered this in July when Josu, a software developer at the company, tragically died in a bike accident.
Carpenter joined the Dublin company in 2006, serving as its sales director for nearly a decade before becoming CEO in 2015. Josu's passing is the nadir of his experience since he started leading the firm.
"It was the biggest low. He was with us for seven years, and in a small team that's huge, we're all very close," Carpenter says.
"Everything else we did (as a business that year) was tainted by that. His wife was recently pregnant, so we spent some time with her trying to help. (Luckily), everyone in the business has a life insurance policy.
"We made sure that everyone understood that they could take whatever time was needed and we had some grief counselling in the office.
"There was some practical things we did at the time, (such as) putting up a memorial plaque, but the main way we deal with it is by not forgetting about him. For example, we had a drink for him at Christmas. It's as much as we can do."
The accident proved a huge shock and learning curve for Carpenter, who had recently taken over from Paddy Woods as CEO of the business.
Just days before he passed away, the software developer had emailed Carpenter with a list of recommendations laying out areas he thought Phonovation should work on next.
The email is still in his inbox lying unread, and will remain so until the time is right.
"I still have it unopened. Once we get to the right point in time, we'll open it and it'll form part of our plans."
The ideas will be needed more now than ever before. Phonovation, which helps companies communicate with their customers through phone and text messages, is moving into the UK market where it hopes to strike it big.
Transformations
Despite being relatively small, Phonovation is associated with some of the biggest names in Irish business.
The firm was set up in 1988 by JP McManus, John Magnier and Dermot Desmond, three of the country's richest and most successful businessmen.
At the time there was almost no television or radio dedicated to live racing: people would have to check the papers to get the results.
"That was too late. When someone bets on a horse, it isn't to win an extra £4 on a £40 bet. It's to hear the last 60 seconds of a race, that excitement," Carpenter says.
"(The company) put a phone line in each racecourse in the country and to this day when you call a racecourse and hear live commentary it's because of Phonovation."
The business also focused on other forms of mass communication. For example, it helped businesses to send out thousands of letters to their customers.
Over time, its areas of interest morphed. By 2006, it made most of its money by operating phone lines for competitions on the television or in newspapers.
This changed again when Carpenter came into the business. The Dubliner had a strong background in sales, spending much of his youth crossing across the country with his father on business trips.
"He was a great teacher. Many things he said to me at the time didn't make sense at the time, but have since paid dividends.
"(For example), he told me a story about two horses in a race. The second wins €5,000 but the first wins €10,000, even though he only won by a nose.
"The lesson was you don't have to be twice as good as the next person to get more rewards, you just have to be a bit better. That always drove me to do that bit extra."
Carpenter wanted to make Phonovation a bit better and focused on selling its products to corporate customers as well as the media.
"I was a sales manager in a teclo before I came here and had some experience in management. (At first) Paddy ran the business and I ran sales. Then in 2015 we changed roles.
"Having a team working for you was completely different to being part of a multinational company (where I worked previously).
"Other people's livelihoods didn't rely on you there. It was nerve-wracking."
Now the firm has several channels through which it can help businesses reach their customers. One main one is through phone lines: Phonovation operates many automated helplines used by businesses to deal with basic customer queries.
It also operates text services used by companies. For example, a bin firm sending its customers a text reminder as to when they should put the rubbish out.
While it has taken a long time for the company to grow, it now employs two dozen people, is on course to turn over €11 million and made a profit of just under €200,000 in 2016.
Mix
Phonovation has about 1,000 customers, which Carpenter says are a mix of small and medium-sized businesses as well as big multinationals.
"On one end of the spectrum you have Vodafone and Eir, and on the other you have lots of one person companies that we provide services to," he says,
"Some customers have five-year contracts, while some have 12 months. Most are on a monthly rolling service contract, so they only stay with us for as long as they're happy.
"It's all usage based, so if we send out 100,000 messages for in January and none in July, you only pay for what you used in January."
Although the overwhelming majority, "about 95%", of the company's business is in Ireland, Phonovation has recently opened an office in Newcastle and is planning a big push into the UK.
Carpenter doesn't mention his competitors by name but perhaps the single biggest rival to his business is something less tangible: instant messaging.
While not yet widespread, companies like Facebook have been toying with ways that would allow businesses to directly message customers which would cut out the likes of Phonovation.
However, Carpenter thinks that any shift in that vein is likely to be years away, as social media users don't want to be bombarded with ads.
"The reason that Whatsapp is popular is because it has no ads. Once they start using ads on it people will move onto something that has no ads and is free," he says.
"We're not blind to it, and we've looked at push notifications, bit we think there's a lot of value in SMS texts as (mobile) networks are built for SMS.
"We have the tech ready to deploy (for push notifications), but right now SMS is continuing to grow."
No exit
While there's still the possibility of getting involved in push notifications sooner if they take off, right now Phonovation's main focus is on cracking the UK.
"There isn't any more premium Irish business for us to win here. The next 3-5 years will be about growing in the UK," Carpenter says.
"The market in the UK is 10 times what it is in Ireland, and the 10-year view is that we could be a €100 million business," Carpenter says.
"We could double revenue to €25 million in the next three years with our business in the UK."
While there's a clear plan in place for the company, Carpenter is conscious he doesn't have one for himself.
"(As part of a talk) we were told that we had to focus on our exit strategy, but I don't have one," he says.
"There's still too much to do here, and it's still very interesting. Moving into the UK is like starting a new business, it's great for me. As long as there are new customers to meet I'll stay here, it's still too much fun."
Sign up to our newsletter to receive a regular digest of Fora's top articles delivered to your inbox.
Written by Paul O'Donoghue and posted on Fora.ie