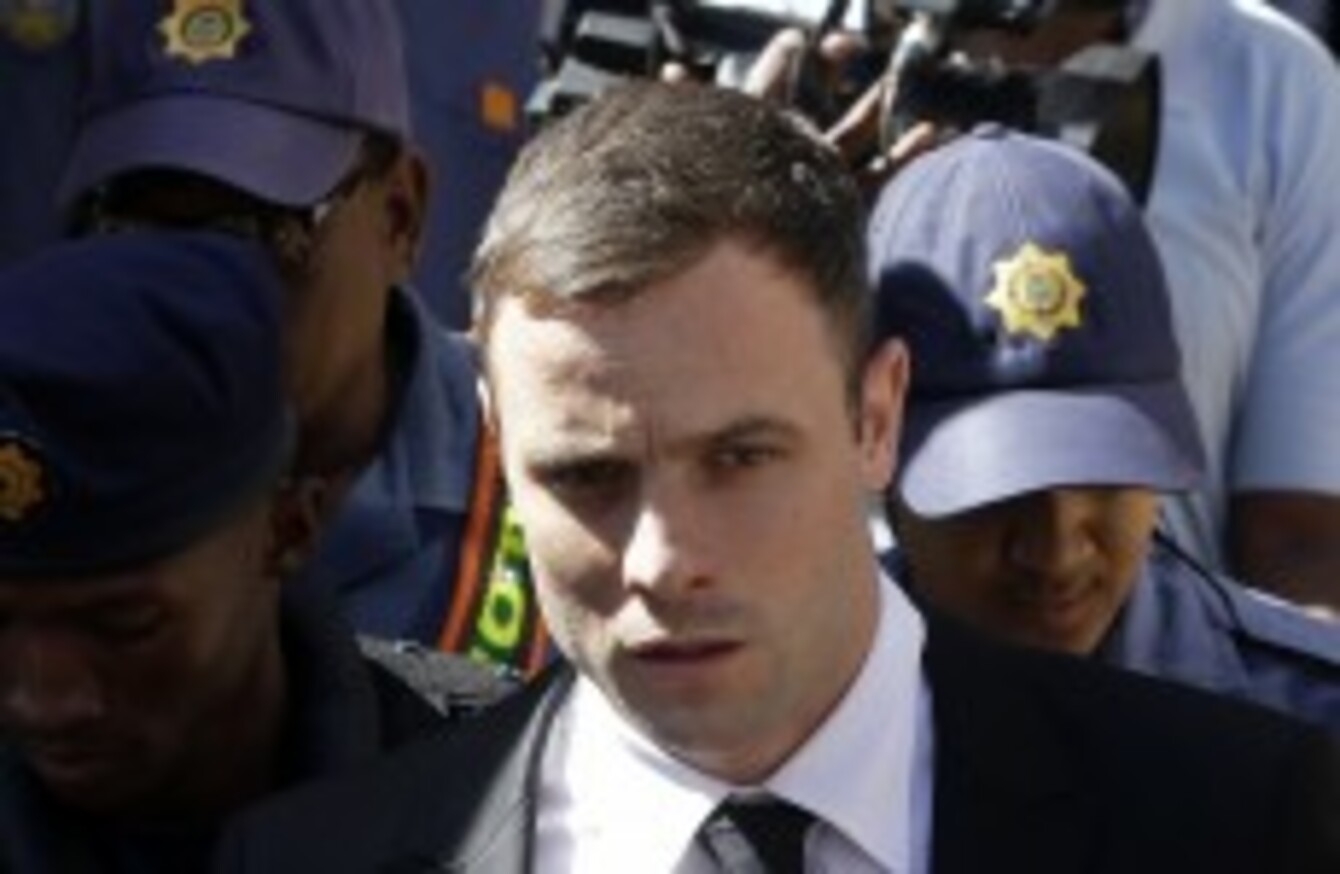 Image: AP Photo/Themba Hadebe
Image: AP Photo/Themba Hadebe
A PAROLE REVIEW to decide if champion Paralynpian Oscar Pistorius should leave jail has been postponed for two weeks.
Pistorius was due to leave prison in August to serve under house arrest the remainder of his five-year sentence for shooting his girlfriend Reeva Steenkamp.
But he was kept behind bars after Justice Minister Michael Masutha made a last minute intervention blocking his release, in the latest twist to the case that has grabbed global headlines.
The hearing was due to take place yesterday but News24 reports the board did meet but did not get to Pistorius' case. Another hearing will take place in two weeks' time.
Valentine's Day
Last year, Pistorius was found guilty of culpable homicide for shooting his model girlfriend Steenkamp in the early hours of Valentine's Day 2013.
The star athlete known as the "Blade Runner" argued that he shot the law graduate after mistaking her for an intruder; prosecutors said he did so deliberately.
If the panel decides Pistorius should be released from prison, the athlete might be able to leave jail immediately, said his lawyer Brian Webber to AFP.
"That could be the case," said Webber, adding that he can't be sure. "I'm not a bookkeeper."
Alternatively, the panel can rule that Pistorius must remain in prison.
Intentional
The parole review board has no set time limit to make its decision, said lawyer Joey Moses, author of the book Parole in South Africa.
The parole review comes just months before Pistorius is set to fight the state's appeal to have him found guilty of murder instead of the less serious charge of culpable homicide, or manslaughter.
In November, the Supreme Court of Appeal will hear his case in Bloemfontein and determine if Judge Thokozile Masipa erred when she ruled that Pistorius did not intentionally kill model and law graduate Steenkamp.
Should Pistorius be found guilty of murder, he would serve a minimum of 15 years in prison, ruling out a return to the professional world of athletics where he was once revered as a role model.
- © AFP, 2015 with reporting by Michelle Hennessy.
Originally published 19/01/2015