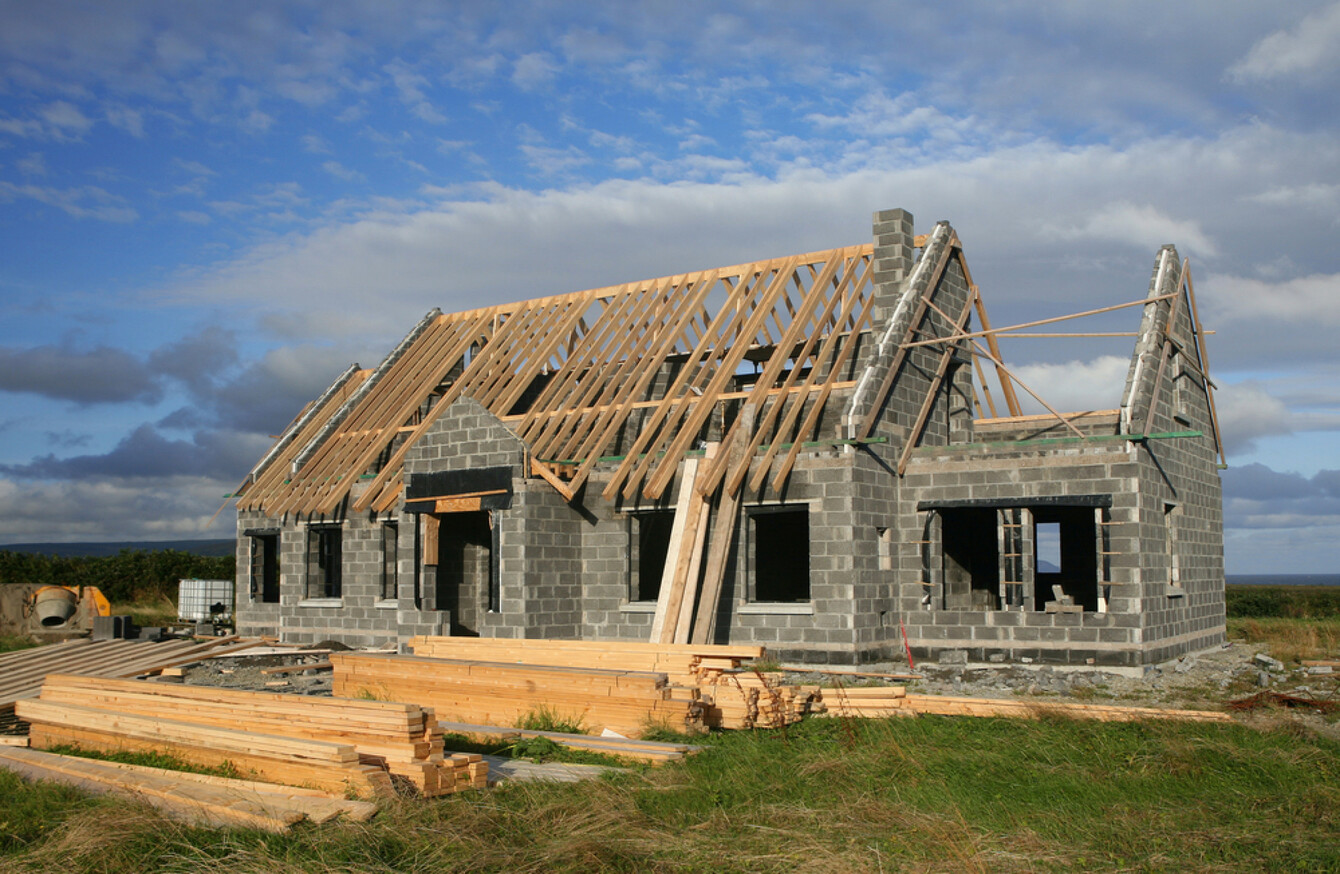 File photo. House under construction in rural area.
Image: Shutterstock/Joe Gough
File photo. House under construction in rural area.
Image: Shutterstock/Joe Gough
ONE COUPLE TRYING to build a family home in a rural part of Offaly still haven't laid the first foundations for a property on land owned by their family, three years after submitting their first planning application.
The Phelan family based in a rural part of Offaly are now on their third planning application but, after it was approved by the council, a third-party objection now means the decision rests with An Bord Pleanála.
With recent figures showing over 300 cases before An Bord Pleanála taking more than six months for a decision to be issued, the Phelans aren't alone in facing waiting times longer than the prescribed 18 weeks and now face into Christmas unsure if they'll be able to build a home they can raise their two children in. 
The delays in finalising these cases have been described as "shocking" and "appaling" and the backlog figures suggest the example of the Phelans waiting to get permission to build a property may be indicative of a wider trend.
"This is a housing crisis," Aoife Phelan told TheJournal.ie. "We have mortgage approval. We just want to build our home. We don't want anything from anybody except the right to build our farm."
The Phelans' story
Aoife and Trevor Phelan began their "planning journey" in 2014, shortly after they got married. They met with a local engineer and began to draw up plans for their home to be built on lands owned by their family.
These plans were submitted to the Offaly County Council on 1 March 2015, but turned down on 17 June that year.
They were told they didn't have a "functional need" to reside in that particular area.
At this point, the couple weren't put off. They lodged another planning application in February 2016.
Under advice from the council – and due to a belief they had found an alternate site to build their home – the couple decided to "cut [their] financial losses" on the initial site in December 2016 and going about arranging an application for the new site.
A third application was then submitted on 28 November 2017 on the site recommended by the council but, already over two years into the process, the couple weren't impressed.
Aoife Phelan said: "The process has been dragged out to the maximum, in our experience when dealing with our local council. The council would correspond with us on the day before a decision was due to be made and seek further information."
The couple also agreed to move back the sight lines by five metres to assure the council that the access road would remain safe. "We're basically giving away free land to make the road safer," she said. 
We were full of anxiety and nerves. It was a huge stress on us. My youngest son arrived very prematurely during all of this.
Six months after this third application was received, a decision was made to grant permission on 23 May.
However, a third party objected to the development and An Bord Pleanála was required to adjudicate on the planning application in June.
"Of course it was so frustrating," she said. "We were already in it so long at this stage. But we have to respect the integrity of the system."
An Bord Pleanála says it will rule on appeals within 18 weeks. The Phelans' case was due a decision on 15 October. They received new correspondence a few weeks ago with a new "target date" of 10 December – over one year after they submit the planning application.
Aoife Phelan said she'd been told it is possible their application could be subject to a further deferral, which would delay a decision yet again.
We have invested heavily financially into our planning applications over the last four years, we cannot afford and we are not ready to just give up on building our 'dream' house in the country, where we were reared and lived all our lives. We cannot move on in any shape or form until a decision is made by An Bord Pleanála. As a working couple with two babies and mortgage approved we are desperate to move on with our lives and have a house we can call home.
Managing expectations
Edward McAuley, head of practice and policy at the Society of Chartered Surveyors Ireland, told TheJournal.ie that the challenges and complexities of the planning process are far different for once-off builds compared to commercial building. 
He said that there is a "high demand" from the public to build houses around the country. 
"The process can of course be lengthy," he said. "From the first instance, a lot of our members would say it's important to try to manage the expectations of clients. Some will have their homework done, but others won't."
McAuley said that rural planning guidelines that must be adhered to will often be at odds with what a particular family or individual want from their house. 
"A lot of clients will be coming in with that particular angle might not be willing to amend their plans," he said. "A certain cohort will go down that route anyway. And it'll bring a negative result. And then you're back to the drawing board."
McAuley said that in terms of local authorities dealing with planning applications, the waiting times remain relatively consistent compared to five or six years ago, which is "surprising" given the increase in the number of applications.
"I think local authorities deal with [the process] fairly well, but it's important that they apply the right formula and are cognisant of the very genuine cases where applicants demonstrate wholeheartedly a connection with rural Ireland," he said. "It's important these people aren't negatively affected."
As in the case of the Phelans – who had two applications turned down – McAuley said that in the unfortunate number of cases where clients get a refusal "that's a significant amount of time lost".
Delays borne out by figures
Aoife Phelan has written to the Minister for Housing Eoghan Murphy, urging reform in the system.
The delays experienced by the Phelans is one example of what has been happening in hundreds of cases, according to figures released to Social Democrats co-leader Róisín Shortall.
"The figures that I have obtained are shocking given the ongoing scale of the housing and homelessness crisis," she said. "84 of these cases are waiting over a year for a decision, and unbelievably 35 of these cases are waiting more than two years for a decision."
As of the end of September, there were 331 cases where applicants had been waiting for than six months for a decision. 
Staffing levels are also down at An Bord Pleanála since the height of the boom. In 2008, it had a full-time staff number of 179 people. This has dropped to 158. 
"If we are to believe the spin being put out by the Minister [Eoghan Murphy], that all of the stops are being pulled out by the government to address the housing crisis, but when you see an agency with such a massive role in the provision of housing with such poor staffing levels it speaks volumes," Shortall said.
The issue was also raised this week in the Dáil by Fianna Fáil's Barry Cowen.
He asked Minister of State Damien English if the government had committed to placing a "statutory basis" for the length of time An Bord Pleanála presides over appeals. 
"Despite the fact that the Minister for Housing, Planning and Local Government has said that increased resources and staff are being made available to An Bord Pleanála in this time of national crisis in respect of the housing sector and the provision of housing, it is appalling to think that a one-off house cannot be dealt with adequately within the time assigned by the board," he said.
In response, English said: "It is something we can certainly look at because these issues come up a lot with regard to length of time but the staffing issue must help resolve some of that. However, I am prepared to look at it."
Cowen has since indicated that Fianna Fáil will be preparing legislation to introduce address this issue and put in place a limited time frame in which appeal decisions will be made by An Bord Pleanála. 
Since their planning process began in 2015, the Phelans have had two children and remain renting in the local area, but the work they do helping out family on the farm means that they're set on building their house close to home. 
Aoife Phelan also said that since she's tried to highlight what's happened to her family, she'd been contacted from others who've said they are in the same position. 
"From our experience, the whole process has been way too slow," she added. "At a time like this, you should let people build houses for themselves.
For us it's been like going into a maze. You can go forward, right, left or backwards. But you don't know if you'll ever find your way out.