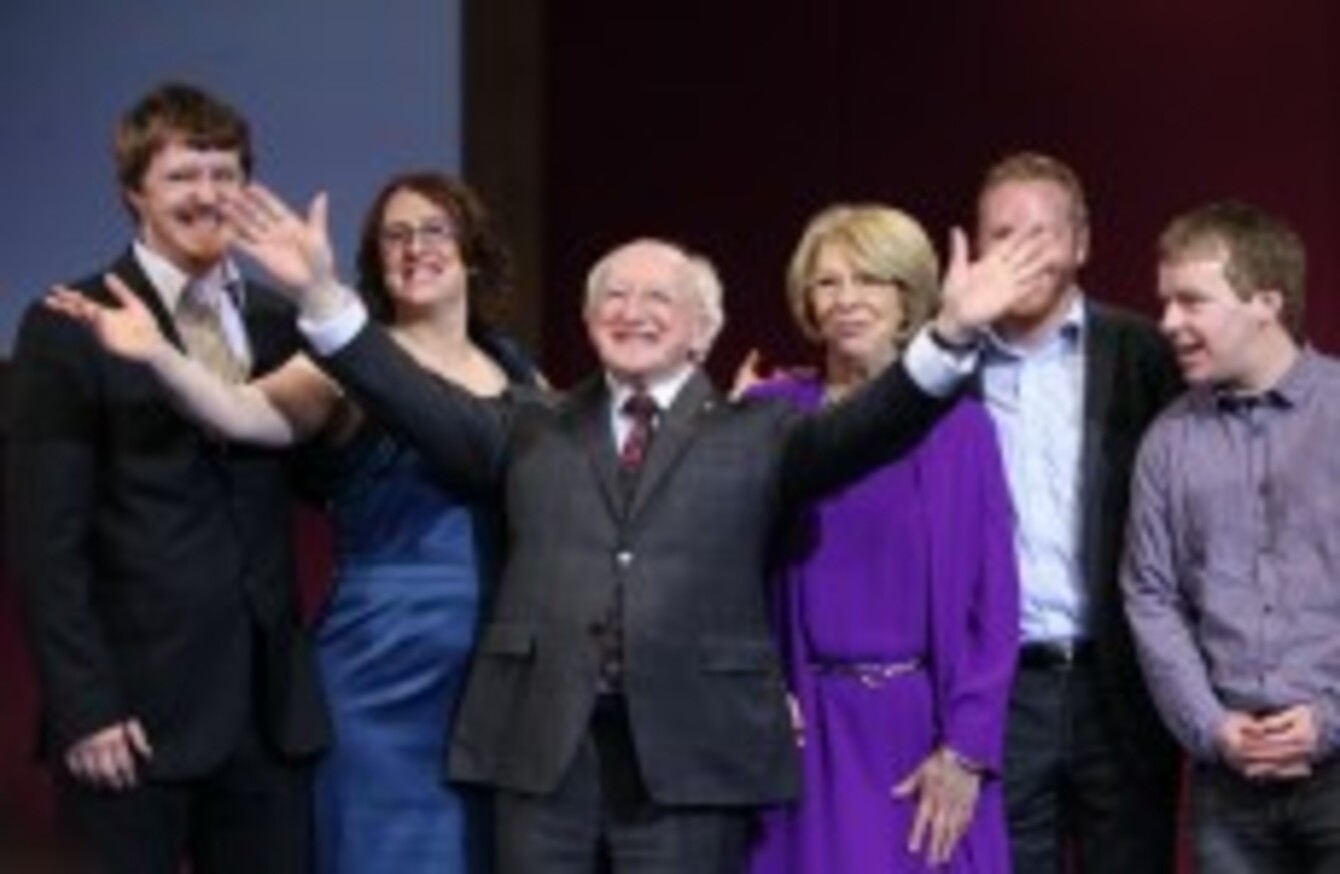 Michael D Higgins, wife Sabina and family today.
Image: Stephen Kilkenny/LightCurvePhoto
Michael D Higgins, wife Sabina and family today.
Image: Stephen Kilkenny/LightCurvePhoto
THE MAN WHO will become the ninth President of Ireland when sworn into office on 11 November 2011 (yes, that's 11/11/11) will also become the first person to have held office in each of the three branches of the national executive.
Born in Limerick and raised in Clare, Michael D Higgins spent 25 years in Dáil Éireann and nine in the Seanad – having first ran for the Dáil 42 years ago.
Although initially a Fianna Fáil party member for a few months while studying at then-named UCG, Higgins joined the Labour Party shortly afterwards and first ran for the party (unsuccessfully) in the same year the first man stepped onto the Moon – 1969.
He spent time in both Galway City and County Councils, and served as Mayor of Galway twice – 1982-83 and 1991-92 – having been nominated to the Seanad by Taoiseach Liam Cosgrave in 1973 and elected to the Dáil in 1981.
In 1992, the International Peace Bureau awarded Higgins the Seán McBride Peace Prize for his work promoting human rights in countries including Chile, Nicaragua, Somali and Cambodia.
TG4 and the Irish film industry
Higgins, who has produced three collections of poetry to date, was the state's first Minister for the Arts, Culture and the Gaeltacht, first serving on the short-lived Labour-Fianna Fáil coalition government in the early 90s and then on the successive Labour-Fine Gael coalition.
While a minister, Higgins oversaw the introduction of the Irish-language broadcaster TG4 and abolished the controversial Section 31 of the Broadcasting Act. Under Section 31, it was an offence for members of proscribed organisations (such as Sinn Féin) to speak or be interviewed on Irish radio and television.
Higgins also supported the Irish film industry by re-establishing the Irish Film Board and by directly appealing to movie producers to set productions such as Braveheart and Saving Private Ryan in Ireland.
Running for the Áras
In his last Dáil speech, then-Galway West TD Higgins addressed the House on the Finance Bill in January 2011. Before leaving the Dáil upon its dissolution for the general election a month later, Higgins indicated he did not intend to contest his seat, but instead hoped to become his party's presidential candidate.
He managed to beat Barnardos chief Fergus Finlay and former senator Kathleen O'Meara to win Labour's backing for the Áras election:
(Michael D Higgins is congratulated by his wife Sabina Coyne after securing Labour's Áras nomination in June 2011, as Labour leader Eamon Gilmore and candidate Kathleen O'Meara look on. Image: Niall Carson/PA Wire)
The Labour Party uploaded this video in support of Higgins last month giving an overview of their highlights of the politician's career:

Video via the Labour Party on YouTube
Campaign pledges
During his presidential election campaign, Higgins took part in TheJournal.ie's quickfire quiz and spoke about his love of music, the personal traits he believes make him 'presidential', and his admiration for Norway's  response to the Utoya shootings and Oslo bombing:

Campaigning for the presidency, Higgins said he had dedicated his life to public life and human rights issues. He said his vision for the presidency comprised of "inclusive citizenship, in a creative society, as part of a real republic that makes us proud to be Irish in the world".
Higgins pledged to "use the discretion available" within the limitations of the presidential office to "highlight and promote the many positive initiatives for inclusion which exist right across Ireland" and to promote creativity as a means of finding "new possibilities in every area of life".