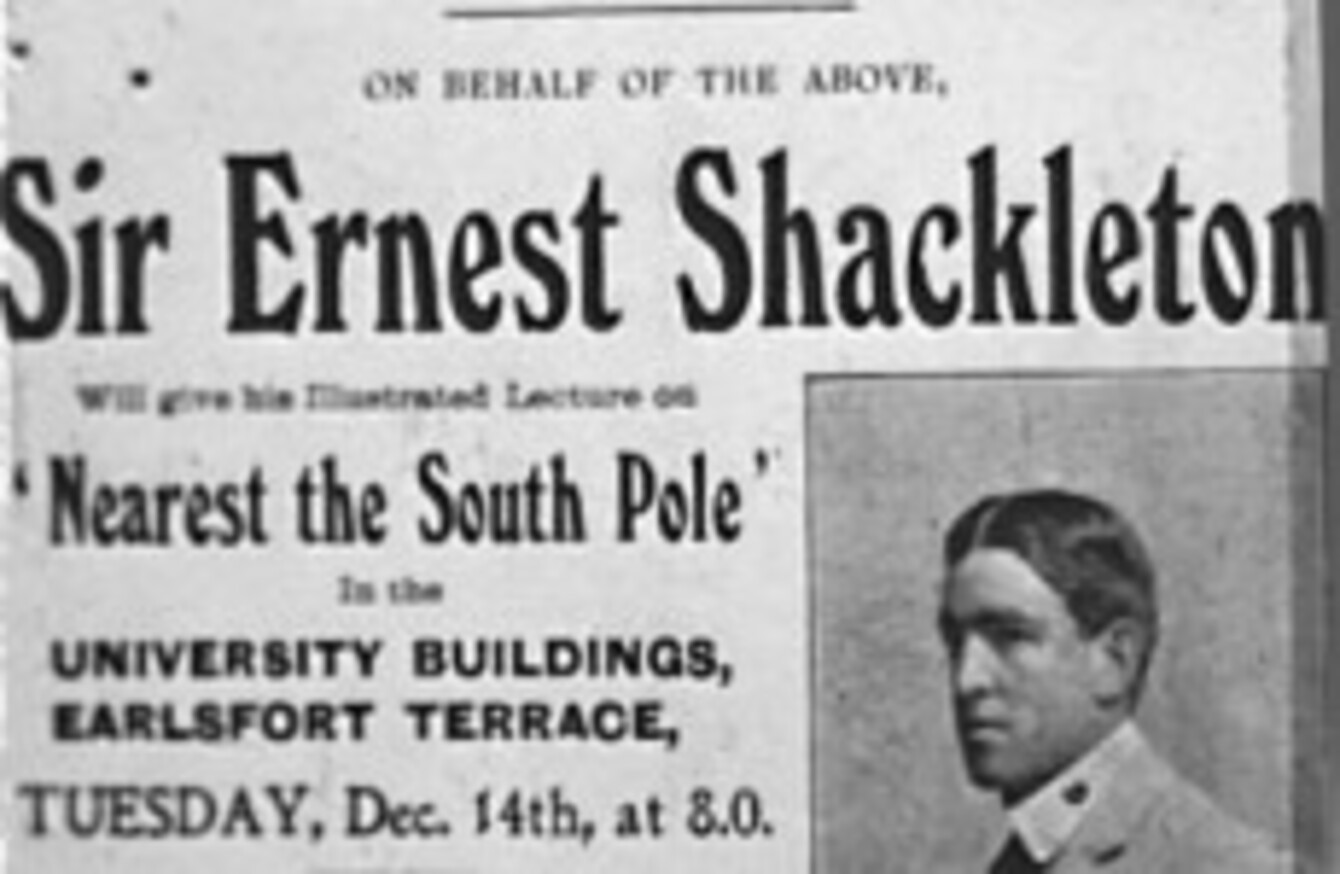 Notice advertising Ernest Shackleton's visit to Dublin in December 1909
Image: Jonathan Shackleton
Notice advertising Ernest Shackleton's visit to Dublin in December 1909
Image: Jonathan Shackleton
ERNEST SHACKLETON WAS first and foremast an explorer – but he was also a poet, a father, a grandfather and an Irishman.
In an upcoming event at the National Concert Hall, all of these things will be remembered through theatre, music and talks.
The life and work of his fellow Irish explorers Tom Crean, Francis McClintock and Francis Crozier will also be celebrated on the 6 February.
Although he did not win the race to the South Pole, Shackleton has been recognised for the bravery, skill and leadership shown during his Endurance expedition of 1914.
Despite not fulfilling their dream of crossing the Antarctica, the crew of Endurance managed to escape their ship after it got stuck in ice in 1915 and eventually sank.
After an epic year-long journey, the crew reached the semi-safety of Elephant Island. Shackleton then took five of his crewmen and went to find help. They spent the next 16 days crossing the ocean to reach South Georgia. The rest of the men were rescued from the island in August 1916.
Shackleton's leadership skills have since been praised as, unusually given the circumstances, nobody died during the expedition.
His achievements during the 1908 Nimrod expedition have now also been well-documented. During that trip, Shackleton and his men climbed Mount Erebus and made numerous scientific discoveries. They also came closer to the South Pole than anyone before them.

Launch of the James Caird from Elephant Island on the historic 800 mile small boat journey to South Georgia on 24 April 1916. Three of the six men on board were from Ireland: Ernest Shackleton (Kildare),Tom Crean(Kerry), Tim McCarthy (Cork).
"The genes got me in the end"
The Hon. Alexandra Shackleton, told TheJournal.ie that although she is now patron to an expedition recreating one of his voyages and president of the James Caird Society, her grandfather's life has not always been a preoccupation of hers.
Shackleton died when Alexandra's father was just 10 years of age and as a result, she did not grow up hearing lots of stories of her grandfather.
A "wonderful" black-and-white photograph has remained an important memory for her but it wasn't until after an article appeared in the Wall Street Journal in the 1990s that her interest – and that of the wider world – was really piqued.
"He was in the back of my life for a long time until public interest started in the nineties. I was then asked more and more to do things in relation to him," she said.
It wasn't a lifelong participation but the genes got me in the end."
She also inherited a love of the Antarctica, where she has visited three times and describes as a "wonderful, magical place".
In the end, all the speeches, events and research has led Alexandra to feel she knows here grandfather better.
She tells stories of his love for his men and how the crew were always the explorer's first priority.
"In lots of ways he was ahead of his time," she explains. "He took time to get to know his men and figure out how to get the best out of them. He would do any job – no matter how menial – so that others would do the same."
There is a great photo of scientists scrubbing the floors with other men."
"He never talked about being proud of his work but was always concerned about the safety of his men. As an example, he was once asked to contribute to a book on the Nimrod but refused until the word hero was removed from the title.
He tried to encourage a mindset where all his men were loyal to each other and to the expedition as a whole. And to help this, the men knew their leader was totally devoted to them."
Keeping in touch
Although living in Hammersmith in West London, Alexandra's connections with Ireland have not faded. She studied history in Trinity College Dublin and continues to visit each year for a festival near the birthplace of her grandfather in Kilkea, Co. Kildare.
Alexandra is in Dublin next week to deliver a speech at the National Concert Hall's Irish Polar Heroes event on 6 February.
She will be joined by Jonathan Shackleton, a distant cousin of the explorer, who will give a lecture earlier in the evening.
Speaking to TheJournal.ie, Jonathan revealed he also inherited a love of the South Pole from his ascendant.
He has made an astonishing 30 trips to Antarctica, including a visit to his cousin's grave at South Georgia. On 5 January 1922, Shackleton died from a heart attack while on his last expedition (an attempt to circumnavigate the continent) just off the island's coast. He was buried there on the request of his wife.
On another expedition, Jonathan tells of how his boat got beset in ice, near where Shackleton's Endurance got stuck.
On Monday, Jonathan will give a background of South Pole exploration and talk about what it is like to go there today.
It is a wonderful place – a very inspiring, raw environment. It has none of the trappings of modern civilisation – it is quiet, very beautiful and has wonderful wildlife."
A forester by trade in Ireland, it is ironic to the Cavan man that he loves it despite the fact there are no trees.
Both of the Shackletons have said they are most looking forward to the musical elements of Monday's event.
Michael Holohan has composed a special piece 'And always that wind' for the occasion. It will be played by virtuoso flautist Brian Dunning. Another piece 'Where a single footprint lasts a thousand years' was specially commissioned by the NCH for the Shackleton Centenary of 2009.
Actors Donal O'Kelly, Barry McGovern will also perform during the event.
Shackleton History

Shackleton History

Shackleton History

Shackleton History

Shackleton History

Shackleton History

Shackleton History

shackleton2