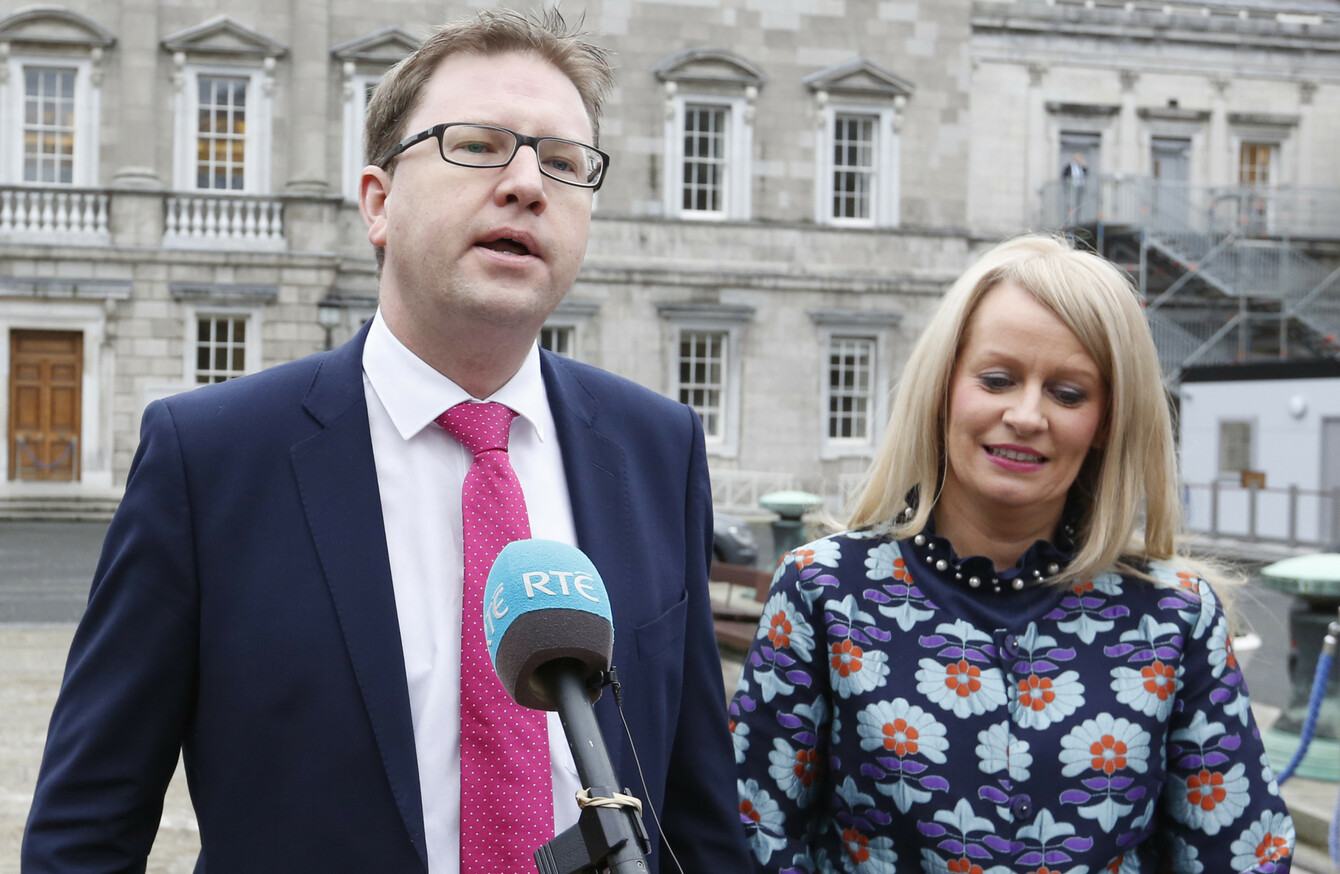 Fianna Fáil TDs James Lawless and Niamh Smyth speaking to the media on the plinth at Leinster House today.
Fianna Fáil TDs James Lawless and Niamh Smyth speaking to the media on the plinth at Leinster House today.
THE GOVERNMENT IS set to oppose a Fianna Fáil Bill that would force any online political ads to show who paid for them.
A government spokesperson stated that in its current form, the Bill would effectively ban politicians from advertising their local clinics.
Fianna Fáil TD James Lawless has said political advertising needs to be regulated and hit out the Taoiseach's use of the new Strategic Communications Unit.
Lawless said his new Bill would address the problem and ensure the government stay within the definition of what is political advertising.
The Bill is primarily concerned with paid advertising content and transparency.
Transparency 
For anyone, including of course politicians, who wish to run online political advertising, there will be a new requirement to include a transparency notice.
This notice would appear as a form of ticker tape somewhere on the advertisement confirming who sponsored and commissioned the ad.
The Bill also creates new offences for non-disclosure, failure to supply accurate and correct information as to the source or the publisher of the advertisement – in the same way as it is currently an offence to give false information to SIPO or make a bogus electoral return.
It also creates a new offence of operating a "bot" for political purposes, defining a bot as a user with 25 or more individual accounts or profiles online, operated by a single user but masquerading as individual and separate accounts.
However, despite informal dialogue between both Fianna Fáil and Fine Gael on the new Bill, it is understood the government will not back the Bill as it stands.
Communications Minister Denis Naughten is understood to agree with the Bill "in principle" but has concerns about the wording of legislation and the effects it might have.
#Open journalism No news is bad news Support The Journal

Your contributions will help us continue to deliver the stories that are important to you

Support us now
The potential impact of the Bill banning politicians advertising their local clinics is the government's main concern.
The government spokesperson disagreed that including information as to who paid for the advert would not an onerous task.
Other issues cited include the difficulty in policing advertisements and online users outside the jurisdiction of Ireland.
A government spokesperson said there are also concerns about the what is defined as a political advert, as well as the "unintended consequences".
They added that the Fianna Fáil legislation is not the correct way to deal with the issue, though they said the government is "open minded" on the matter.
The Bill is to be debated in the Dáil tomorrow.