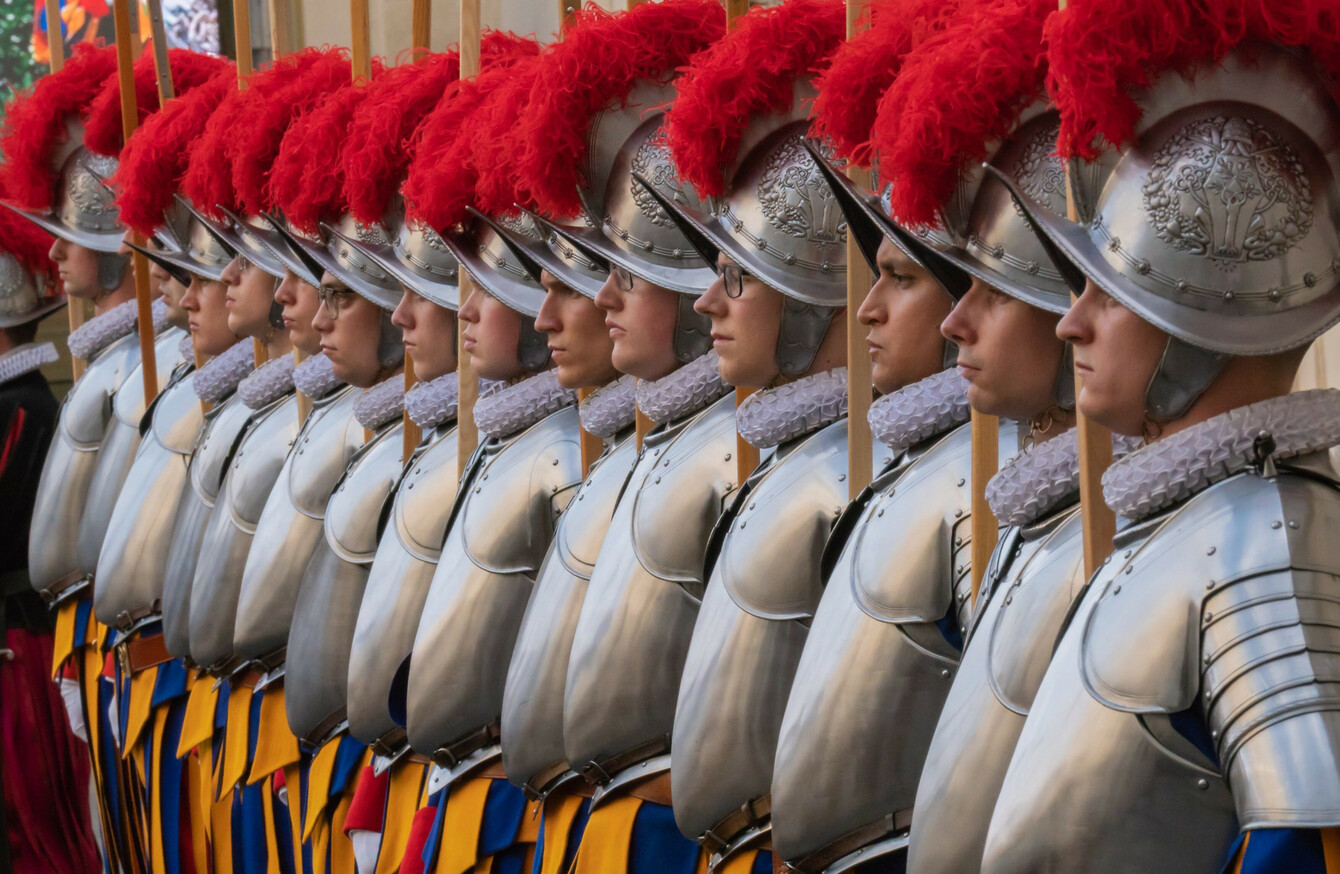 Imagine these lads but in suits.
Image: DPA/PA Images
Imagine these lads but in suits.
Image: DPA/PA Images
A CRACK SECURITY team which protects the Pope in the Vatican will be making its way to Dublin to ensure the safety of the pontiff.
The Swiss Guard has been looking after the Pope for over 500 years and the most hardened of its plain clothes militia will be in Dublin for the visit.
The 110 members of the militia, which celebrated its 500th anniversary in May last year, are traditionally recruited from a group of Swiss towns and villages.
To join this elite force one must be a Swiss citizen, a Roman Catholic, "of good moral ethical background," between 19 and 30 years of age, at least 174 centimetres tall, and not married.
Swiss guards, known for their colourful 16th-century style uniforms, serve for a minimum of two years, renewable up to 25 years.
But for the Dublin visit, they're going to go incognito and armed.
The guards, charged with protecting the Pope, work side by side with another security force, the pontifical police, who are Italian and guard the Vatican.
Most of the Swiss guards do not speak Italian, and have little opportunity to learn it. Their limited mobility and strict requirements about sleeping in their quarters mean that the most potent enemy they face is often boredom.
While he'll bring his own security with him, the State is still expected to spend millions on safeguarding the pontiff.
The Government is expected to spend over €3 million on security personnel and equipment.
The pontiff is due to arrive in Dublin in August for a two-day visit on 25 and 26 of this month as part of the Catholic Church's World Meeting of Families event.
It's already been confirmed that the Pope will visit homeless centre the Capuchin Day Centre in Dublin during his visit, in addition to attending the World Meeting of Families at Croke Park and celebrating mass in the Phoenix Park.
Around one fifth of the population have indicated that they would attend the Mass on Sunday 26 August, and over 2,500 people have signed up to volunteer for the festival.
The State has recently issued two further tenders in relation to the Papal visit:
Request for Tender for the Provision of Security and Stewarding Services for Papal Visit to Ireland 2018
Security and Stewarding Services for Papal Visit within the Phoenix Park.
The tenders are worth €900,000 each, excluding VAT, official documents show.