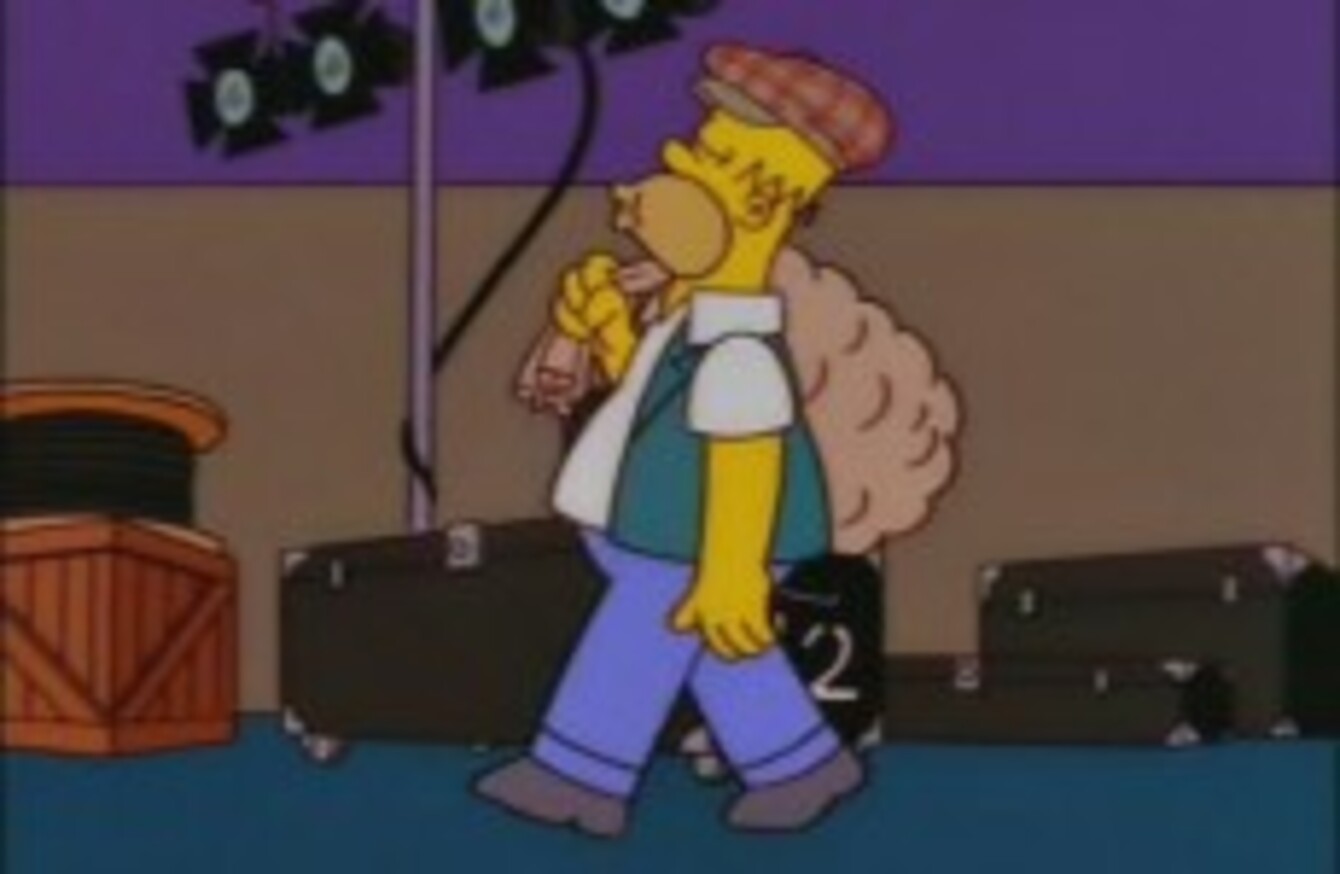 Homer Simpson goes in disguise as the 'potato man' to get backstage at a U2 gig.
Image: The Simpsons
Homer Simpson goes in disguise as the 'potato man' to get backstage at a U2 gig.
Image: The Simpsons
AN ARTICLE IN Australia's Herald Sun newspaper is starting to cause something of a media storm.
Ireland's ambassador to the country has written to the paper to complain about the piece, which he describes as "deeply offensive".
The offending line appeared in a piece about the Melbourne Cup horse-race on Tuesday.
Journalist Matt Stewart wrote that the race was worth $6 million, and "they swarm from everywhere, from rich countries like Japan to countries offering up not much more than potatoes, like Ireland, to win it".
Ambassador Noel White said in a letter to the paper that it was a "bizarre remark" and "deeply at odds with Ireland's role as a leading player in the global bloodstock community".
While in a letter to the Sun also copied to the Australian-based Irish Echo newspaper, the daughter of the Irish co-owners of Melbourne Cup winner Protectionist said the comment was unfair to the Irish community.
"After being paid a one way ticket to Australia by the Australian government to help boost the economy, [my parents] have since employed well over 400 people through their businesses started from scratch … since arriving here," Monique Doyle wrote of her parents, Fergie and Delia.
The Irish in Australia … work damn hard while maintaining their incredible humour and humility.
The journalist — Stewart — has taken to Twitter to apologise. And he's come in for further criticism from unhappy ex-pats online…
In an email exchange with the Echo, Stewart said he was "extremely surprised" by the furore.
"The 'potatoes' reference was an obviously flawed attempt to explain that while Japan's racing economy is strong, Ireland's has been devastated by tough economic times.
The point I was trying to make was that rich or relatively poor racing countries (poor as in stake money not culture) were all chasing the $6 million on offer.
Source: Bells1208/YouTube