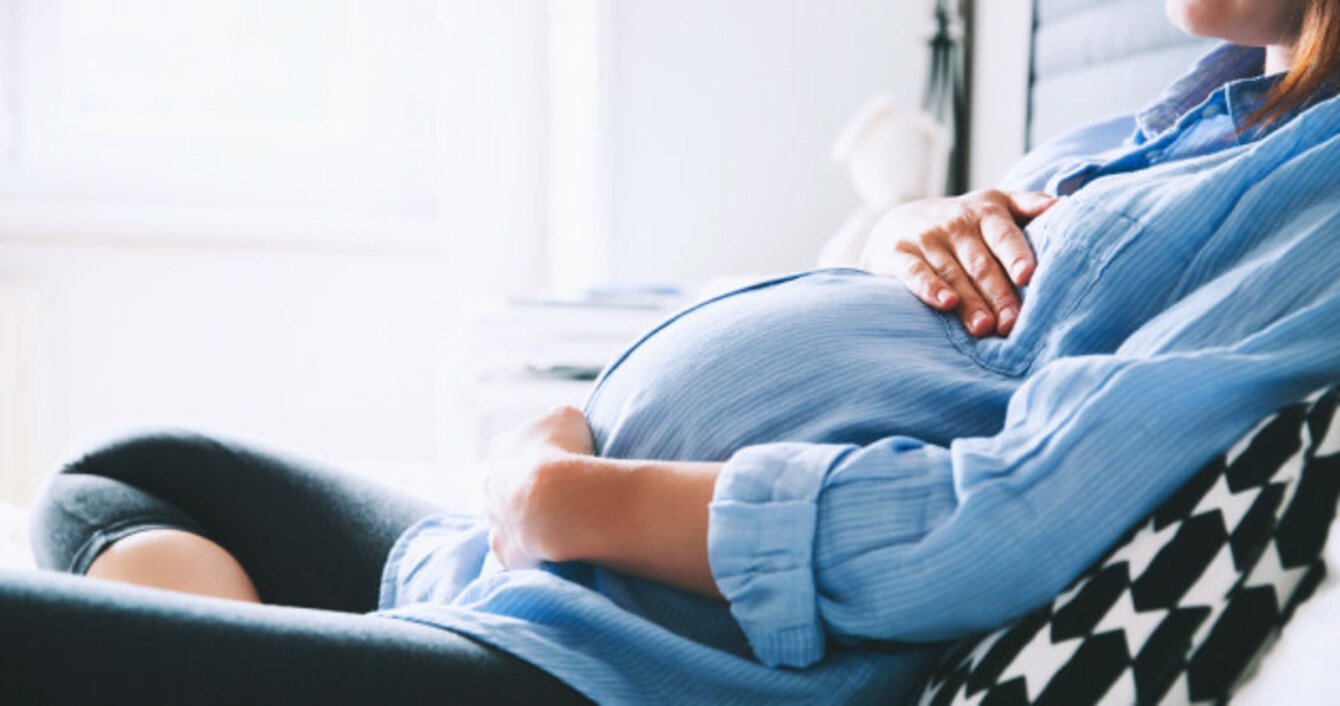 Image: Shutterstock/Natalia Deriabina
Image: Shutterstock/Natalia Deriabina
LEAVING MY GP'S office six years ago, she took my hand, focused her gaze and said, "Promise me one thing. Enjoy your first pregnancy. It's very different the second time around when you're running after a toddler."
She wasn't the first or the last person to say that. "Enjoy your pregnancy."
It should've have been enjoyable, but – try as I might, to the point of anxiety – finding the joy was tricky. Especially when relative strangers keep repeating the joys of pregnancy ad nauseam. Things like…
1. "Embrace your bump!"
If you don't, someone else will. The amount of unsolicited bump patting I endured during both of my pregnancies was relentless. Then you have the inbetweeners, the ones who don't look you in the face, just stare at your stomach. Stiiiiill staring at the stomach. 
I did miss my bump after it was gone, but it the time, it was harder to appreciate.
2. "You'll never be short of a seat on the bus!"
Er, not quite. For every kind soul who offers you their seat, there are two more who just stare at your massive belly, never thinking that you might want a sit-down break. Even when you're clutching a Holles Street folder.
3. "Eat what you want, you're eating for two!"
If I didn't eat, the nausea was strong, and while eating, it was the ONLY thing that mattered. But my cravings for stodgy and savoury food meant that inevitably, two minutes after eating, I'd end up rolling around the couch and trying to burp without barfing. When you're pregnant, bubs has effectively pushed your stomach up towards your chest area. The result? Heartburn from hell.
4. "Enjoy a spa weekend!"
While it does sound like a lovely prospect, and definitely one to consider, do bear in mind that you'll have to look at fellow guests sauntering in and out of the sauna, the steam room and the jacuzzi. Fun times! Maybe you could book in for a massage? "I'm afraid the only person qualified in pregnancy massage is off today." Don't give up, how about a pedicure? Nice idea, especially if you can still see your toes.
5. "You get to buy new shoes!"
I thought they meant "sensible" shoes, but – in fact – the swelling got so bad that the only shoes that fitted me full term was a pair of flip flops. A brave choice, given it was February at the time.
6. "Sleep as much as you can!"
Other parents constantly told me how much I'd miss sleep once the baby arrived. But that didn't make it any easier to drift off while I was pregnant. Why?
 I needed to pee roughly every 40 minutes.
My hips went from fairly robust to something resembling a glass jigsaw bobbing on a water bed, making turning particularly tricky.
The aforementioned heartburn.
My firstborn loved nightly hiccupping sessions in utero. Usually from around 4am. Like clockwork.
There are things that can help, thankfully, like the large body pillow I bought to wrap myself around and therefore help the hips. We called him Frank.
7. "You're overdue? Enjoy the extra time!"
At two weeks past my due date, I was simply anxious to enjoy the extra baby-free days. When I wasn't bouncing on an exercise ball, hacking up pineapple and answering a stream of "Any movement yet?" texts, I was batch cooking meals and trying to stuff bulbous maternity pads into the already heaving hospital bag. I felt like a time bomb that didn't want to be induced.
Yes, it is "a magical time." Yes, you are definitely "one of the lucky ones." But it's also okay to feel like your body's been hijacked by a nocturnal tap-dancer who constantly headbutts your cervix.
We're human. As for all the positive people spouting phrases such as "Heartburn? Ooh, your little one must have lots of hair!" They're human too.