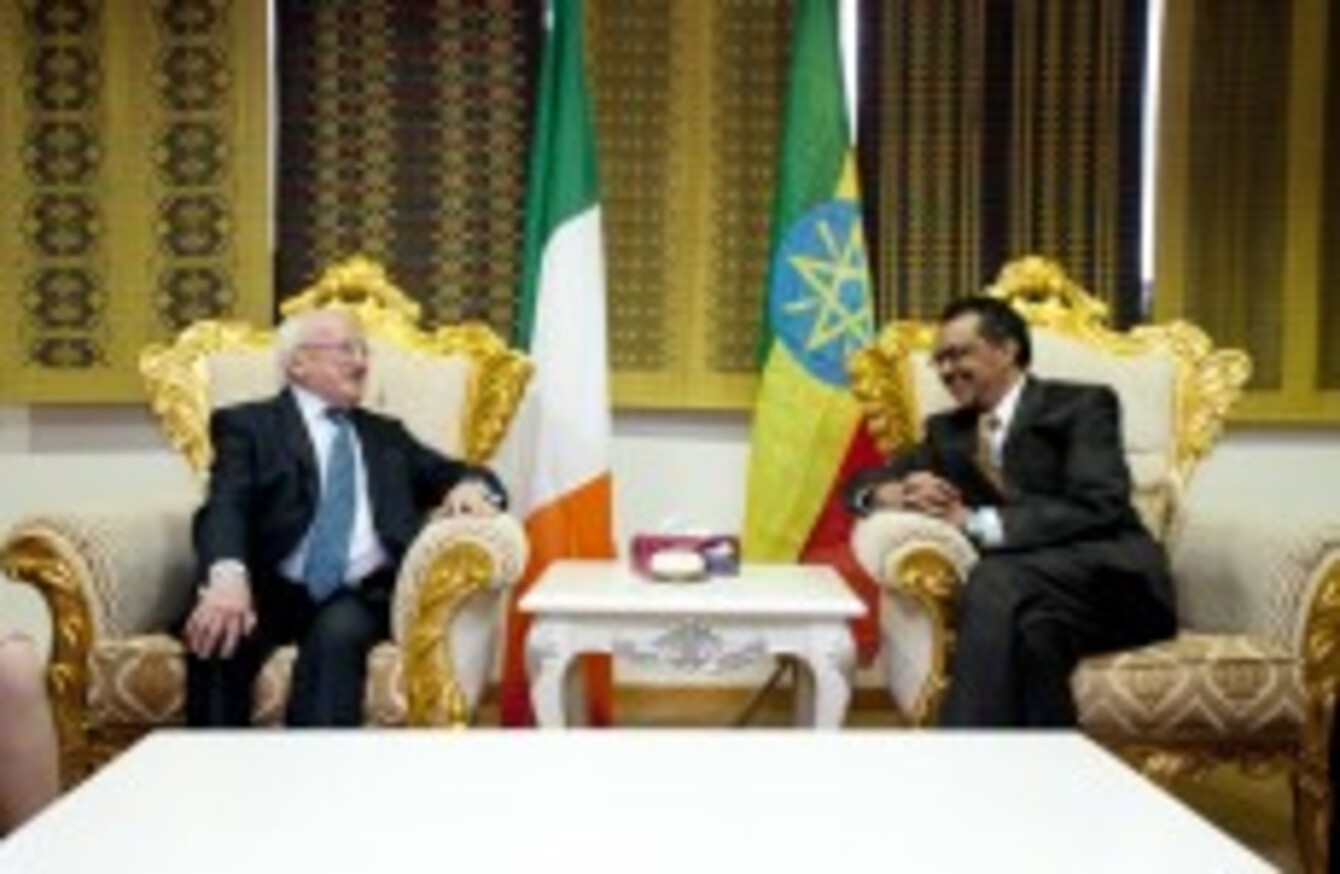 President Michael D Higgins Addis Ababa Airport, Ethiopa with H.E. Dr Tedros Adhanom, Ethiopian Minister of Foreign Affairs
Image: Chris Bellew/Fennell Photography
President Michael D Higgins Addis Ababa Airport, Ethiopa with H.E. Dr Tedros Adhanom, Ethiopian Minister of Foreign Affairs
Image: Chris Bellew/Fennell Photography
PRESIDENT MICHAEL D Higgins has arrived in Ethiopia on the first leg of his three-country trip to Africa.
It's a working trip where he will meet the likes of President Jacob Zuma as he travels around.
In Ethiopia, he was due to meet with President Mulatu Teshome and Prime Minister Hailemariam Desalegn. In Malawi, he'll meet President Peter Mutharika and in South Africa he and President Zuma will meet.
Joining him are his wife, Sabina Higgins, and Minister for Development, Trade Promotion and North South Cooperation, Seán Sherlock, TD. In South Africa, he'll be joined by by Minister of State at the Department of Agriculture, Food and the Marine, Tom Hayes.
High on the agenda during his trip will be sustainable development, climate change, human rights and the current Ebola crisis.
President Higgins said:
We now face a turning point in the relationship between Ireland and Africa; a relationship which in this century will be increasingly about partnership, cooperation, and a fair and just trade. Based on our history, Ireland has a strong reputation in Africa and as Africa advances we are in a strong position to work together in friendship.
He said that the visit will recognise the immense contribution that Irish Aid, Irish aid agencies and workers and missionaries have made in Africa. He's also due to visit a range of aid projects in Ethiopia and Malawi.
In Ethiopia, the President will meet South Sudanese refugees in camps supported by Irish Aid and Irish development agencies including Goal and Concern.
He'll also meet visit a women's employment project supported by Trócaire, while in Malawi the President will meet with local communities, Irish NGOs and participants in Irish Aid programmes.
He will also deliver a number of keynote addresses throughout his trip.
In South Africa, Higgins will visit Sonke Gender Justice, an NGO that works to promote gender equality and prevent the spread of HIV.
He'll also meet with and acknowledge the growing Irish diaspora in South Africa.