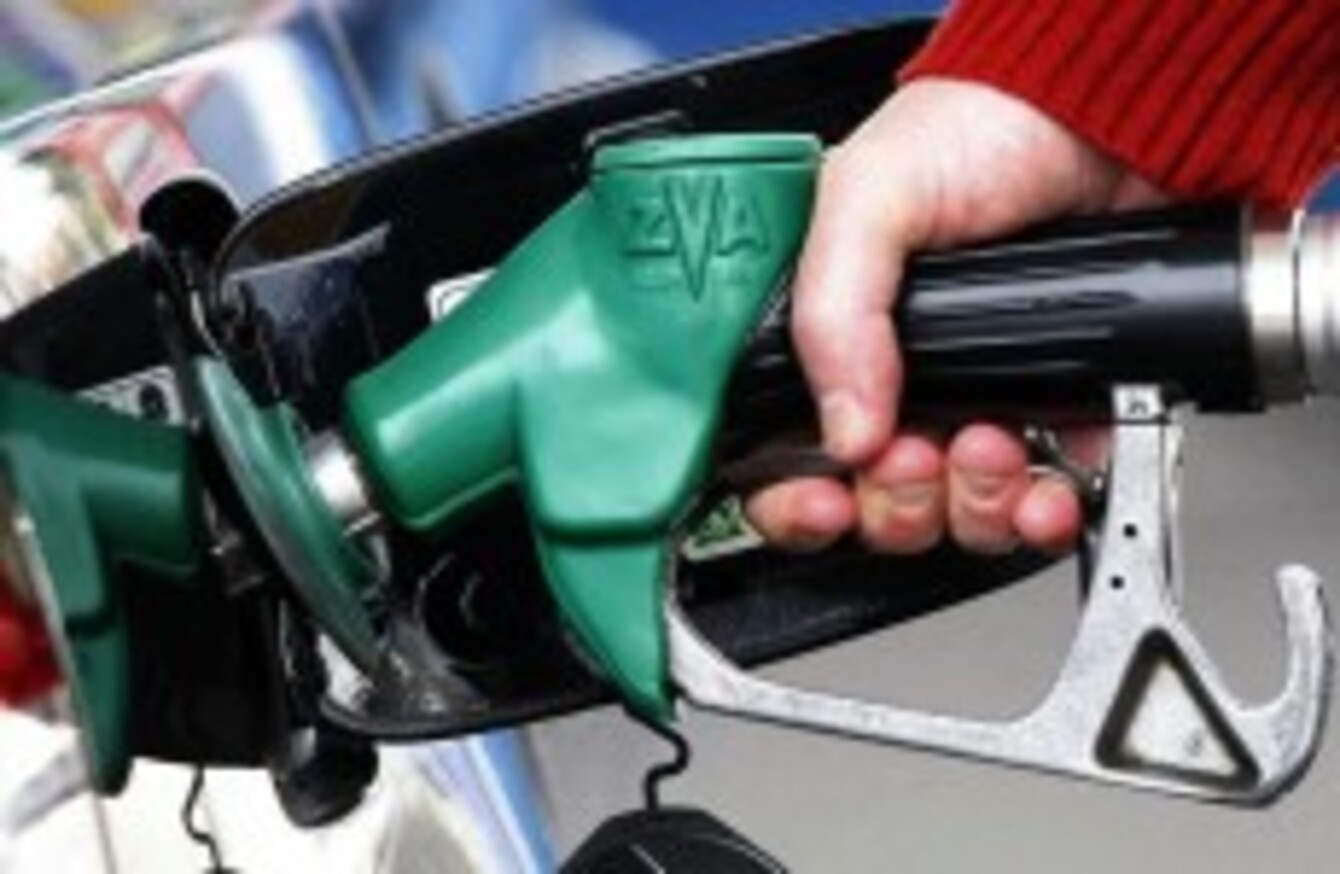 Image: Danny Lawson/PA Wire/Press Association Images
Image: Danny Lawson/PA Wire/Press Association Images
THE PRICE OF petrol and diesel surged again last month – adding about €10 to the cost of running a modest family car, according to the latest figures released by AA Ireland.
In the last month, the cost of petrol rose to 154.9 cent per litre (up 7 cent) while the price of a litre of diesel increased to 153.1 cent (up 6.2 cent).
The AA says that the increase represents a notable rise in the cost of running a standard family car. It calculated that a vehicle doing 12,000 miles per year at a fuel economy rate of 30 miles per gallon uses 150 litres of fuel per month – therefore, found that  7 cents per litre equates to just over €10 for petrol users and 6.2 cent per litre equates to €9.30 for diesel users.
"The bad news keeps coming and this is one of the biggest monthly rises in price that we have ever seen." Says Director of Policy Conor Faughnan, pointing out that the increase came in the same month as the rise in VAT, which came into force on 1 January.
Approximately 2.4 cent per litre was added to the cost of both fuels by the VAT increase imposed by the government – the rest of the increase is a result of an increase in European prices.
"This is causing huge frustration right across Europe," said Faughnan. "It is down to a combination of a falling Euro and rises in the price of gasoline and diesel coming out of refineries. Unfortunately there is no sign of prices easing, and after a dreadful year in 2011 it appears that 2012 is starting off even worse".
While recognising that the global financial situation was causing an increase in fuel prices, Faughnan also criticised the government's decision to add more tax onto the cost of petrol and diesel. "People simply do not have the money to spare. Force them to spend it on fuel and they cannot spend it elsewhere in the economy," he said.
The AA has complied a list of fuel-saving tips for motorists to help them keep costs down:
Buy fuel in units of litres, not euros. This makes it obvious where you get the best value
Shop around: don't always use the same garage out of habit
Drive smoothly and slowly; a harsh driving style burns more fuel
At this time of year the heaters are in constant use. This is hard to avoid but try to take it easy: air conditioners can add up to 10 per cent to fuel usage.
Service the car if it needs it – it will certainly save you fuel. AA Members can have their car serviced on their own doorstep (or anywhere else) by its mobile Service Team.
A simple tip: check that the tyres are properly inflated. Soft tyres add significantly to fuel consumption.