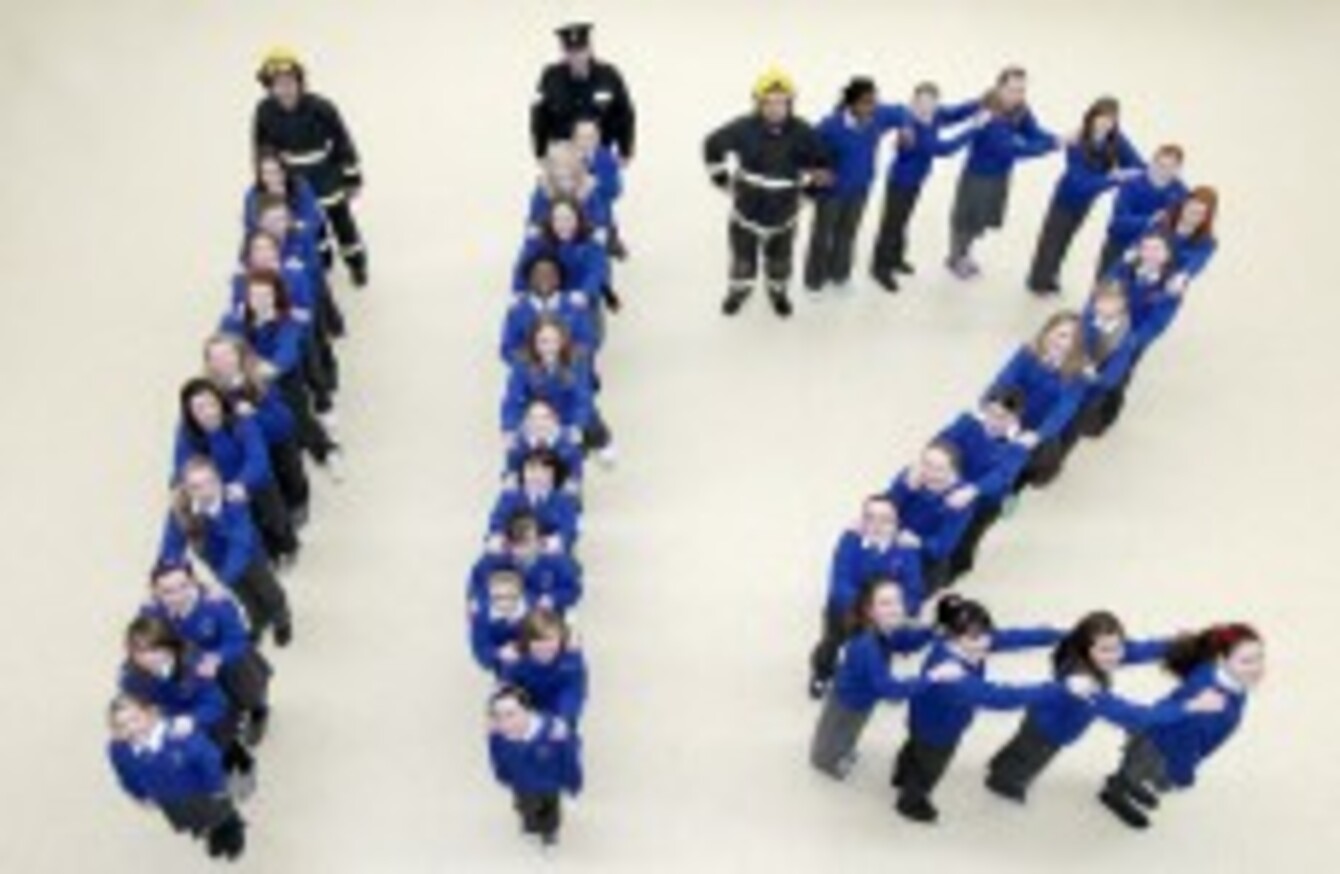 In case you're travelling: every country in the EU uses '112' as a phone number for the emergency services.
Image: Mark Stedman/Photocall Ireland
In case you're travelling: every country in the EU uses '112' as a phone number for the emergency services.
Image: Mark Stedman/Photocall Ireland
EVERY WEEK, TheJournal.ie offers you a selection of statistics and numerical nuggets to help you digest the week that has just passed.
€1.15 million – The amount in gratuity payments given to county and city council managers upon their retirement since the turn of the millennium.
7,464 - The number of people from the public sector who applied to retire in January and February, according to figures produced by Brendan Howlin. The retirements came as public servants opted to retire with pensions based on their peak wages. A third of that number came from the health services.
4 – The number of deputy leaders that Fianna Fáil has lost in the last 13 months. First Mary Coughlan departed when Brian Cowen stepped down, then Mary Hanafin lost her Dáil seat. After Brian Lenihan's passing, Éamon Ó Cuív was given the job – but gave it up inside six months, in a dispute over FF's stance on the fiscal compact referendum.
434 – The number of toner cartridges used by Sinn Féin's Aengus Ó Snodaigh in the years 2007 and 2008. The cartridges, supplied free of charge by Leinster House, cost around €130 each – meaning his total costs were well over €50,000.
1,010 – The number of registered branches of Fianna Fáil in 2011, around half the number that had existed in 2010. That's according to details provided for this weekend's Árd Fheis. It's thought that the numbers dwindled largely because an Ard Fheis has not been held since 2009 – and that there is little need for a formal party structure between conferences.
47.2 per cent – The proportion of the Irish population which is covered by private health insurance. That's according to figures this week which showed that 66,000 people had dropped their cover last year amid rising costs.
1.9 per cent - The fall in the value of the average Irish residential property in January, according to figures from the CSO. Prices in Dublin fell by 4.1 per cent. The average home has lost 17.4 per cent of its value in the last 12 months.
€229,362 - Kevin Cardiff's starting salary in his new at the European Court of Auditors, where he started work on Thursday. He also gets a 15 per cent residency allowance, a €38,227 'moving in' allowance, and he'll get €19,114 in a resettlement grant once he leaves. 
23 – The number of days spent in hospital by former Northern Irish first minister Ian Paisley, who was released from hospital this week after treatment for a coronary condition.
€529 billion – The amount of new cash pumped into the European banking system by the ECB on Wednesday, given to 800 banks as part of three-year loans. Over half of that ended up being stored in the ECB on Thursday night, as banks were reluctant to pass the cash on.
€9 billion – The amount in new bailout loans that were released to Ireland this week from the European Commission and the International Monetary Fund. Both releases came with warnings, though – the former saying a mini-budget could be needed if Europe falters, the latter saying the Irish economy faces greater challenges than first thought.
€132,000 – What our ministers and their departments spent on 'entertainment' last year. Two-thirds of that amount came from the Department of Foreign Affairs, which had a busy year with the visits of Barack Obama and Queen Elizabeth. The spending is well down on previous years.
5,547 - The number of days between the murder of Sophie Toscan du Plantier, in December 1996, and yesterday when Ian Bailey won his Supreme Court appeal against extradition to France over her killing. Bailey denies any involvement and said on Thursday night that the marathon legal cases had made his life "absolutely hell".
76 – The age that singer Engelbert Humperdinck will be when he represents the United Kingdom in this year's Eurovision Song Contest. That will make him the contest's oldest ever entrant.