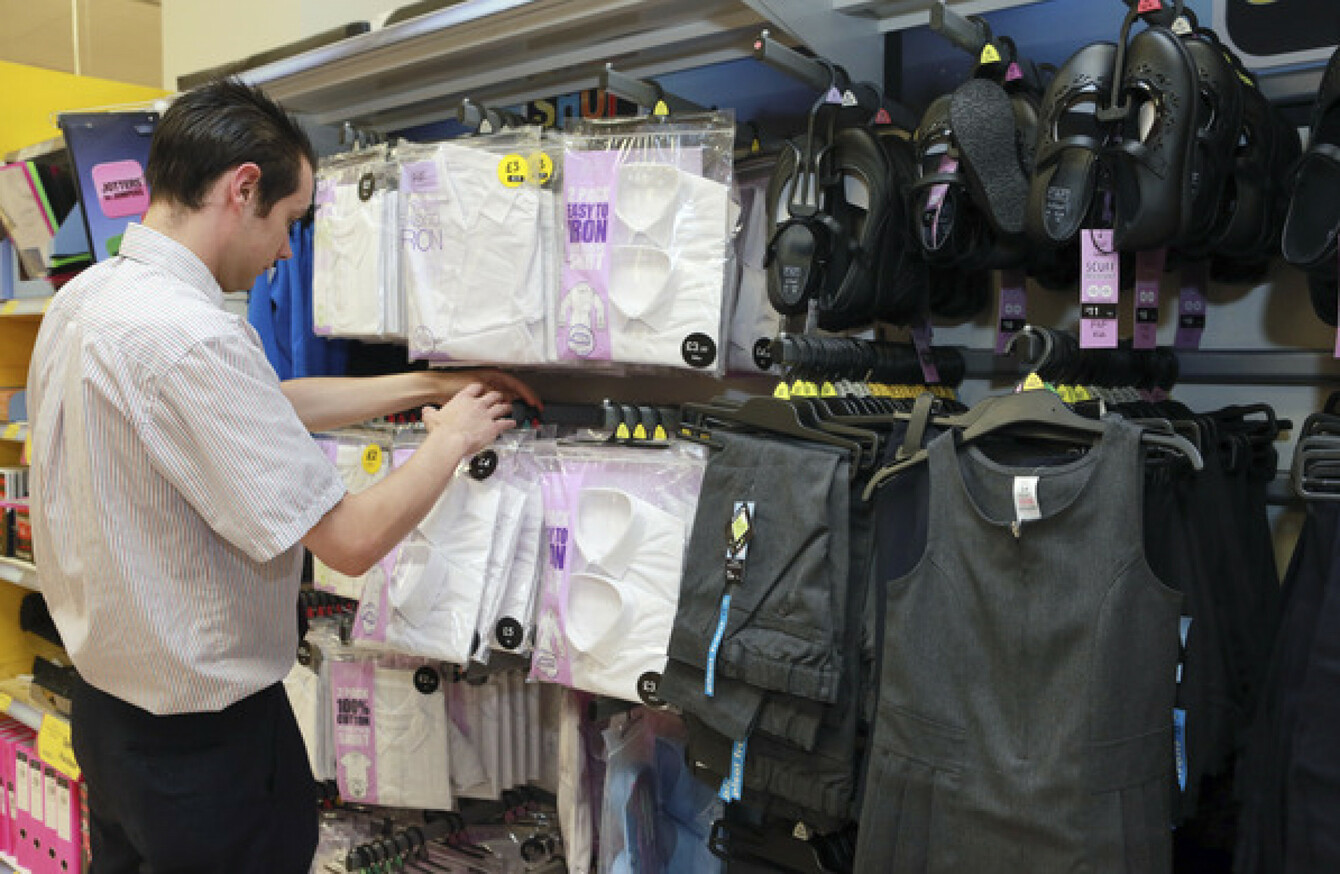 School uniforms in a Tesco in Dublin (File photo)
Image: Laura Hutton/RollingNews.ie
School uniforms in a Tesco in Dublin (File photo)
Image: Laura Hutton/RollingNews.ie
SCHOOL PRINCIPALS SAY that more should be done to help parents with the rising cost of primary school education.
With a recent study finding that primary school costs are around €395 per year, principals have encouraged parents who are struggling financially to let the school know.
"It can be extremely difficult… but it is the only way that principals" can fully understand, one former principal said.
Principals say the rising costs put pressure on both parents and on the schools themselves.
Séamus Vaughan, the principal of St. Dominic's National School in Tallaght, said stretching funding to cover the cost of the school is always difficult.
"We struggle to fund everything. Even the cost of heating, lights and repairs…" he said. "But we try to make provisions for children our number one priority."
Schools operate on the capitation grant they receive from the Department of Education, he explained. It is a grant that is paid per pupil and it covers school costs such as heating, lighting, cleaning, painting and maintenance. But the capitation grant has been cut in recent years, which has made it difficult for schools to manage financially and reduce costs for parents.
Despite this, the school does not ask for voluntary contributions from parents, and it has a book rental scheme to help with the increasing cost of books. A recent survey on back-to-school costs by Barnardos found that parents will spend an average of €105 on clothes for fourth-class children.
Vaughan said that the school encourages parents to purchase an un-crested uniform from a local supplier, which is a lot cheaper. The school then provide the crests. "But again, the crest is optional. It's not compulsory for all to wear it," he said.
"We're conscious as a school that uniforms can be expensive, which is why we don't have just one single supplier, but every school is different," he said.
Fundraising and swap shops
Maria Doyle, former principal of Our Lady of Mercy Senior Primary School in Waterford City and the current president of the Irish Primary Principals' Network (IPPN) echoed those thoughts.
"If schools are insistent on having a school crest or if parents want the school crest on the uniform, it's much easier if they use the sew-on or iron-on version of the crest, because you can buy any generic jumper and put the crest on it," she said. "And you can take it off once the jumper becomes too small or tattered and sew it on the next one and it makes perfect sense."
For years, Our Lady of Mercy asked parents to bring in all the used school uniforms that no longer fit their children – clean and in good condition – then swap them for a larger uniform that would also have been donated. "It was like a swap shop," said Doyle.
"What's critical in terms of making anything work in a school is a very good co-operative and collaborative relationship between the Parents' Association and the school management," she said. "All parents want their children going back with all of their school requisites. They do not want to see their child in any way different from any other child."
The Parents' Association in Our Lady of Mercy was heavily involved in fundraising for extra-curricular activities, IT equipment and some books for the school library. When swimming was made part of the curriculum, with no mention of how it was going to be funded, the Parents' Association took it upon themselves to fundraise on an annual basis to keep the cost of swimming to a minimum.
"That's an expense that was foisted on parents at the time because schools simply couldn't afford this," Doyle said.
"The cost of shoes is more expensive than it should be"
Parents' Associations can only fundraise for particular activities or particular resources that have been agreed on by the board of management of the schools.
But Doyle said that there are many schools that simply "could not function on a term-by-term basis, never mind on year-by-year basis, because they have become so reliant on fundraising."
The study by researchers at Barnardos found that shoes for primary school children cost €45 on average. A father of three himself,  Séamus Vaughan said he needs to buy new pairs of shoes for his children, two of whom are primary school goers. "I would say the cost of shoes is certainly more expensive than it should be," he said.
The average cost of voluntary contributions is €80 for children in senior infants and €150 for a child in secondary school, the Barnardos report found. But St Dominic's National School does not ask for voluntary contributions from parents. The 330-pupil primary school comes under the DEIS (Delivering Equality of Opportunity in Schools) programme, which means they are given financial support from the Department of Education.
"One of the supports they give us during the year is funding, called the DEIS grant, which we use when we're buying equipment for maths and science and so on," said Vaughan. "We also feel that parents wouldn't be in a position to pay a voluntary contribution, so we don't ask for one."
Letting school principals know about financial difficulties
#Open journalism No news is bad news Support The Journal

Your contributions will help us continue to deliver the stories that are important to you

Support us now
Maria Doyle's previous school, also of DEIS status, does not ask for contributions either, but any contribution would have been towards arts and craft materials and photocopying. "The type of thing that we couldn't actually afford on a day to day basis," she said.
The book rental amount for a fourth -year pupil in St Dominic's is €40 and the materials and other supplies (printing, insurance, etc) cost €35. But in some cases, the school can waive book rental fees completely for parents who are struggling to pay.
"We would often have parents who would come to the school and would say they are finding it difficult to meet the expenses for book rentals and the materials that they need during the year," said Vaughan.
But every student receives all the books they need during the first week of school, irrespective of whether they paid or not, said Vaughan. "We understand some parents have difficulty," he said.
Doyle also encouraged parents who are struggling with the payment of school costs, to approach their principals and let them know.
"Parents that are struggling should go to the principal of the school and say 'look I'm really struggling here. The most I can do on a weekly basis or fortnightly basis is give you an X amount towards whatever expenses the child requires,'" she said.
"And principals are very open and receptive to that type of conversation," she continued.
"It can be extremely difficult for parents to actually do that. They can see it as embarrassing or they might not want to be approaching the principal but that is the only way that principals are going to really understand the dilemma that parents are facing at home."
Under pressure
Vaughan called on the Department of Education to put more money in the capitation grant for schools.
"When schools are under pressure and find it hard to pay those bills, they don't have money to put into the other resources that they would like, such as maths, English and extra-curricular activities," said Mr Vaughan.
Schools then are left with no option but to ask for voluntary contributions, he said, or run fundraisers all year long.
"You have to ask the question: why is this necessary in a country where we're on the rise financially. We have been told that the recession is over," said Doyle. "And yet one of our most fundamental services, which is our education service, is grossly underfunded."