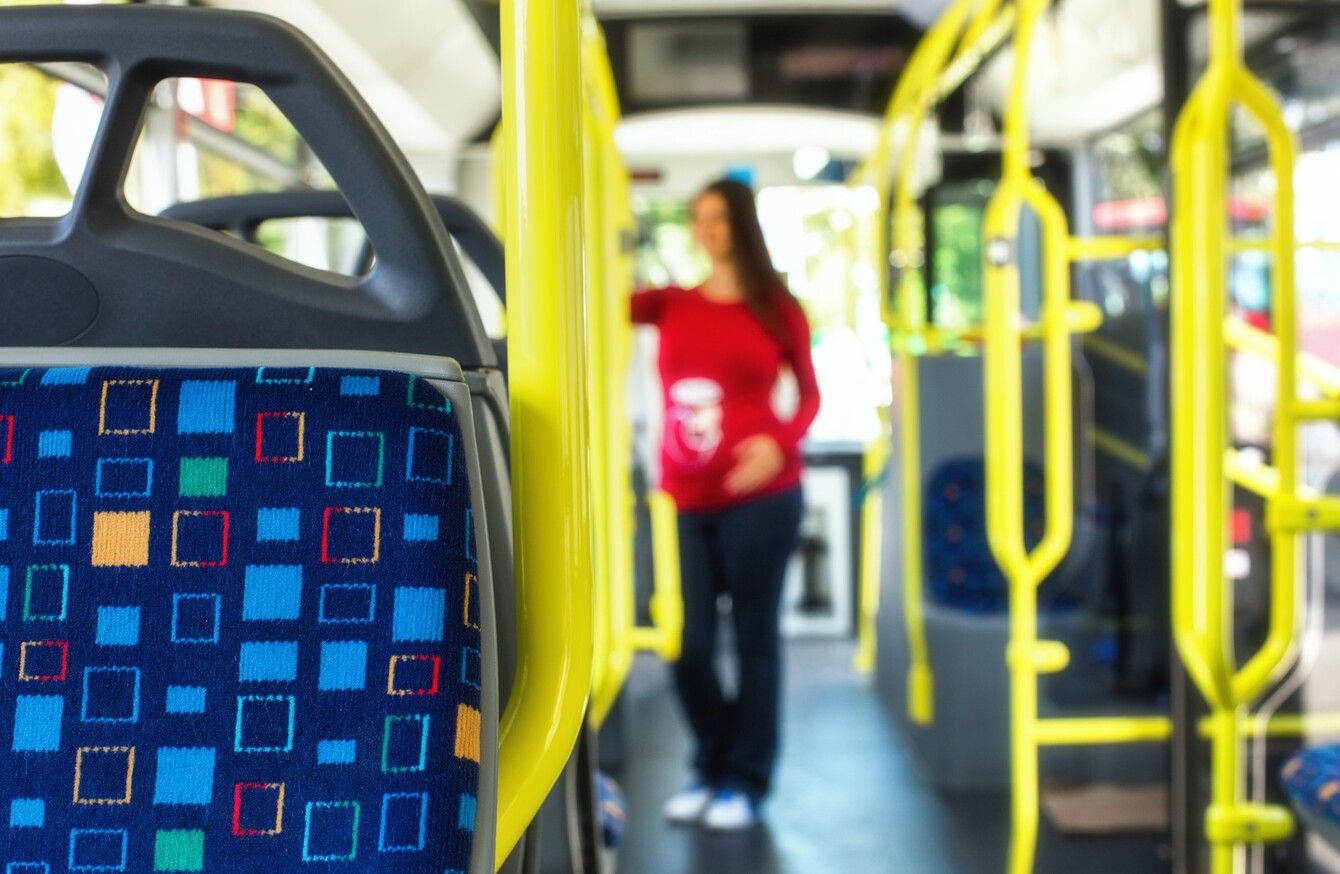 Image: Shutterstock/Valentin Valkov
Image: Shutterstock/Valentin Valkov
GIVING UP YOUR seats on public transport for those less able to withstand long journeys on their feet has largely been left up to the public to enforce – but is it time we took a more proactive approach to priority seating?
One woman has become so frustrated with the system that she's raised the issue of limited seating on Dart services with Iarnród Éireann, and asked them to remind people to give up their seats.
Rachel Kennedy, who uses the train twice every weekday to get to and from work, says she has never been offered a seat on her Portmarnock to Pearse Station route – despite being 30-weeks pregnant.
Speaking to TheJournal.ie, Rachel gave an account of her journey during rush hour yesterday morning:
"Myself and two elderly people got stuck on the same carriage at the priority seating area. There were three people [who needed seats] and two priority seats.
"I would have given my seat to them, but there were two women there already – one in her 50s and one in her 40s. Both saw three people standing up and looked away like it wasn't their problem.
The elderly woman could not keep her balance and kept falling back into me and hit me in the stomach several times by accident. No one would give her a seat even when they seen her falling round the place.
Everyday and I'm getting more pregnant and less able to stand.
Dr Mark Gleeson, a spokesperson for Rail Users Ireland, says that this is a fairly common issue.
"The trains can be so packed that you cannot get close to any seat, things have gotten worse in recent months, and trains are certainly busier. Far too many trains are lying idle while passengers are crushed in."
Gleeson says that there are some things that could be done to improve conditions and ensure priority seats are available to those who are in the most need of them.
This includes introducing bye-laws that say you must give up your seat (common in other European cities); and offer first class seats to expectant mothers when they are available, which is done in the UK.
He added:
The signage is not very clear at times, whereas in many European cities the [priority] seats would be a different colour.
Irish Rail have refused on numerous occasions to introduce 'Baby on Board' badges as issued in London, which eliminates any possibility of confusion for expectant mothers.
Expectant mothers and pram-users can apply for 'Baby On Board' badges from the UK transport authority, and a badge is then issued to them for use on the underground rail service – meaning priority passengers are clearly identified.
#Open journalism No news is bad news Support The Journal

Your contributions will help us continue to deliver the stories that are important to you

Support us now
But Gleeson says that there are still other issues that a solution isn't so clear cut.
"On long-distance train journeys things can get problematic, as you can book a seat online, board the train and find it is standing room only and your seat is a marked as a priority seat. What do you do then?"
What Rachel is going to do in the meantime, is to make people more aware that she is pregnant, and eventually ask people to give their seats up.
People see me, and see my with my belly stuck out, and see me rubbing my belly (tactics I've had to employ to back up the fact I'm pregnant) and they just ignore me.
"I shouldn't have to ask. I'd rather stick my belly out and hope the guilt gets to them and they give up the seat, but it will come to the stage where I think I'll just say 'Sorry can you let me sit down' and point to the priority seat sign."
Iarnród Éireann have been contacted for comment.