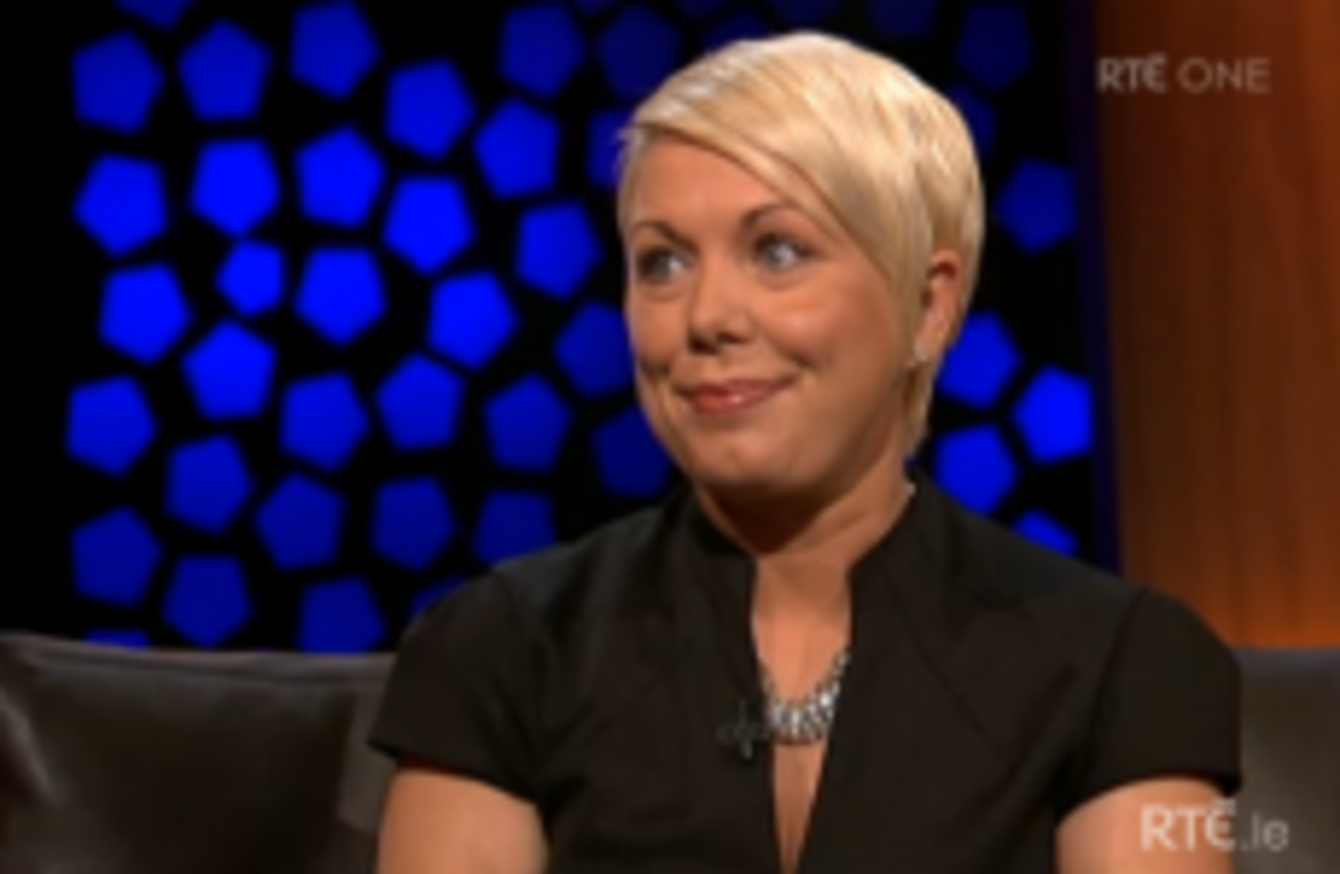 Image: RTÉ Screengrab
Image: RTÉ Screengrab
THE BEREAVED PARTNER of Fiachra Daly, a Priory Hall resident who took his own life over the summer, has called on the government to deal with the fallout from the uninhabitable apartment complex.
Stephanie Meehan told Ryan Tubridy on last night's Late Late Show that she hopes Enda Kenny was being truthful when he promised to help the homeowners.
"I hope it is not another two years," she said. "I hope they are working on a solution right now. And they are not going to wait for another person to take their own life. Or for any other residents to feel bogged down and pressured by letters and threatening letters from banks. I want them to do something.
Something has to be done. It is too late for Fiachra and essentially to late for me and my children. But, you know, if something good comes out of this for the rest of the residents of Priory Hall, then I will feel better for it eventually.
"I mean, not now. It is too raw. I miss him so much. We all do. But in a couple of years, I might be able to look back and say Fiachra didn't die in vain."
The father-of-two took his own life on 15 July this year, an action Stephanie attributes to the stress he was under because of pressure from their mortgage lender about repayments and interest accrued on the moratorium. Residents, who were evacuated their Donaghmede apartments on 17 October 2011, stopped paying their mortgages as they could not live in their homes.
Fiachra and Stephanie had borrowed €296,000 for the property in 2007 but at least another €19,000 has now been accrued because of the moratorium.
They began receiving phone calls and letters from the financial institution weekly, along with letters to say their home was 'at risk' because of non-payment.
Despite a mortgage advisor offering to take on the cases pro-bono, Stephanie said the "pressure was always there lurking in the background".
"It wasn't going to go away," she added, noting that the couple were clear as the days went on that they were not going to live in Priory Hall again.
The complex has been lying idle for almost two years with the repair bill standing at more than €7.3 million. The developer, Tom McFeely, has said that he cannot afford to fix the structure, while Dublin City Council has said it is not their responsibility.
In the past week, Minister for the Environment Phil Hogan has suggested the possibility of demolishing the apartment blocks.
"We were just hoping that maybe the government would step in," continued Stephanie. "I never expected Enda Kenny or anybody to wave a magic wand over Priory Hall. It had gone too far past that. We don't blame them. There are a lot of people that are accountable. On a human level, they should have put a complete freeze on our mortgages until some decision could be made."
Fiachra Daly with his seven-year-old son Oisin. (Image: RTÉ)
July 15
Speaking about her loss, Stephanie held back tears to tell the presenter about the fateful morning she found her partner.
Thank God, I don't know, someone was looking after me. I told Oisin to stay with Cerys. Not suspecting anything, I just said 'stay with your sister'. Just mind Cerys. I went up and the door was closed which is very unusual in our house. We always had the door open because of the children. We always wanted to be able to hear the children. I pushed the door open and Fiachra was there. Dead.
She detailed how he had reacted differently to the latest financial form they had to fill in days earlier.
"Now looking back on it…he didn't react normally," she said.
"I just can't let Fiachra die in vain. If by me talking here tonight can help one person – be it from Priory Hall or anywhere, can make them reconsider taking their own life by suicide. Just see what's left behind. There is a solution. There is an answer. There are lots of people there to talk to.
"I want Priory Hall to be knocked down. I can never go back there. That is the home that me and Fiachra bought. So if it is even rebuilt, it is not going to be the home that I bought and shared with my beautiful partner."
Stephanie, who has written directly to the Taoiseach, told the government that the issue should have been sorted years ago to save taxpayers' money and the health and well-being of the residents.
"It's disgusting. It's absolutely disgusting. The people who need the help are us. The banks made their own mess. I didn't create this mess. We didn't build Priory Hall."