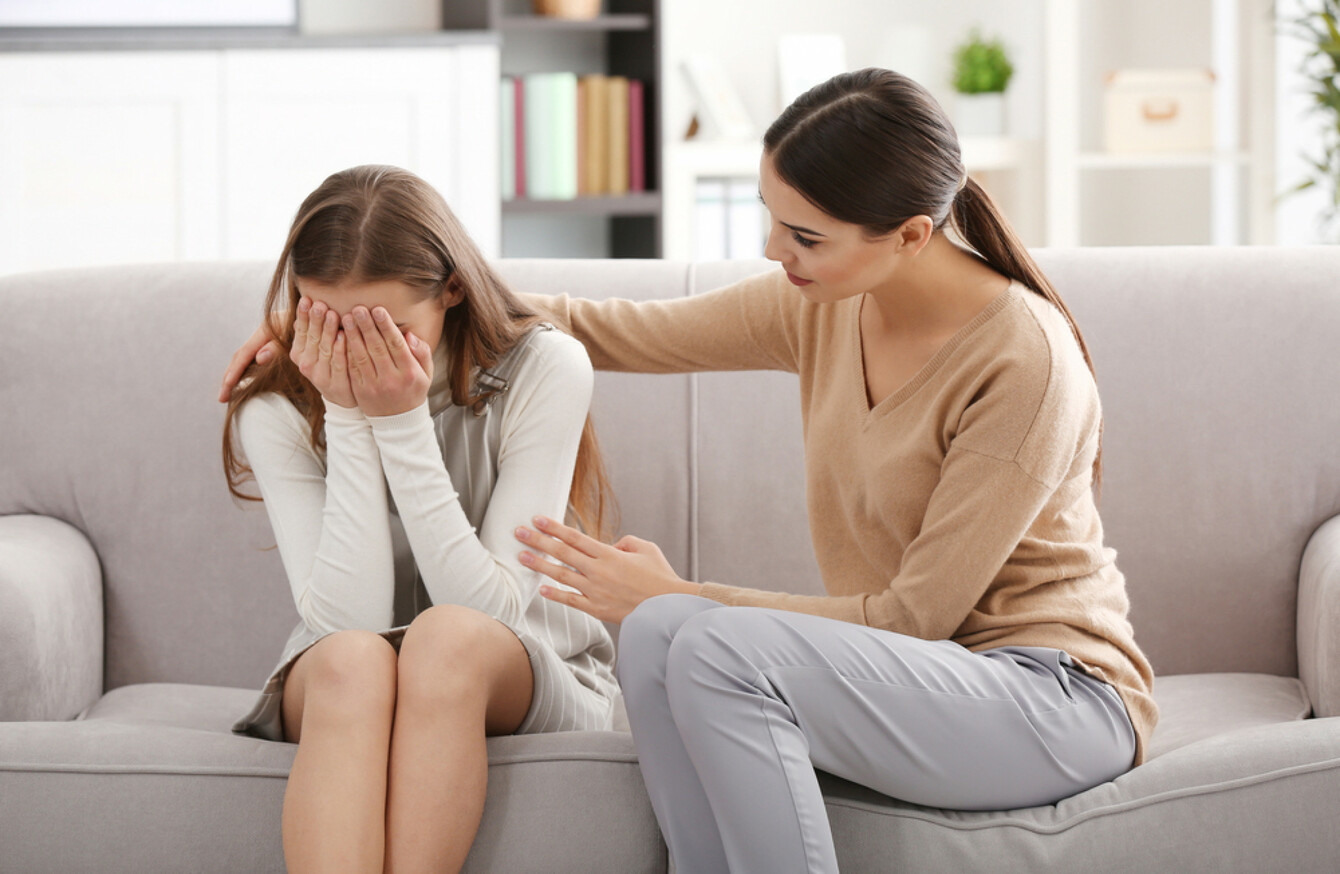 Teenager with psychologist
Image: Shutterstock/Africa Studio
Teenager with psychologist
Image: Shutterstock/Africa Studio
OVER 80% OF those on a waiting list for a psychological appointment are between the five to 17 year age group.
The Minister of State for Mental Health and Older People, Jim Daly told the Dáil this week that 8,415 people are awaiting psychology appointments nationally.
Of that figure, 2,584 are people are waiting for over a year.
Daly said there are no straight-forward answers as to why the list is so long, but said there is a problem of people not turning up for their appointments.
To tackle the long waiting list, it's understood the HSE has a service improvement initiative under way for psychology services, which includes the recruitment of people to fill an additional 22 psychologist posts and 114 assistant psychology posts.
In the interim, community healthcare organisations have been told to submit a short-term action plan to address waiting lists in priority areas. Daly said other mental health initiatives are also underway across the country, but he acknowledged there are serious management issues in relation to waiting lists.
Fianna Fáil's James Browne pointed out to the minister this week that it has been 25 years since Ireland signed up to the UN Convention on the Rights of the Child.
Waiting for an appointment 
"The statistics show that of the 8,000 on the waiting list, almost 6,000 are children, with in the region of 2,000 waiting for more than a year for primary care psychological services. That was at the end of June 2017. It is fair to say that figures like those are clear evidence that there is a crisis in the provision of mental health services for children in the community," he said, adding
The fact is that almost one in three children is waiting for an appointment for more than one year. It is simply unacceptable that children have to wait for that length of time to get their first appointment just to assess where they are at or what supports they need.
Browne said, effectively an "Eircode lottery" determines whether your child gets the help they need.
"Vulnerable children and teenagers need the service and there is an obligation to provide it. We know there are significant regional variations across the country depending on where one is."
The figures show in Wexford, 230 young people have been waiting for more than a year. In Cork, 456 young people, and in Galway has 208.
"The waiting lists and the numbers behind them are an issue of intrigue for me. I am not quite like the Taoiseach who has a complete fascination with statistics but, at the same time, there is more to the figures when one looks at them," said Daly.
He said the more he investigated the figures, the more aware he became of the "myriad" of factors behind the numbers and why people are waiting so long.
No shows for appointments 
"For example, a detailed examination has shown that the most prevalent reason for the number of people waiting over 12 months is the lack of client availability. In other words, people are not turning up for their appointments.
"hat is not me disavowing my responsibility, as I accept there are issues with recruitment and there are teams that do not have a full complement," he said.
The minister said there is also a big problem with referrals, insofar as those that present to their GPS are inappropriately being referred to the child and adolescent mental health services (CAMHS) in many cases.
"When that happens, they are left on a list because they are not seen as a priority and CAMHS will continue to deal with priority cases," he explained.
He said he would like to see a more appropriate referral system, stating that there must be a clear care pathway outlined in each and every community healthcare organisation, with one person made responsible in every organisation.
"So that when somebody rings up with a mental health query, he or she will be referred appropriately and seen at a more appropriate level than everybody being just sent up the list and left on the CAMHS waiting list. When one asks the CAMHS teams about the people who are waiting for over a year one finds they are a low priority but the names are left on the list and add to the statistics. We have a number of challenges to deal with in this area, including the gathering of metrics" he said.
Children on multiple lists 
Browne acknowledged there was a serious issue with the crossover of waiting lists, and children being placed on one waiting list only to be told they should be on another after waiting already one year.
"I am aware of a parent who is terrified that their child will be diagnosed with autism because they are getting the supports they need within CAMHS but if the child is diagnosed with autism, they will be ripped off the list and put onto another list in respect of which the supports are not available," said Browne.
"Currently, we have different lists and nobody is talking to anyone else and children wait sometimes for up to three years for a first appointment, which is simply unacceptable," he added.
The minister said he hopes to establish a "front-door system" whereby there is one point of contact for everybody who has a mental health issue who is seeking help.
"When a person dials the number, he or she is appropriately referred. At the moment, if a person wakes up and is feeling a bit low, it is not clear who to ring – ALONE, Aware, Jigsaw, primary care, the emergency department or the GP."
Children can be on several waiting lists, he explained, adding that a GP could refer a child to CAMHS, Jigsaw or NEPS.
Daly said it his aim to streamline all waiting lists.
"I am reasonably assured, for the most part, that everybody who needs an urgent appointment gets one. That is what most practitioners on the ground tell me."