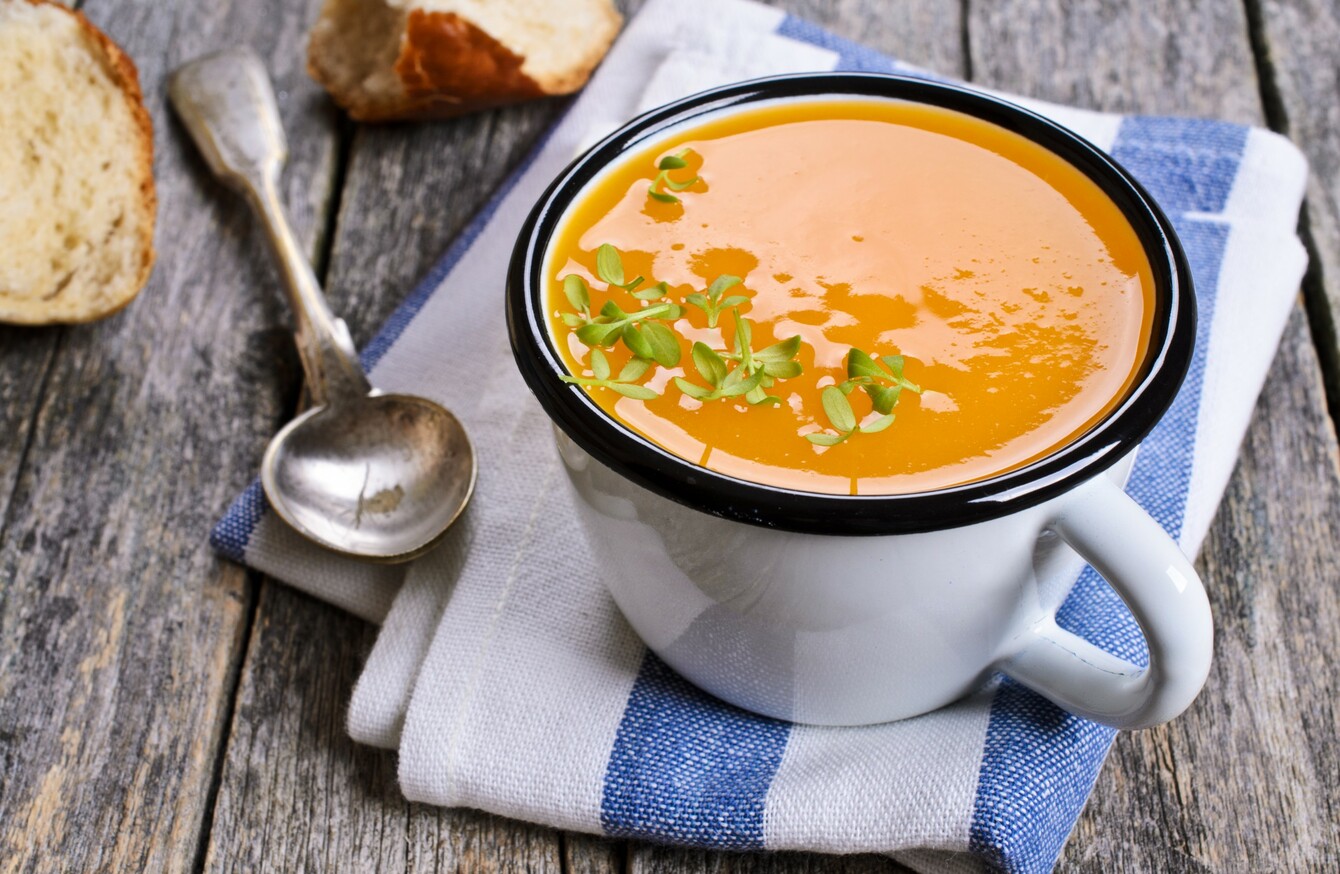 Image: Shutterstock/ziashusha
Image: Shutterstock/ziashusha
IF YOU'VE PICKED up a pumpkin for carving during your weekly shop, don't disregard the fact that what you have there is also a tasty and versatile autumn vegetable.
Pumpkins are not just for carving. In fact, they're a great source of Vitamin A, which is important for eye health, and since they're composed mainly of water, they are low in calories and fat. 
Pumpkin flesh can be used in curries, soups, one-pots, or even roasted and added to a salad. Pumpkin seeds, meanwhile, can be roasted and transformed into a nutritious snack. The pumpkin's versatility and naturally sweet flavour also means pumpkin can be used to make desserts, like muffins or classic pumpkin pie.
Whether it's a weekend snack, a midweek meal or a warming soup, I've got you covered with five delicious ways to use up your pumpkin, and stop those delicious insides from going in the bin…
1. Spiced pumpkin soup 
With plenty of fragrant spices and creamy coconut milk, this is the perfect winter warmer. In a large pot, gently fry ginger, garlic and onion until soft – this will take about 10 minutes. Next, stir through a spoonful each of curry powder and turmeric, along with some chopped red chilli. Stir for another minute or two to release the aromas, then add in peeled, chopped pumpkin, a tin of coconut milk and about 750ml of hot chicken or vegetable stock. Simmer gently for 40 minutes, until the pumpkin is cooked through, then remove from the heat and blitz with a hand blender until smooth. Top with coriander, and serve with fresh bread. Or, if you're looking to impress, why not also top with some sweet toasted coconut flakes as seen in this recipe by Madeleine Shaw.
2. Cajun roasted pumpkin seeds
Pumpkin seeds are packed with nutrients- they're a great source of vitamins, minerals and fibre. Sadly, they're often the first thing we throw away when carving a pumpkin. To make this tasty snack, first clean the pumpkin seeds to remove any flesh, then boil them in hot water for 10 minutes. Drain them, and dry the seeds on some kitchen paper, before transferring to a bowl. Toss the seeds in olive oil, Cajun seasoning and some salt and pepper, then transfer to a baking tray lined with non-stick baking paper. Bake for 20-25 minutes at 150 °C, until they're crisp. Allow them to cool, then either serve the seeds straight away or store them in an airtight container for up to three days. 
3. Roast pumpkin hummus
This roast pumpkin hummus makes a great snack and is perfect for entertaining over the Halloween period. Peel and chop the pumpkin, toss in some olive oil and seasoning, and bake in a hot oven for about 30 minutes, until cooked through. You could take inspiration from food blogger Rebel Food, who adds some whole cloves of garlic, which would add a lovely depth of flavour. This part can be done ahead of time as the pumpkin needs time to cool down to room temperature. Once cooled, add the pumpkin to a food processor along with a tin of drained chickpeas, the roasted garlic (if used), seasoning, paprika, lemon juice and tahini. Blitz for a few minutes, adding some water if the consistency is too thick. Adjust the taste if needed by adding in more salt, pepper or lemon juice. Transfer to a dish, and store in the fridge until ready to serve (for up to two days). Serve the hummus alongside some raw carrots, bread sticks or tortilla chips.
4. Pumpkin risotto
First, roast some cubed pumpkin in a hot oven until cooked through – this will take about 30 minutes. For the risotto, heat a knob of butter in a saucepan and gently fry finely chopped onion and garlic. Heat some chicken or vegetable stock in a separate pan and keep it on the heat while you make the risotto – it's important to keep the stock piping hot so that it doesn't slow down the cooking process when adding it to the risotto. The ratio of liquid to rice should be 4:1, so if you're using 150g rice, use about 600ml of stock.  Add some rice to the saucepan with the onion and garlic, then add a splash of white wine and stir until absorbed. Add another spoonful of rice, followed by a ladleful of stock and stir again until fully absorbed. Continue repeating this process and, when the rice is almost cooked, add the roast pumpkin cubes and some finely chopped sage. Finish with a generous helping of grated parmesan, black pepper, a drizzle of olive oil, and serve. 
5. Spinach, pumpkin and chickpea curry
This tasty veggie curry is also packed with health-boosting properties, making it the perfect option for a quick midweek meal, or something to make ahead and freeze for later. Heat some oil in a saucepan and fry onion, garlic, ginger and fresh chilli for about five minutes, until soft. Stir through a teaspoon each of garam masala, turmeric and cumin, and stir for another two minutes, before pouring over a pint of hot vegetable stock. Chop the pumpkin into cubes, and add this to the pot along with some salt and pepper. Simmer for about 30 minutes, until the pumpkin is tender, then add in a bag of baby spinach leaves and a tin of drained chickpeas. Simmer for a further five minutes, stir through a generous spoonful of crème fraiche or natural yogurt, and serve with rice and pitta bread.