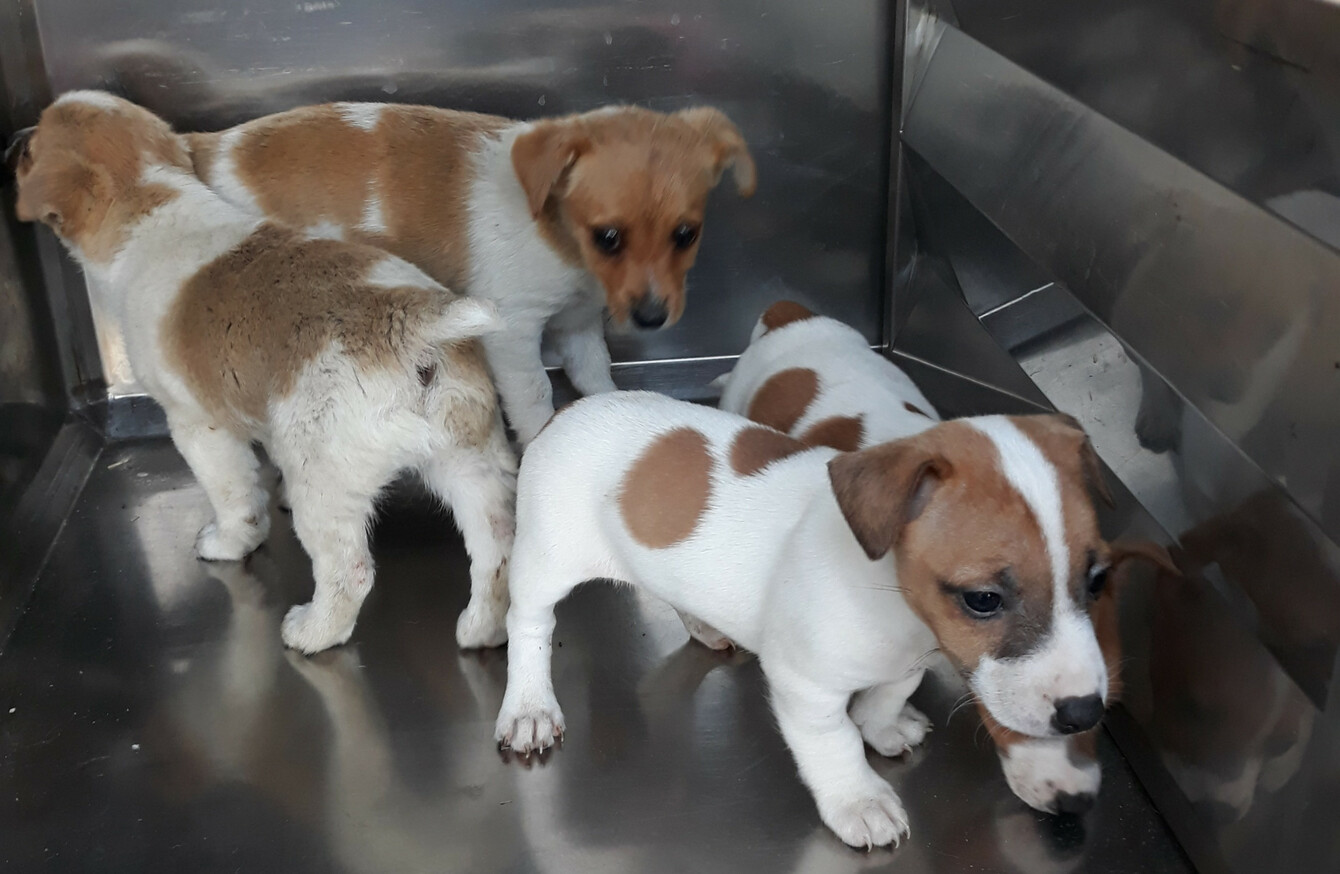 These four Jack Russell puppies were seized at Dublin Port yesterday.
Image: Revenue
These four Jack Russell puppies were seized at Dublin Port yesterday.
Image: Revenue
Updated Jun 7th 2018, 11:05 AM
THE DSPCA HAS condemned the illegal import of animals without pet passports to the UK after Revenue seized five dogs at Dublin Port yesterday.
In two different operations at Dublin Port yesterday evening, Revenue officers seized five puppies when, based on routine profiling, they stopped and searched vehicles boarding a ferry to the UK.
Neither of the two drivers had pet passports for the dogs, a West Highland Yorkshire Terrier and four Jack Russells. None of them were microchipped, as required under the Animal Health and Welfare Act 2013.
Revenue said it works closely with the DSPCA and other bodies to combat illegal puppy trading. The five puppies were transferred into the care of the DSPCA, and are receiving veterinary attention.
Speaking to TheJournal.ie, Gillian Bird of the DSPCA explained why many puppies being seized at Dublin Port are under the age of 15 weeks and the dangers around their exportation.
"When you are travelling with your dog, cat or ferret into or out of Ireland, your pet must have an up to date passport. The pet passport is their vaccination cert, it's also proof that they've been microchipped," Bird said.
"To get a pet passport, the youngest an animal can be is 15 weeks. That's because they have to have a set of vaccinations, including the rabies vaccination. Between the full course of vaccinations and if they need blood tests, 15 weeks is the youngest they can be," she said.
Bird explained that oftentimes when puppies are smuggled out of Ireland they are taken to the UK for resale. Because they are rarely microchipped, Bird said the animals can be placed with an older animal that could be passed off as its mother.
"[The person] will then be able to have that puppy microchipped with a UK microchip number and they will start the vaccination with a UK vet. They can claim that the puppy has come out of this mother," Bird said.
They can sell that puppy for a lot more money than they could have if it was thought to be an Irish import.
Four of the puppies seized yesterday had fleas and worms and are being treated by the DSPCA.
"The DSPCA is once again reminding the public that the export of any dogs, cats or ferrets without an up to date passport is illegal and the animal will be seized at the port."
A follow-up investigation is underway into the seizure.
Other seizures 
Meanwhile, Revenue officers yesterday carried out searches under warrant at a number of premises in the Dundalk area and seized 80,000 unstamped cigarettes of various brands, 4.5kg of Lucky Strike tobacco and a vehicle.
The retail value of the illegal tobacco project is over €50,000, representing a potential loss to the Exchequer of €39,940.
The intelligence-led operation was part of Revenue's ongoing operations targeting the shadow economy and the supply and sale of illegal tobacco products.
A prosecution file will be prepared for the Director of Public Prosecutions.
Businesses and members of the public who may have any information about smuggling, shadow economy activity or the supply and sale of illegal tobacco or alcohol products are being asked to contact Revenue in confidence on 1800 295 295.