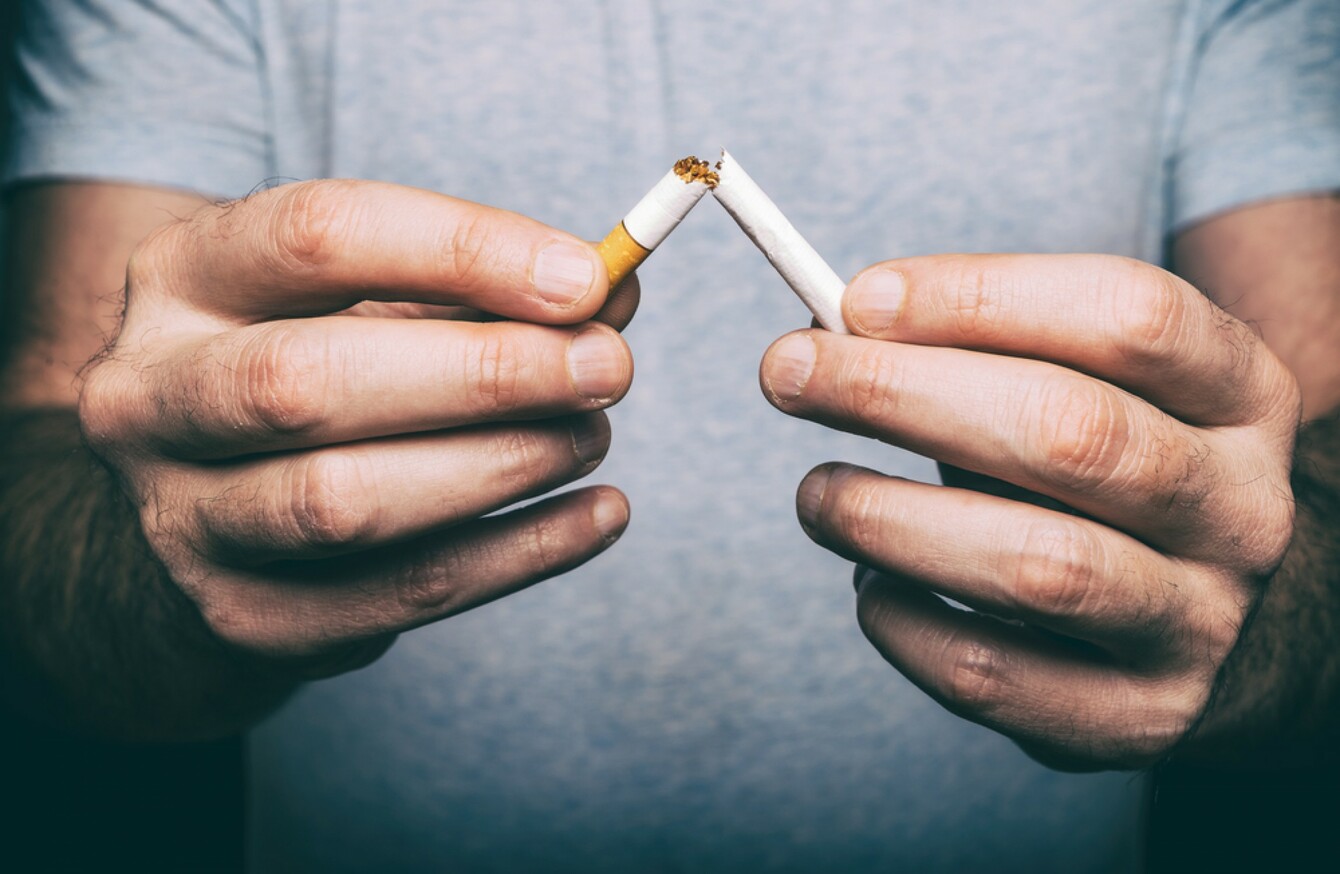 Image: Shutterstock/Marc Bruxelle
Image: Shutterstock/Marc Bruxelle
A HARD-HITTING campaign aimed at getting people to quit smoking tells us that one in every two smokers will die of a tobacco-related disease.
Thousands of people have signed up to the HSE's Quit initiative, and there has been a decrease in the number of people smoking in Ireland in recent years.
However, as of 2016, some 18.7% of people here still smoke. About 5,500 people in Ireland die from a smoking-related illnesses each year.
Today is National No Smoking Day and the Irish Pharmacy Union (IPU) has teamed up with the HSE to encourage more people to give up.
Pharmacists across the country are on hand to give support and advice to smokers who want to quit.
Carmel Collins, vice president of the IPU, said research has shown that about 70% of smokers want to quit and over 80% wish they had never started smoking.
Collins told TheJournal.ie: "We want to tap into that motivation. There are over 1,800 pharmacies in Ireland, we have a widely established network which is hugely accessible to the public."
She said smokers greatly increase their chances of giving up if they get support, rather than going cold turkey.
People need to recognise that if they have tried quitting before maybe they didn't get the right support. Pharmacists can help come up with a nicotine replacement programme. There are gums, inhalers, lozenges – what the person needs to use is dependent on their level of nicotine addiction, whether they're a heavy tor mild smoker.
"The pharmacist will ask a series of questions and can help raise awareness about the person's triggers and habits when it comes to smoking – why they're smoking and why they don't want to smoke.
"The person can decide a quit date to come back to the pharmacy on. In the meantime they can keep smoking but they are preparing to quit."
Withdrawal symptoms 
Collins said the person will most likely visit their pharmacist weekly in the first stages of quitting. She stressed the importance of making these check-ins regular so the person trying to quit has consistent support and advice.
She noted that withdrawal symptoms, such as headaches and a dry mouth, can worry people but these will pass and are actually positive – signs that the body is ridding itself of nicotine.
In terms of using vaping as a way to cut down on cigarettes, Collins said: "The jury is still out", and not enough research has been done in this area.
Collins said the high number of people smoking in the 18-35-year age bracket is particularly worrying.
She noted that smoking is also quite common among manual workers, semi-skilled workers and those on long-term state benefits such as unemployed people, adding that people with medical cards can avail of free nicotine replacement therapy.
Carbon monoxide
Collins said the health benefits of quitting are obvious, noting that about 90% of lung cancers are connected to smoking.
"There isn't any argument anymore about it.
People are talking about carbon monoxide poisoning now, when you smoke a cigarette you are inhaling carbon monoxide – a poisonous gas. If you smoke 20 cigarettes a day, you can inhale a mugful of tar into your lungs in a year.
The HSE notes that within 20 minutes of quitting, a person's heart rate and blood pressure drop, while all the carbon monoxide in their system will be eliminated within 24-48 hours.
One year after quitting, the excess risk of coronary heart disease is half that of a continuing smoker's and, after five years, the risk of heart attack falls to that of a non-smoker.
Aside from the health benefits, it also makes financial sense for people to quit. For example, a person who smokes 20 cigarettes per day can save €4,000 a year by quitting.
"A huge amount of money is saved, that's good for anybody's heart," Collins added.
More information on quitting smoking can be read here.