LOVE IT OR hate it, the 1996 film Michael Collins is certainly a classic and it's being aired on RTÉ 1 this evening from 9.30pm. 
What better time than Easter Monday to steep yourself in some Irish history and try to move past Julia Roberts' accent. 
Test your knowledge in this quiz all about Michael Collins (the film, not just the man). 
After some words of background on screen, how does the film begin?
Warner Brothers
Eamon de Valera talking about Collins
The moments before Collins was killed
Collins taking his final breath
Joe O'Reilly talking about Collins after his death


What song does Michael Collins sing here?


What weapon does Collins say Irish people have that is "more powerful than any in the whole arsenal of their British empire"?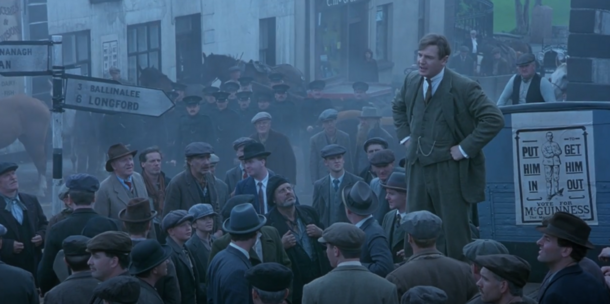 Warner Bros
A refusal to bow down to their demands
A refusal to bow to any order but our own


Who pulls the trigger in this scene?
Warner Bros
Liam Toibin (played by Brendan Gleeson)
Cathal Brugha (played by Gerard McSorley)
Harry Boland (played by Aidan Quinn)


After the Free State is formed, what reason does Collins give for why de Valera sent him to negotiate?
Warner Bros
He was too sick to go himself
He knew Collins was a capable leader
He wanted someone else to bring back the bad news
De Valera was a poor negotiator


A butterfly was apparently seen in Clare with green, white and yellow wings. What does Michael Collins say is the problem with butterflies?
Warner Bros
Their wings eventually turn red, white and blue
They only last the one day


Liam Neeson, who plays Michael Collins, is from Northern Ireland. Which county?
Shutterstock


Who is this?
Warner Bros


In this scene, Collins makes a move to help James Connolly but de Valera halts him. How long does he tell Collins to wait for?
Warner Bros


What song is played in the final scene of the film?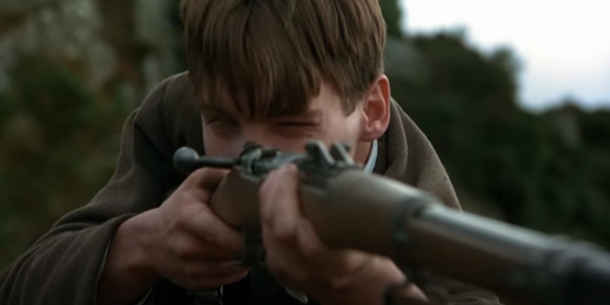 Warner Bros
Don't You (Forget About Me)
She Moved Through The Fair Answer all the questions to see your result!
You scored out of !
Top Dog
Woof, well done!
You scored out of !
Clever Cat
Almost purr-fect
You scored out of !
Fintastic
Good job
You scored out of !
What are ewe doing?
Not your best
You scored out of !
Turtley awful
A shell of a bad effort
#Open journalism No news is bad news Support The Journal

Your contributions will help us continue to deliver the stories that are important to you

Support us now