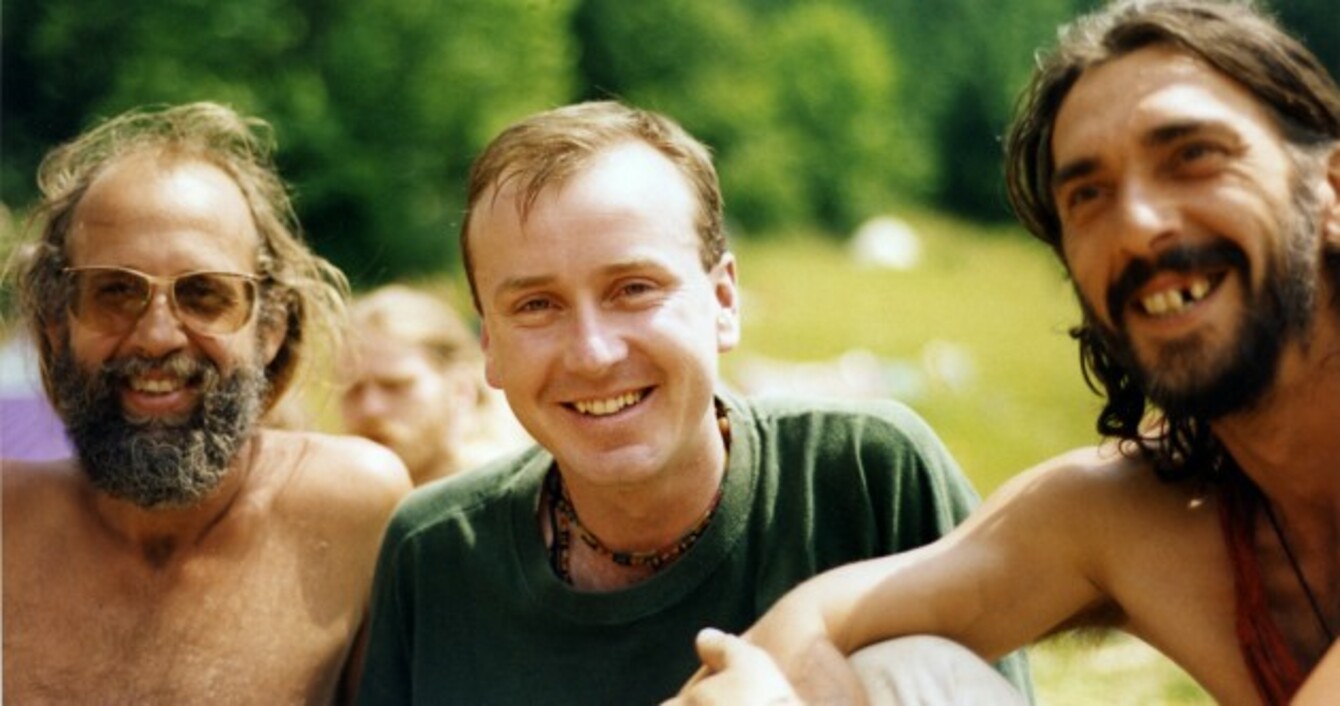 A young John Whelan with two unidentified men at a Rainbow Gathering in the 90s.
Image: John Whelan
A young John Whelan with two unidentified men at a Rainbow Gathering in the 90s.
Image: John Whelan
A SENATOR HAS penned a fantasy novel based on his time with the Rainbow Gatherings in the early 1990s, an experience which he describes as "eye-opening".
John Whelan spent time with the Rainbow Gatherings, temporary intentional communities practising the ideas of peace, love, repect and harmony, in 1993 and 1994 having originally gone to a gathering the Slieve Bloom mountains to cover the event as a journalist.
"I was a journalist in the Leinster Express, and literally thousands of what you'd maybe call hippies, from all over the world, maybe up to 30 nations, converged on the Slieve Bloom mountains to a land called Ballyhuppahaun," Whelan explained.
"I had to go and investigate the story. So I went up to cover the event but they said: 'You can't just stroll up here, doing a story and taking photos without understanding what we do.' So I stayed with them.
"They put me up in a teepee and I was quite moved by the experience and the philosophy of the Rainbow Gathering, this sort of loose movement. The following year I went and attended the next event in Slovenia, at the height of the Balkan War. We could hear the shelling of Zagreb in Croatia from where we were."
Whelan, who is launching an e-version of his book next Tuesday, said he was moved by the experience, the philosophy of coexistence with nature and the idea of sustainability. But his intentions to write about his experiences were delayed until he became unemployed.
"It was only when I was on the dole that I had a window of opportunity to revisit the ideology and to try and draw it down into a format that I thought would engage with those who were open-minded to that discussion and hence the story has emerged.
The book, entitled The Buddha of Ballyhuppahaun, and written under Whelan's pen name 'Johnny Renko' is a fantasy that, according to Whelan touches on the themes of "climate change, water supply, food security and sustainability".
"You don't have to have dreadlocks to be an eco warrior is what the book is trying to say," he said, adding that it also draws on his experiences as a politician as well.
Whelan said that he hasn't been to a Rainbow Gathering since those glorious summers of 1993 and 1994, but said he is keen to get back in the future, and bring along a few Leinster House colleagues.
"I have a craving to go back and I do intend to do it when I get the chance. Maybe if I can get Pat Rabbitte to go it might have an influence on him or maybe Phil Hogan.
#Open journalism No news is bad news Support The Journal

Your contributions will help us continue to deliver the stories that are important to you

Support us now
"I want to try and loosen up people in the pinstripes and enthuse them to take their vacation at the Rainbow Gathering to see if they bring home some of that vibe," he added.
We'll leave you to imagine what Minister Rabbitte and Hogan would look like with beads around their neck and flowers in their hair.
The book is available on Amazon Kindle and you can follow the latest on its Twitter account
All pics of Rainbow Gatherings via John Whelan