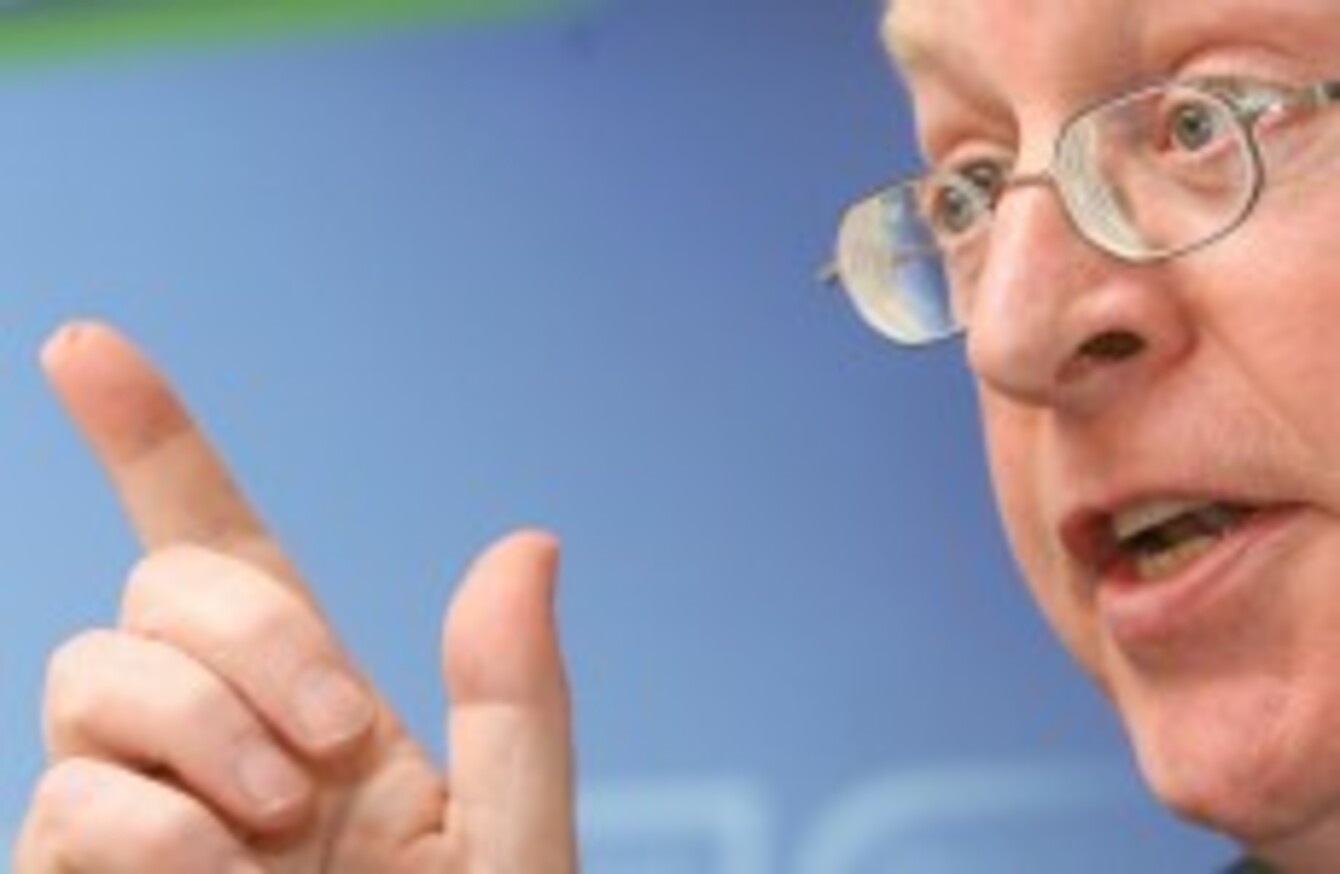 Michael McDowell (File photo)
Image: Julien Behal/PA Archive/Press Association Images
Michael McDowell (File photo)
Image: Julien Behal/PA Archive/Press Association Images
FORMER TÁNAISTE MICHAEL McDowell and Education Minister Ruairí Quinn clashed over the future of the Seanad at a debate in Ranelagh last night.
The two were on opposite sides as a four-man panel debated the future of the upper house in an event organised by the Ranelagh Arts Festival at Sandford Park School in the south Dublin suburb.
Quinn appeared to admit that Fine Gael's claim that €20 million will be saved by abolishing the Seanad is "inaccurate".
He said that a leaflet distributed by McDowell at the debate – arguing for a No vote – "is as misleading as the Fine Gael one is inaccurate".
But he argued that the Seanad needed to be abolished, pointing out that he had previously only been a member of it for one reason.
"I was put in the Seanad on one condition: to work my way out of it," he told the audience of around 200 people at the debate chaired by the Irish Times economics editor Dan O'Brien.
Quinn was joined on the Yes side by Fine Gael TD for the area, Eoghan Murphy, who said that there is no good argument for keeping the Seanad.
'Ex-girlfriend'
Murphy said to maintain it would be "purely to serve the political system that created it" and compared it to a relationship with his "ex-girlfriend Susie".
"The romance is gone, yet the relationship continues, out of habit more than anything else, because it's comfortable, it's familiar, because she has someone to go to the cinema with on a Sunday night. Maybe it would be better if we just made a clean break," he said.
He said the upper house "cannot be reformed and should not be reformed" because doing this would only duplicate the work of the Dáil.
A caricature of the participants at the Seanad referendum debate in Ranelagh last night.
Political commentator and barrister Noel Whelan – who, with McDowell, is part of the Democracy Matters campaign – argued that this was "gibberish" and said, taking Murphy's analogy, that it was a case of "sexing up" the Seanad and "getting to know it better".
He argued that the recently proposed Quinn/Zappone bill that is at committee stage in the Seanad could be law by Christmas. He said this bill would open up the electorate to three million people and allow representation from Northern Ireland as well as gender quotas.
Quinn argued that abolishing the Seanad was not a power grab as it has no power presently and said that Ireland is too small to have two competing chambers that have a democratic mandate.
#Open journalism No news is bad news Support The Journal

Your contributions will help us continue to deliver the stories that are important to you

Support us now
'Simplistic and misleading'
"While we're fixing this country at the moment some of it might not look terribly well," he said in relation to the government's reform agenda.
McDowell, who was passionate throughout the debate,  hit out at Quinn and Murphy for "simplistic and misleading arguments and said there will be no safeguard against any bill if the Seanad is abolished.
The former Tánaiste said that it was telling that the news of Reform Alliance TDs getting speaking rights was news.
"How far have we fallen that it is news that they get speaking rights?" he said.
The former Progressive Democrats leader said that the €20 million saving that Fine Gael argues will be made if the Seanad is abolished is "a lie" and insisted it would save only €6.5 million or just €1.60 per citizen.
McDowell and Whelan both criticised the government for guillotining 55 per cent of bills in the last Dáil term. Both Quinn and Murphy acknowledged that the Dáil needed further reform with both calling for a loosening of the strict party whip system.
During a question and answer session a member of the audience compared the move by the government to abolish the upper house to Hitler's use of the Enabling Act in the 1930s, prompting moderator O'Brien to say: "I think it's not really fair to throw Hitler in there."