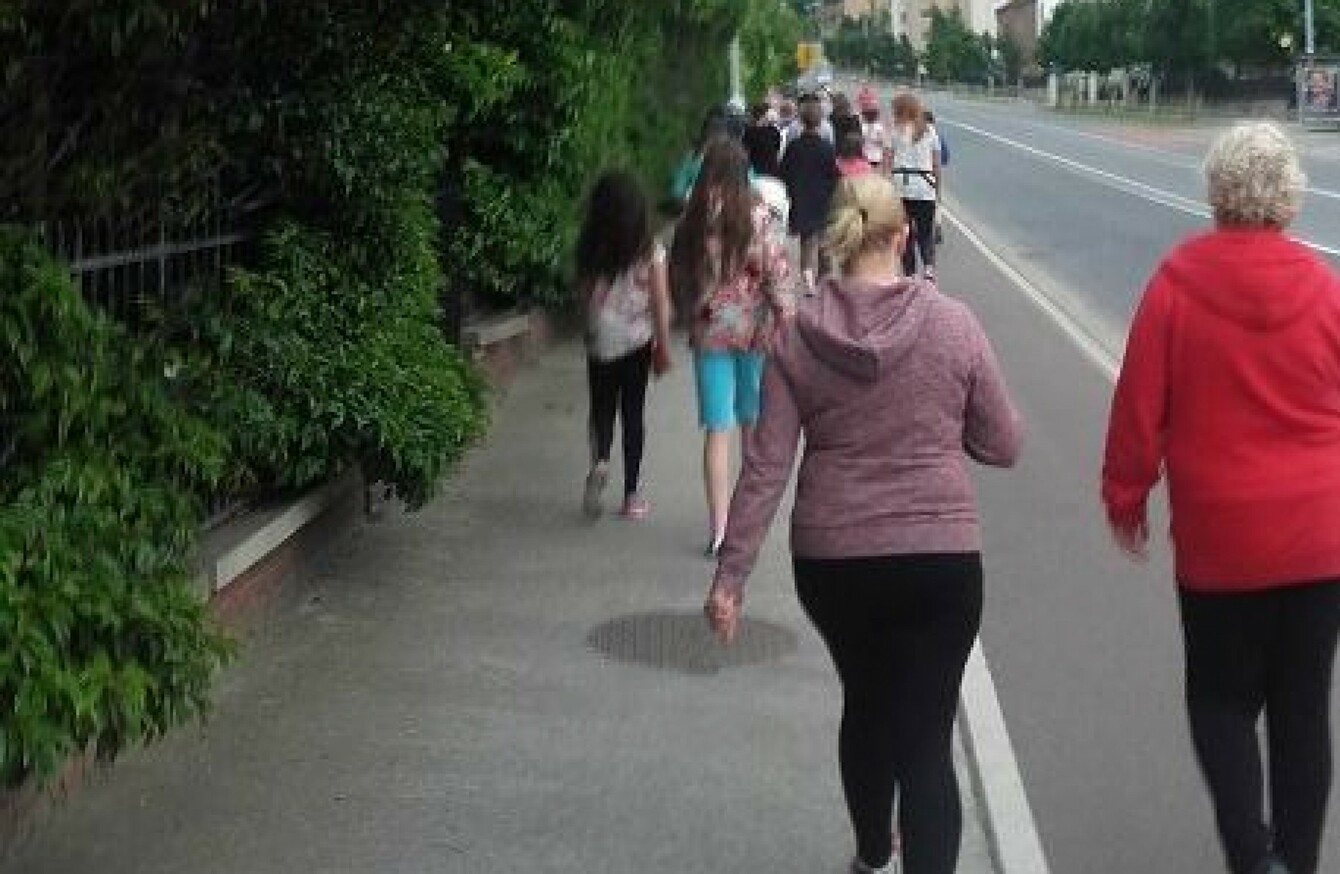 Knocklyon walking group
Image: Deirdre O'Donovan via Twitter
Knocklyon walking group
Image: Deirdre O'Donovan via Twitter
WOMEN IN KNOCKLYON, Dublin gathered together last night for a walk to "take back the streets" where a spate of attacks occurred in recent weeks.
Local councillor Deirdre O'Donovan has set up a 'Knocklyon Walkers' group to help women get together to walk in numbers rather than alone.
"We have an entire community of women who say they wouldn't go out walking on their own [following the attacks]. There has been an incredible sense of fear," O'Donovan told TheJournal.ie.
Two assaults on women took place in the Knocklyon in late June.
One woman in her 50s was attacked while she was out walking on Stocking Lane, Knocklyon on 18 June.
She was approached by a man who assaulted her and left with a number of injuries. She was taken to Tallaght Hospital for treatment.
A similar attack happened to another woman in her 50s on Stocking Well Row, on 17 June.
Solidarity
Last night, the group gathered together for the first time and walked the route where the assaults took place.
O'Donovan said that even though no attacks have taken place in over three weeks, there is still a sense of apprehension in the area.
"A lot of women who were there last night said they haven't been out and they won't go out on their own. It's completely unacceptable that you would have the female community afraid to go out alone," she said.
The Facebook page will now be used for women who want to go for a walk to ask for a partner to come along with them.
"We set up the Facebook page, Knocklyon Walkers, so that if there are women who don't want to go out for walks on their own, they can post on the page and ask if there is anyone else around to go for a walk.
If we all get together and continue to get together we can take back the streets. We can be empowered again to get back out into the community and continue with our lives.
#Open journalism No news is bad news Support The Journal

Your contributions will help us continue to deliver the stories that are important to you

Support us now
Fianna Fáil TD John Lahart was also in attendance at the walk.
Speaking to TheJournal.ie, Lahart said:
"It's three weeks or so since the assaults took place and it was fair to develop a sense of community in response, to illustrate to the Gardaí the need for increased local patrolling, which has been taking place."
Gardaí have confirmed that both assaults remain under investigation and no arrests have been made as of yet.