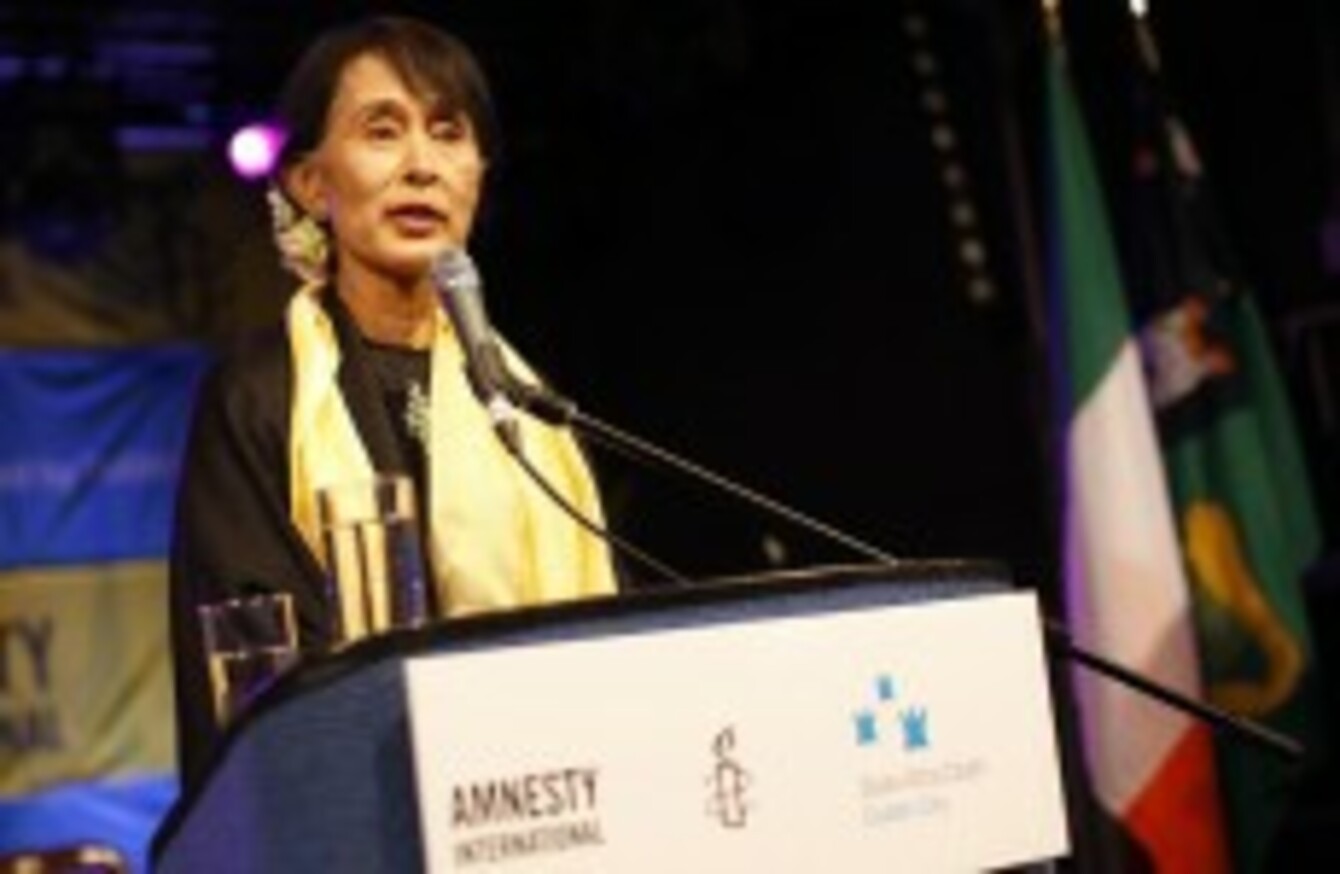 Aung San Suu Kyi after receiving the Freedom of the City of Dublin on Monday
Image: Julien Behal/PA Wire
Aung San Suu Kyi after receiving the Freedom of the City of Dublin on Monday
Image: Julien Behal/PA Wire
EVERY SATURDAY MORNING here at TheJournal.ie, we like to take a look at all the best comments left on the site by you lot over the past week.
This week has seen some big discussions in the comments sections, particularly around the death of Irish football fan James Nolan in Poland. There was also Ryanair's unexpected bid for Aer Lingus, a Sinn Féin TD using unused expenses to hire staff,  a drone looking over the walls of Mountjoy, plus suggestions for what to do during the brief period of panic when Twitter went down on Thursday evening.
So here, in no particular order, are the standout comments from the week.
Aung San Suu Kyi's visit to Dublin on Monday may have been brief but it meant a lot to many people. Layla Moroney explains what it meant to her:
I am glad myself and my son were a part of the audience tonight at grand canal square to welcome such an inspirational woman to our country. The public concert was fantastic, and while her speech was a little short, I felt the whole evening was very moving.. and I hope it is a day my 13 year old son will cherish long into his adulthood.
Days like today, I am proud to be Irish.
Derek Larney had this suggestion for last night's match between Germany and Greece:
Game should be relabeled the Debtors vs. The Creditors
Former Dublin footballer Jason Sherlock this week condemned racist abuse from fans directed at Wexford player Lee Chin. Mike Brennan supported what Jayo had to say:
Glad to see less of a tolerance of this nonsense nowadays. I recall Jayo getting plenty of racial abuse himself at a Cork City v UCD game at Turners Cross back in the mid 90s. He was but a young pup at the time. Many there found it hilarious, as every time he got the ball a chorus of Chinese type sounds emanated from the shed end. I'm sure he must have gotten it as bad or worse elsewhere. This crap us no longer acceptable in modern sport and the players above all else should be setting the example.
Did you see the extreme makeover given to the Galway Hooker monument in Eyre Square this week? The entire statue was yarnbombed and covered in wool, which elicited some self-aware bad punning from Carol C:
Its knit bad, I wool love to see this done around the country. Sorry.
Meanwhile Patrice Auburn looked at it differently:
A very overdressed hooker in Galway.
Macra is holding a Know Your Neighbours weekend next month to encourage people to – well, get to know their neighbours. Conor Kirwan described how he got to know his:
Street parties are such a good idea. We have an annual BBQ where I live organised by the residents association. It was organised for the first time oddly enough during the big snow two winters ago when myself and a few others started clearing the entrance to the estate and footpaths and got chatting. More and more people began to chip in once they had seen us out of their windows.

Few of us had ever met before, but decided after working together for a common good that it was about time that we made an effort to get to know each other. Now if there's ever suspicious activity or someone that needs to be looked in on we know about it.

It's such a nice contrast to the place where I used to live. My welcome to the neighbourhood was a note left in lipstick on my windscreen saying parking for residents only!!!
There were a lot of heated (understatement) discussions beneath the articles about the anti-abortion billboards which have appeared over the past week. This was Louise Bayliss's take on the debate:
What I find frustrating is that no side seems to follow on the argument. Pro-choice should include the opportunity to rear your child in dignity and not being forced to terminate a pregnancy purely on economic reasons. Pro-lifers should not just abandon women who choose to carry on with unplanned pregnancies and should campaign to reduce child poverty rates and to support mothers struggling with raising a child on their own. The birth is only the start of the long road to raising the child.
It seems like there's never going to be an end in sight to the rain this month. Colin Foran noted:
The only difference between the Summer and Winter in Ireland is the temperature of the Rain
This comment by Tertullian got a lot of support beneath a poll asking whether Irish fans drink too much when they're abroad:
Irish people in general drink too much at home and abroad. The whole culture, encouraged of course by the powerful drinks industry, is predicated on alcohol having a central part to play in celebrations and events be they sport, family events or whatever. Alcohol is the most dangerous drug available and it's widespread abuse causes violence, misery, depression and death. It is glamourised in slick advertisments showing attractive people having a good time but the reality is often the exact opposite. I find it very odd that tobacco advertising has rightly been severely curtailed and yet alcohol faces no such restrictions, a testament surely to the power of the drinks industry.
Protesters in Michigan this week performed The Vagina Monologues on the steps of the state's main government building after a state senator was silenced for using the word 'vagina' in a debate about abortion. John Cleary had other ideas:
Id pay to see the Muppets perform The Vagina Mnamnalogues.
One of the most popular stories on the site this week was this piece about Why internet scammers pretend to be Nigerian.  Damien Chaney had his own moment of benevolence which he wanted to share:
I won the Spanish lotto a while back, while I find it personally repulsive that one person can have or wish for that kind of wealth i myself lead a modest life and would have absolutely no interest in that kind of opulence I am willing to let one of you lucky readers have the chance to win this priceless (actually its not priceless it's 120 million) once in a lifetime life changing prize. Simply enter the Super Cash Affluence Money draw tickets are modestly priced at €20 each, fingers crossed it could be you!
Fáilte Ireland this week released its list of the tourist attractions which drew the most visitors last year, with the Guinness Storehouse topping the list. A few commenters started talking about easy it is to be a tourist in your own city or town, and Gary Madden added this:
Good idea Susie. Loads of touristy nooks and crannies in Dublin and you pay little or nothing. I am from Limerick but did a short stint in Dublin lately. I took two weeks off at the end just to enjoy these things. We're dead in a few years. Well worth it. Amazing how many Irish pay no attention to our own jewels and love to tell you all about overrated places they've travelled to abroad.
There was bad news for League of Ireland team Monaghan United this week which pulled out of the league due to financial pressures. Ciaran Cummins had this assessment of the LOI:
yes the LOI is not at the premier league standard,and never will be without money and investment,but as a weekly attendee of games its not as bad as some people think or say, and for a gate fee of roughly 15 quid its alot cheaper than "Irish football fans" who spend 60 pounds sterling plus air fare every other week to support "their" team. The fai and Ireland fans need to realise that grassroots starts at home,and without their support the national team will continue to suffer as it has the past two weeks. shamrock rovers made history for Irish football with their appearence in Europe last season and the gap between irish football was shown for what it is,but surly if a full time fai funded Irish league existed to blood players was in place this appearence in European football would not just be a flash in the pan,and the level our football would be played at would improve. people need to realise that football in this country will die on its feet without support from both the fai and the football loving public. rant over….
There were many, many comments left by people beneath articles about Irish football fan James Nolan who was tragically found dead in Poland on Wednesday. This comment by Joan Featherstone summed up a lot of the sentiment:
I'm crying reading this, wonderful idea from the mayor, thanks so much to all these wonderful people in Poland. His poor poor family, RIP.
Finally, if you're having a tough morning, look on the bright side: at least there isn't a cow in your building, as happened in this hardware shop in Ennis. Old Nokia Charger said it was time to moo-ve on (sorry):
I laughed when this story was first MOOted.
He might have made a mess but what's dung is dung.
Spot any comments which you think should make comments of the week next week? Mail christine@thejournal.ie