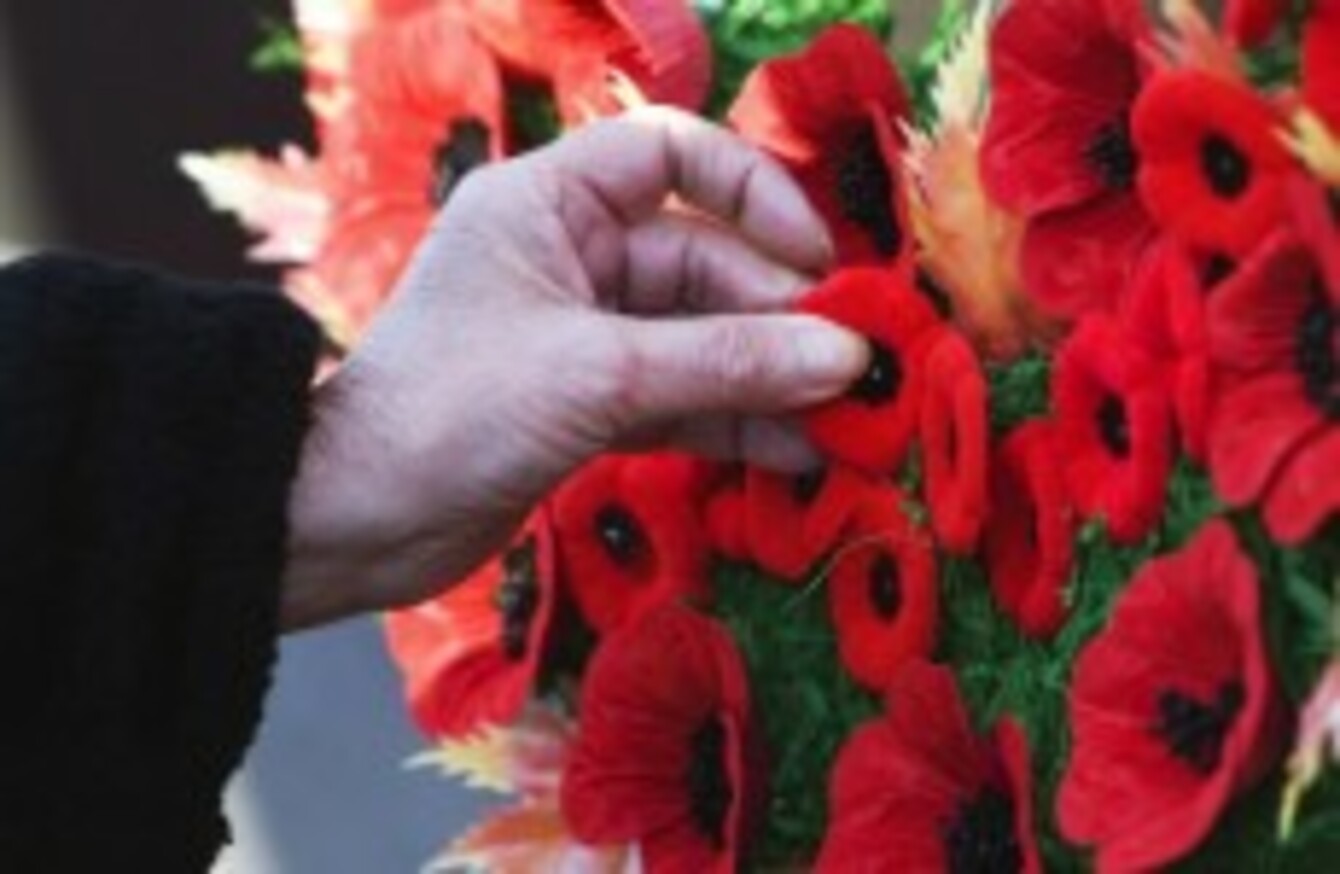 Touching the past: a woman meditates on Remembrance Day in Canada last year.
Image: The Canadian Press/Nathan Denette/PA Images
Touching the past: a woman meditates on Remembrance Day in Canada last year.
Image: The Canadian Press/Nathan Denette/PA Images
ON NOVEMBER 11 each year, many countries around the world honour living and deceased veterans of their armed forces. The day has different names in different countries: Remembrance Day, Veterans Day, Jour d'Armistice to name but a few. Of course, the poppy flower is synonymous with Britain around this time of year. You can't watch live UK television without noticing that the presenter is wearing one.
Ireland has a couple of its own remembrance ceremonies such as last week's eloquent service in honour of Irish UN peacekeepers who lost their lives whilst on duty oversees. But during the month of November, it's very rare to see someone wear a poppy in the Republic. The Irish branch of the Royal British Legion even holds its annual commemorative ceremony in July. Despite joint wreath-laying ceremonies by our President and the British Queen in Belgium in 1998 and in Ireland earlier this year, wearing the poppy still draws resentment from some people in the Republic.
That red and black flower is a potent little symbol. For some people, wearing the poppy might suggest that you are paying homage to the same military force that patrolled the streets of Northern Ireland for decades. But the flower, which saturates large parts of the Belgian and French landscape where so much blood was spilt almost a century ago, was never intended to be a jingoistic symbol that honoured the British Crown. Rather, wearing the poppy was simply intended as a respectful act of honouring the fallen.
In total, over 200,000 Irishmen, from nationalist and unionist traditions, served in the British army during the First World War of which approximately 49,400 were killed in action. During the Second World War, when the fate of Europe hung in the balance, an estimated 50,000 Irish men and women from the Irish Free State enlisted again in the ranks of the British armed forces and played a vital role in defeating Nazism. Losses were large once more; 7,000 Irish born personnel died in that war. So if you dig deep enough in the roots of your family tree, you may well find that you are related to one of those veterans.
To wear that little flower symbolised that you were a traitor
If wearing the poppy in the Republic was given the hard shoulder during our nascent years of independence, it was given the death knell when the Troubles erupted in the late 1960s. To wear that little flower symbolised that you were a traitor and not a real Irish patriot. Our new national narrative in post-independent Ireland left little room for those Irish men and women who had worn British uniforms during the two world wars. A true partisan would wear the Easter lily.
When I think about the poppy or Remembrance Day, it's not just images of the fields of Flanders that spring immediately to my mind. I think instead of those shaky video images, filmed shortly after an IRA bomb had detonated at a Remembrance Day ceremony in Enniskillen in 1987. The images, like war itself, are horrific: old age pensioners being helped from the rubble, dead bodies covered by jackets.
The 'Poppy Day' bombing was a callous act that killed and maimed people who had simply gathered to pay their respects to the dead. In the minds of some republicans, politics and the poppy were indistinguishable.
But times change thankfully. Queen Elizabeth's visit to the Republic in May of this year marked a turning point in our relations with Britain, the way we view our State and in particular, the way in which we view our military past. The laying of wreaths by our President and the British Queen at both the Garden of Remembrance and at the Irish National War Memorial Gardens showed that it is possible for us to honour Ireland's two military histories equally. So, it might now be time for those that want to don the poppy, to do so without the fear of being heckled.
Earlier this year I found out that my own family had a link with the Great War
I've always been interested in the history of the two world wars but it was only earlier this year that I found out that my own family had a link with the Great War. My father had mentioned in passing that his maternal grandfather, a man called Edward Dwyer, had enlisted in the British army during the 1910s. However, my father was unsure if Edward had served at the front during wartime.
I found Edward's 1911 Irish census details on-line. He was a twenty-eight year old labourer, was married with three children and lived in a tenement flat in Green Street in Dublin's north inner city. From there, I made another simple online search of the UK National Archive War Records. Yes, Edward Dwyer had joined the Royal Dublin Fusiliers and had served in France with his battalion. Maybe he joined to secure Home Rule or maybe it was just to feed his family.
#Open journalism No news is bad news Support The Journal

Your contributions will help us continue to deliver the stories that are important to you

Support us now
The basic UK war service records do not provide much information but I'm keen to find out more. All I know is that Edward was in Flanders with 'the Dubs' in April 1915 around the time of the Second Battle of Ypres, a battle which cost the lives of hundreds of Dubliners. Edward was one of the lucky ones. He survived the war and returned to work in Dublin, passing away in 1962. According to my father, Edward never wore a poppy.
Like many Irish families, we know the intricate details of our Republican roots but very little about our 'other' military history. Growing up I always knew that my great-uncle John Nolan had been in the Irish Citizen Army, had fought during Easter Week 1916 and went on to fight in the War of Independence and the Civil War. Yet, I respect Edward's role in the Great War just as much as I respect John's role in gaining Irish independence. Both stories are part of our greater history and it would be folly to ignore one of these narratives.
Napoleon, no stranger to a few military campaigns himself, once said that, "History is the version of past events that people have decided to agree upon". I think we, in Ireland, have come to terms with, and agreed upon Irish men and women's roles in the two world wars.
The poppy however is just a symbol that allows people to remember their family members and if that gives them a bit of comfort and solace then we should accept that. Let's try not to confuse it with nationalism.