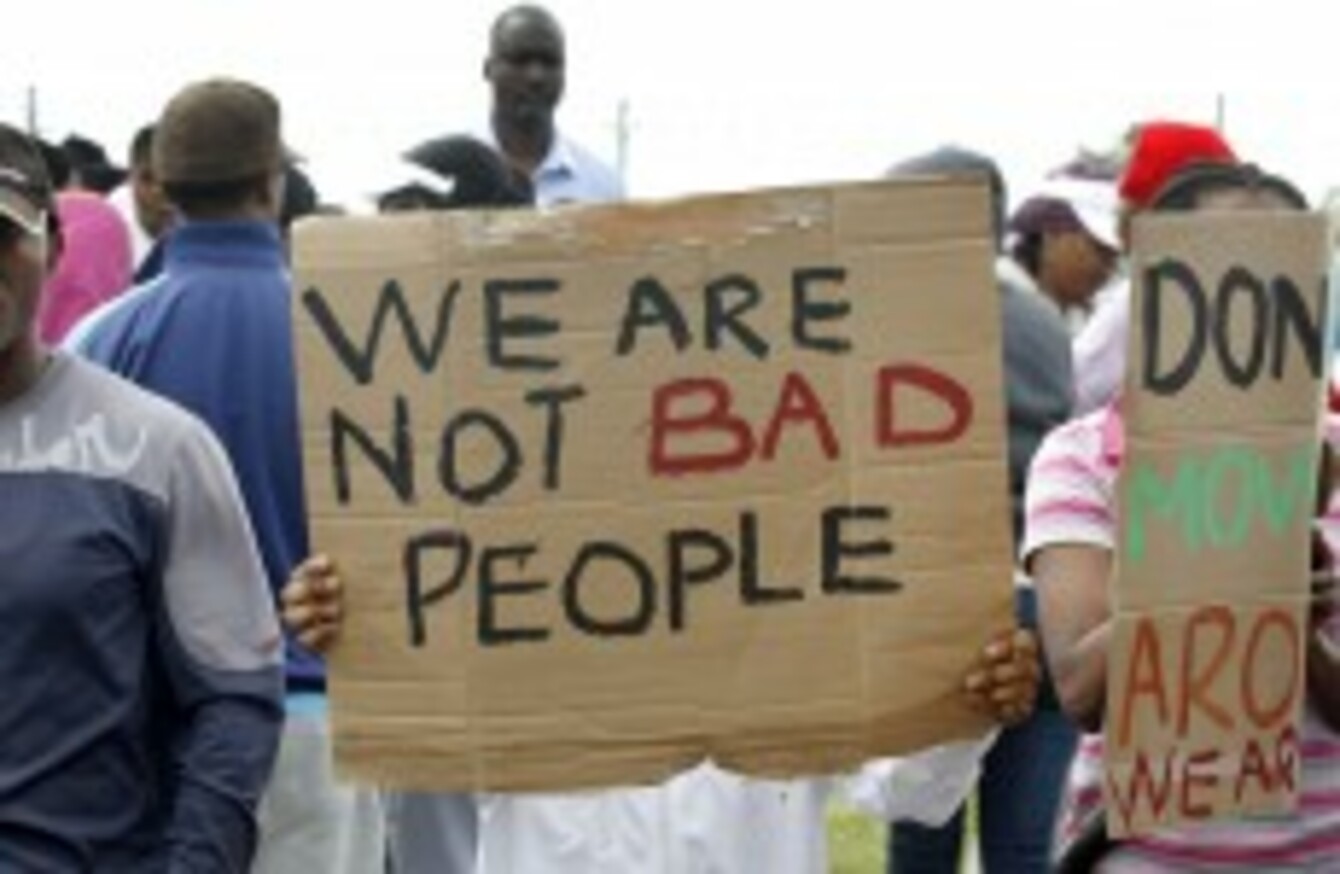 Asylum-seekers protest over conditions at a refugee centre in Ireland last year
Image: Photocall Ireland
Asylum-seekers protest over conditions at a refugee centre in Ireland last year
Image: Photocall Ireland
MOUSSA CAME TO Ireland seeking refuge seven years ago. He has been living in Direct Provision ever since. Moussa is still waiting on a final decision on his application for protection.
A pseudonym has been used to protect his identity. This is his story:
Like most asylum seekers in Ireland, I live in a hostel designated for asylum seekers. I have been living in these hostels, known as Direct Provision accommodation centres, since I came to Ireland over seven years ago.
Direct Provision centres are regulated by the Reception Integration Agency (RIA), but the majority are owned and operated by private contractors. The private operators aim to make a maximum profit by keeping services and costs to a minimum, so centres are not a place to find comfort. Conditions are generally crowded with parents sharing a bedroom with children of various ages, while individuals, like myself, share with people from different countries, with different religions and different cultures. We receive three meals a day in the hostel but are not able to cook for ourselves or our families.
RIA is the body responsible for regulating the centres and for transferring residents from one centre to another. There is no independent body to hear complaints so we are often afraid to complain in case they are moved to somewhere worse or penalised.
Three months ago, I found a piece of glass in salad. Another time, somebody swallowed a piece of plastic in rice and later vomited. Just last week one lady complained that she found out that her children had a stomach upset because the juice they had been given was past its expiration date.
Time spent in Direct Provision is wasted. It is soul-destroying waiting without hope of when of when it will end.
Like all asylum seekers, regardless of how long they have been in Ireland, I am not allowed to work or study and there are few activities to help us to keep busy, or to facilitate our integration into Irish society. There is no real community in the centre because of the diversity cultures, religions, nationalities, languages, etc. These differences have a very serious effect on the living conditions and the centre managers contribute to the lack of community by giving preferential treatment to certain nationalities while others are disregarded.
I am followed around the shop until I leave
I feel isolated from society here and I think we are seen as outcasts by the local people. When I go to the shops, the security guard looks at me like I am a criminal. Sometimes, I am followed around the shop until I leave.
Each adult asylum seeker receives a weekly allowance of €19.10 and €9.60 is allocated for each child. When I go to collect my €19.10 from the Post Office, the way the cashiers count out the money makes me feel uncomfortable. Ninety-nine per cent of the asylum seekers cry when collecting this money because they were not raised to be dependent on social welfare but the consolation is that going to the post office is an opportunity to get out of the hostel and get fresh air.
I feel constantly frustrated and often I despair. I am frustrated by the lack of information, the length of time taken to process applications, the bad conditions in the centres and the intimidation from some managers. Often asylum seekers say that it would be better to be a convicted criminal, because a convicted criminal knows when his prison term will end but asylum seekers wake up every day uncertain of when it will be over. The criminal knows that he is paying for something he did wrong, but the asylum seeker can only wonder what he did to deserve being treated like a criminal.
In these circumstances, mental and physical health is put under strain and many asylum seekers suffer from sleeping disorders, chronic depression and cardiovascular disease.
Signing in is like telling the convicted to visit the executioner every week
Deportation is a constant threat. People can have a deportation order for more than five years and they have to sign in every week at the Garda National Immigration Bureau. This is very distressing. It's like telling the convicted to visit the executioner every week, some never come back to the centre from that visit, and it's a real torture.
When somebody who has lives in Ireland for years is deported, his community back home will not understand why he was kept for years and then rejected. So in their understanding, he must have done some terrible things. He will never be accepted back to the community, because Africans assume that if he has been deported from Europe he must be good for nothing.
Getting the letter which grants you status is like winning Euromillions. However, the problem is disorientation: like dropping a farm chicken in busy motorway. There is no formal system of preparing people to go in to the society to live within the community after years of living in the institutional setting of Direct Provision.