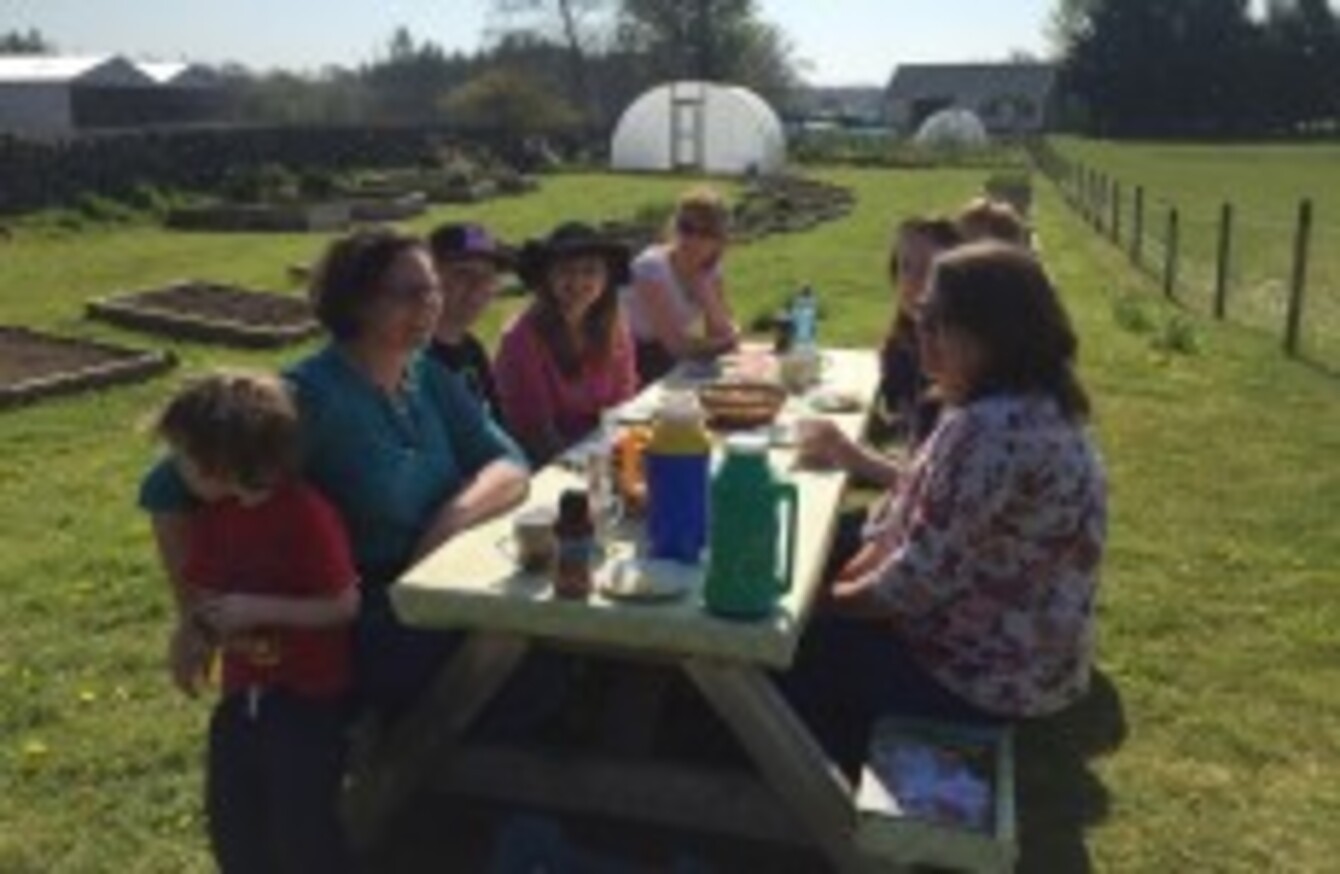 Image: Headfort GIY
Image: Headfort GIY
EVERY NOW AND then I get my breath taken away by a food-growing project and this week, it happened twice in the space of a few days.
It happened first when the community garden at the back of St Brigid's church and school in Stillorgan suddenly revealed itself as I walked around the corner. Tucked away in this little oasis of calm, just yards from the Stillorgan dual carriageway, is an incredible resource started by teacher Caroline Jolley that has become something which the entire community can get involved with and be proud of.
Visiting children get acquainted with where their food comes from – there's all manner of veg, fruit, herbs and insect-friendly plants grown here; a potting shed that doubles as an outdoor classroom; laying hens; beehives; a dapper gent named Geoff who has the neatest veg beds I've ever seen; and, in Caroline, one of the most enthusiastic food-empathy teachers I've ever met. There's even talk of Tamworth pigs.
Sharing their love of food-growing
Three days later I was open-mouthed again when taking in the beautiful community garden of Headford GIY which brings together about 20 families from the Co Galway town to share their love of food-growing and learn from each other. There's a definite irony in the fact that the site used to be a pitch and putt course back in the Celtic Tiger heyday.
The garden is in the shadow of Headford Mart, from where curious farmers regard them amidst the noisy buying and selling on a Saturday. On a beautiful spring morning we had tea and wild-garlic scones at a picnic bench and shared our passion for food-growing. The group is delightfully and insanely proud of their new polytunnel and there are many growing adventures planned – but it's the sense of community and camaraderie that really shines through.
Supporting food-growing projects across Ireland 
Both of these projects have received funding from the GIY Get Ireland Growing Fund, which reached its finale this week with the announcement of the 200 community food projects that are getting grants from this year's fund. This is the third year of our Get Ireland Growing campaign, which is suported by AIB, and over those three years we've supported over 400 food-growing projects started by GIY groups, Men's Sheds, schools, hospitals, community groups and NGOs.
It's been fascinating to watch the sheer diversity of organisations (in health, education, youth, the elderly, justice, the environment and many more) using food-growing to achieve their aims. We're incredibly proud to have supported the work of the many local champions and volunteers who work so hard to make their communities healthier, happier and more sustainable. These projects truly are putting food-growing back at the centre of Irish communities.
Things to do this week: Earth Up Spuds
As your potato plants grow, you need to "earth them up" – this is a process of drawing soil up around the plant's stems to cover them. It has a number of benefits. First of all, it increases the length of underground "potato bearing" stem so that you end up with more spuds per plant. It also stops potatoes from poking through the soil, which would cause them to go green. And finally it is also thought to help prevent blight from travelling from the leaves of the plant in to the tubers. Earthing up is repeated every three weeks or so.
Start by loosening the soil between the rows of plants using a fork – this will clear the soil of any weeds and make it easier to work with. Then using a rake or a ridging hoe, draw the soil up around the potato plants covering about half of the stem (10cm). If you are growing your potatoes in containers or sacks, simply add more compost (about 5cm) at regular intervals until the container is almost full.
Recipe of the Week – Wild Garlic Pesto
Wild garlic is abundant right now and it's at its best in April and May. This recipe uses the wild garlic leaves instead of basil, which is not in season at the moment.
Usually found in moist, wooded and shaded, areas the leaves of wild garlic are relatively easy to identify by their overpowering smell of garlic. They are often referred to as Ramsons. This pesto will keep in the fridge for over three weeks and can be used in pasta or served on bruschetta. If you don't have spring onions or leeks in the veg patch, you could use shallots instead.
Ingredients:
100g freshly picked wild garlic leaves
50g spring onions or leeks
50g shelled walnuts
200 ml olive oil
50g mature hard cheese (eg Parmesan or a hard goat's cheese), finely grated
½ teaspoon sea salt
½ teaspoon sugar
Directions:
Wash the garlic leaves and discard any coarse stalks. Place in food processor along with walnuts, shallot and 150 ml oil. Blend for about a minute until well chopped up. Add in the cheese, salt and sugar and stir well.
Fill into clean sterilised jars to within 5cm of the top of jar. Press down firmly with the back of a spoon to remove any pockets of air and then add the remaining oil to seal the surface.
When you come to use the pesto, stir it well before spooning out. Make sure the surface of any pesto remaining in the jar is completely covered with oil before you return to the fridge.
Tip of the Week – Protecting Brassica Seedlings from Cabbage Root Fly
Brassica seedlings (cabbage, kohlrabi, broccoli, kales) are vulnerable to cabbage root fly – the maggot of the fly that feed on the roots of the plants. Protect the seedlings with brassica "collars" which go around the base of the plant on the ground and prevent the fly from laying its eggs.
You can buy collars or make your own with carpet, underlay or roofing felt – a three inch disc of material will do the job. Growing garlic or chives nearby also puts them off apparently, though I am always sceptical about how well companion planting like this works in practical terms..!
Michael Kelly is a freelance journalist, author of 'GROW COOK EAT' and founder of GIY.
GIY's vision is for a healthier, more connected and more sustainable world where people grow some of their own food. Each year we inspire and support over 65,000 people and 1,500 community food-growing groups and projects around Ireland, and run food-growing campaigns, events and publications. www.giyireland.com