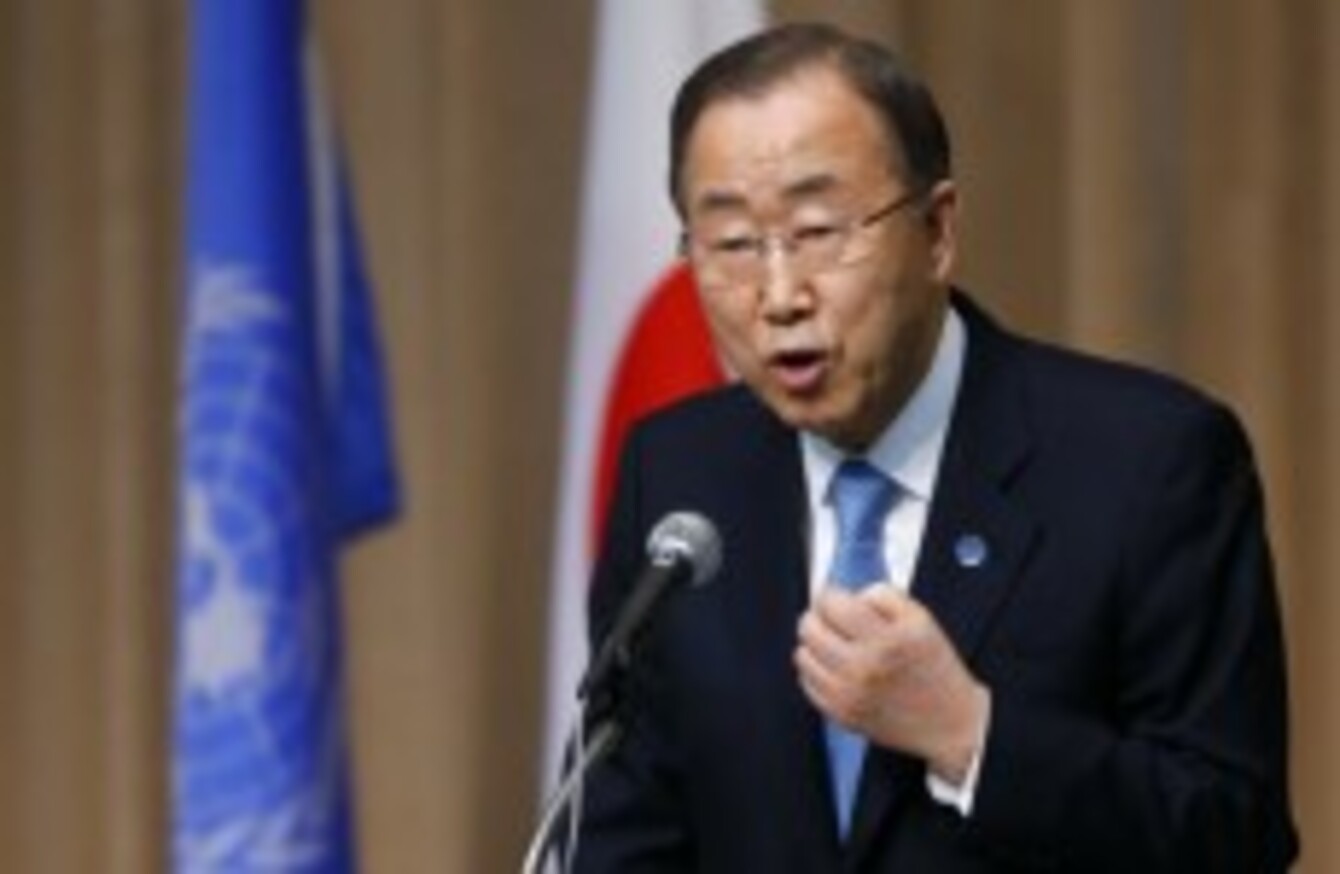 Image: Associated Press
Image: Associated Press
DEAR SECRETARY-GENERAL,
We are very much looking forward to welcoming you back to Dublin in a couple of day's time. We Irish are proud of our engagement with the United Nations and grateful for the platform it has given our small nation over the years. Our welcome is also a warm personal one considering the strong leadership you are delivering. For instance, your commitment to the human rights of LGBTI people is deeply impressive.
While you are here no doubt you will rightly praise Ireland for its contribution to the realisation of the UN's goals of peace, security, human rights and development. In each of these areas, Ireland has punched above its weight and has a reputation of being firmly committed to the promotion of a just world order. I imagine you will also acknowledge the first-rate work of our peacekeepers as well as of Irish diplomats relentlessly working the often unfriendly meeting rooms of the UN in New York, Geneva and elsewhere.
Secretary-General, I am aware that in your country visits it is your practice to temper praise with legitimate expression of concern. It will be to our benefit if you adopt the same approach in Ireland. Your visit is an important opportunity to raise attention at the highest levels to how Ireland can improve its record of respecting and promoting the values of the UN abroad and at home.
The first re-statement of Ireland's foreign policy in almost 20 years
Starting abroad, I hope you will speak to the recent weakening of Ireland's foreign policy commitments on human rights. In January of this year, the government published, "The Global Island – Ireland's Foreign Policy for a Changing World". This is the first re-statement of Ireland's foreign policy since 1996.
The rhetoric is fine, with human rights described as a "signature foreign policy", but the text is short on firm forward-looking commitments, all contained in a brief chapter. More worryingly, there are very few references to human rights elsewhere in the document. The discussion of Ireland's role within the European Union includes a total of just ten vague words on human rights.
Given your own commitment to the mainstreaming of human rights across all sectors you may be startled to learn that the section devoted to trade and economic matters has no human rights references at all. You might consider asking the government to fill the gap with a firm statement that, to borrow the words of former European Union Foreign Affairs chief, Catherine Ashton, "human rights run like a silver thread through everything we do externally".
Ireland has 'quite a collection' of human rights abuses through its history
Turning to the situation within Ireland you no doubt have copious speaking notes drawn from recommendations delivered to Ireland by such United Nations human rights monitoring bodies as the Human Rights Committee, the Committee on the Elimination of Racial Discrimination and the Human Rights Council's Periodic Review Procedure. You will see that a number of issues recur time and time again.
As you choose which of these to address you might find it helpful to consider the words of the then Chairperson of the Human Rights Committee, Nigel Rodley, when concluding that bodies review of Irelands' record in 2014, "The Magdalene laundries, the mother and baby homes, the child abuse, the symphysiotomy – it's quite a collection and it's a collection that has carried on [for a] period that it's hard to imagine any state party tolerating".
The Chief Commissioner of our own Equality and Human Rights Commission, Emily Logan, whom I hope you will meet, subsequently commented on that review, "It was not only embarrassing but it was shocking as an Irish citizen not just as Chief Commissioner to hear about our demonstrable history and the way we have treated women and children."
#Open journalism No news is bad news Support The Journal

Your contributions will help us continue to deliver the stories that are important to you

Support us now
Words that shame us as Irish people and Europeans
Another group of people whose plight I hope you will raise is that of the Travelling community. As the UN monitoring bodies have found repeatedly, successive governments' failure to recognise the distinct ethnic identity of Travellers is in violation of the country's treaty obligations and at odds with the practice of our nearest neighbor, the United Kingdom. Your visit offers an opportunity for the government to at last resolve this embarrassment.
Finally, you may wish to address the government in its capacity as a European decision-maker and in particular regarding the crisis of the Mediterranean migrants. Your human rights deputy, Zeid Ra'ad Al Hussein, observed last month, "As we learn of yet more men, women and children who have lost their lives in their search for better and safer lives abroad, I am horrified but not surprised… these deaths, and the hundreds of others that preceded them in recent months were sadly predictable… They are the result of a continuing failure of governance accompanied by a monumental failure of compassion".
These words shame us as Europeans and I can only hope that you will call for Irish leadership in developing and sustaining firm responses that will finally be infused with the mark of compassion.
Mr Secretary-General, your time in Ireland will be brief but no less important for that. Your diplomacy, both in public and behind closed doors, will make a difference. Thank you for your visit.
Professor Michael O'Flaherty, Director of the Irish Centre for Human Rights, NUI Galway and former Vice-chair of the United Nations Human Rights Committee.