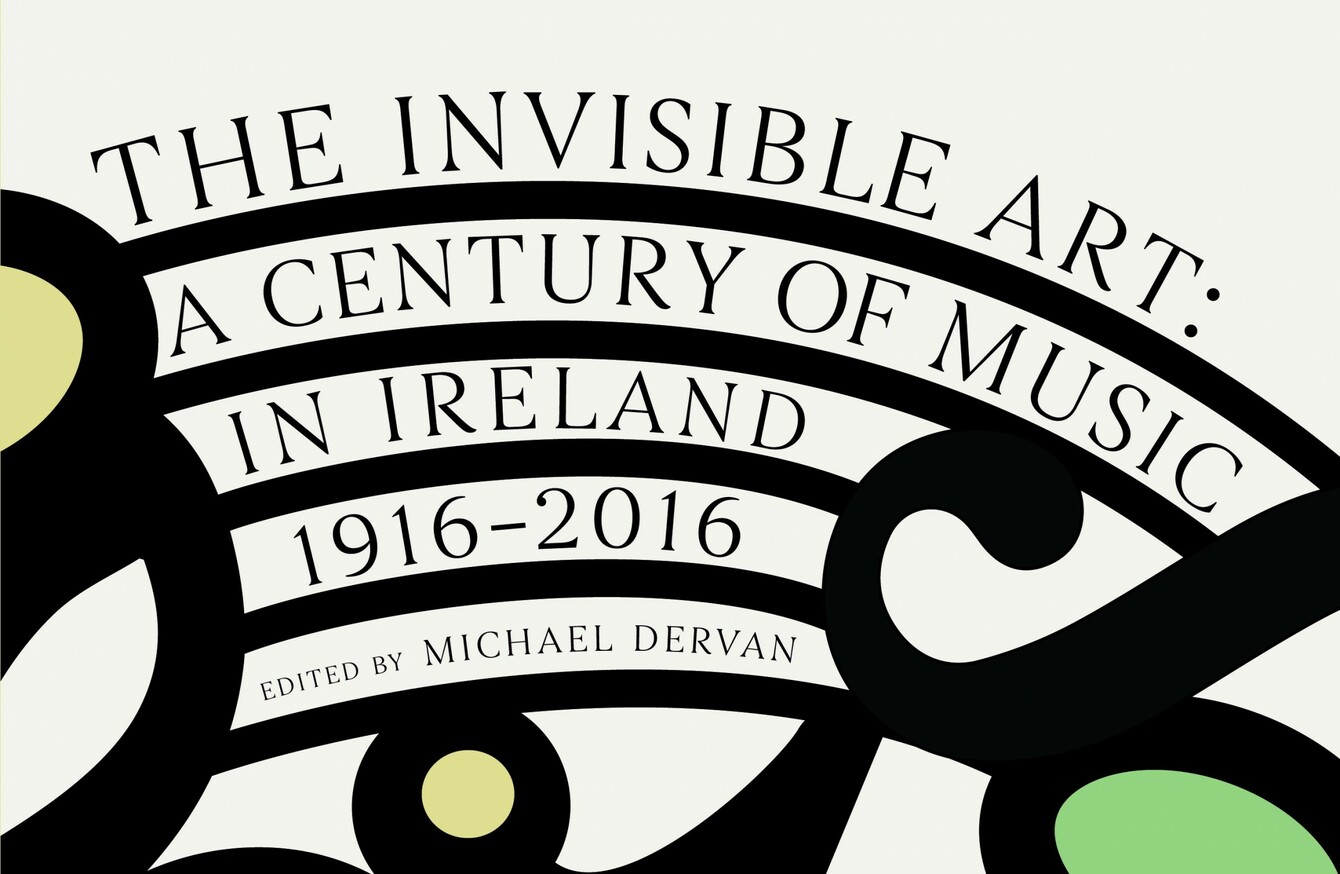 Image: New Island
Image: New Island
Music critic Michael Dervan (who has been music critic at the Irish Times since 1986) loves music – but realised as he grew up that Irish composers were often hidden musicians. With his book Invisible Art, he set out to address this. For the book, he commissioned pieces by a range of expert writers about Irish music from 1916 – 2016. 
The book, published by New Island, is nominated in the Best Irish Published Book 2016 category of the Bord Gáis Energy Irish Book Awards, which is sponsored by TheJournal.ie. Members of the public are invited to vote for their favourite books in the awards by heading to the official website. The Irish Book Awards will take place on Wednesday 16 November. 
Ireland stands unique among the nations of the world in having a musical instrument, the harp, as its national emblem. Irish musicians of all hues are widely celebrated. Riverdance has been an international phenomenon for two decades. Flautist James Galway and the rock band U2 are known all over the world. Singer Sinéad O'Connor is famous enough for her behaviour on US chat shows to create international headlines. And traditional music is even more widely dispersed than the phenomenon of the Irish pub.
Other Irish musical figures have been making waves, too. When Gerald Barry dared to turn Oscar Wilde's The Importance of Being Earnest into an opera, the 2011 concert premiere by the Los Angeles Philharmonic Orchestra prompted Mark Swed of the Los Angeles Times to call the work 'maybe the most inventive Oscar Wilde opera since Richard Strauss's Salome more than a century ago.'
Earnest won the composer the RPS Music Award for Large-Scale Composition, and its CD recording was nominated for a Grammy. It has now been seen or heard in London, Birmingham, Nancy, Dublin, Cork, Belfast, Derry and New York.
Barry is not alone. Donnacha Dennehy's opera The Last Hotel, with a libretto by playwright Enda Walsh, premiered at the Edinburgh Festival in 2015, and the Wide Open Opera/Landmark production was later seen in London, Dublin and New York.
Early in 2016 Dennehy was taken on by the American publisher Schirmer, joining Barry, Ian Wilson and David Fennessy in having been signed by an international publishing house.
Composing the Island, the September 2016 festival of 27 concerts over 19 days, was a pretty hefty event by any measure. And it was not even designed to celebrate the full history of composition in Ireland, just the works of the last hundred years. There has been nothing quite like it before. Anywhere. Ever.
Music's Cinderella
Yet the tradition of music it salutes has long had in Ireland a Cinderella-like position, an invisibility that can sometimes seem like the airbrushing or photoshopping into non-existence of a major art form.
Composers have felt the slight acutely. 'I'm a Composer'—'You're a What?' was the title Frank Corcoran gave an essay he contributed to The Crane Bag back in 1982. It was his way of explaining that Irish people simply didn't see being a composer as a serious or full-time occupation.
The composer's lot, it is true, is rarely easy. But the invisibility of composers in Irish life goes a lot further than you might imagine. The thousand-plus pages of the Encyclopedia of Irish History and Culture, published by Thomson Gale under its Macmillan Reference USA imprint in 2004, include articles on Early Modern Music and Modern Music as well as Popular Music.
Just two Irish composers are mentioned, Seán Ó Riada and Mícheál Ó Súilleabháin, both included for their genre-crossing involvement with both classical and traditional music. Apart from that, the only reference is to the eighteenth century:
At the end of the early modern era, Dublin's predilection for Western art music, which reached an epitome in 1742 with the premiere of Handel's Messiah, would decline with the drift of colonial society to London after the Act of Union.
Source: Paul Reardon/YouTube
Ignored as if they don't exist
The Cambridge Companion to Modern Irish Culture, published in 2005, shows a similar bias. Charles Villiers Stanford, Ó Riada and Ó Súilleabháin get mentioned in connection with traditional music. Wexford Festival Opera is included as an aside in connection with the traditional music organisation Comhaltas Ceoltóirí Éireann, because they were both founded in the same year, 1951. The book lists a trio of Englishmen, Peter Warlock, Arnold Bax and Ralph Vaughan Williams, who 'produced works that revealed some engagement with Irish culture'.
There is one sentence which refers to 'the gifted but stricken progressive Frederick May and the prolific nativist Éamonn Ó Gallchobhair.' Apart from that composers are ignored as completely as if they had never existed.
I've often wondered why music written in Ireland—by natives and visitors, from the eighteenth century to the present—should feature only peripherally in such surveys.
Perhaps it's because so much of it has featured only peripherally in our musical lives. The simplest way for me to understand and explain the situation has been to think back and remember how I began to accumulate my own knowledge of Irish music, probably in a way not much different from many of the composers covered in this book.
I grew up in what you would call a musical family, traditional music on one side, classical on the other. My first instrument was the accordion, when I joined a band at school at around the age of ten. I showed eagerness by working out how to read the bass clef in order to teach myself piano pieces, and I was sent to a Miss Humboldt in Phibsborough for piano lessons.
Irish music means traditional music
Source: HonorataMusica/YouTube
At that age Irish music meant for me, first and foremost, traditional Irish music, and also the music that was played by Irish pop groups and showbands. The first actual Irish composer I became aware of was John Field, through learning his Nocturne No. 5 in B flat.
I was very surprised that a celebrated composer, famous enough to be dubbed 'the inventor of the nocturne', should be an Irishman. But he seemed unique, isolated, like a single tree on an otherwise barren plain. I had no idea who might have come before him or after him. He seemed like a special case, an aberration, an anomaly, a one of a kind phenomenon for whom no explanation was offered or expected.
It was years later before I came across a second Irish composer. Ruffle the Old Hag in the Corner, one of Havelock Nelson's Three Irish Diversions, was a set work for one of my grade exams. It was the first piece I studied in which I got to play a glissando. Away from the piano, I knew of two other Irish composers. AJ Potter appeared as a judge on a national talent contest that featured on Telefís Éireann's Joe Linnane Show.
I remember Potter as being what schoolchildren called a hard marker. The scores he gave were very low, and he offered technical comments in a way that no other judge did. Brian Boydell's almost hypnotically plummy voice was familiar from the radio programmes he presented. But the two men's status as composers was somehow abstract. It may have been what explained their presence on television and radio. But I knew them as composers without being aware of ever having heard a note of their music.
My teachers were highly conservative. My music teacher at secondary school used to cite Michael Tippett as a kind of bogeyman epitomising everything he believed to be wrong with contemporary composition. I hadn't heard a note of his work, either. I was promised an LP of my choice as a reward if I scored above a particular mark in my music exams in Fifth Year. I don't think my teacher ever got over the fact that I asked for an album of the jazz pianist Fats Waller.
Finding the music
Looking back at some stage, I began to realise that my ignorance was anything but accidental. I was in the privileged position of learning a number of instruments—I also played euphonium in the school band—but I had never been called upon to know much about Irish music apart from the Irish melodies I had to study, analyse and be able to write out from memory for the Leaving Certificate exam.
And when I went on to study music at Trinity College Dublin there was nothing on the course to ensure that I would end up with any familiarity with the history of music in my own country.
My parents' interests had never extended to concert-going. It was only after I went to university that I began attending concerts. And I did it with a vengeance. H H Stuckenschmidt's book Twentieth Century Music presented a vast range of unfamiliar music in a way that made me hungry to get to know it.
Fortunately, this was in the days when many of RTÉ's orchestral, choral and chamber concerts were free, and the repertoire planners had little fear of the new or rare.
I opened myself to everything.