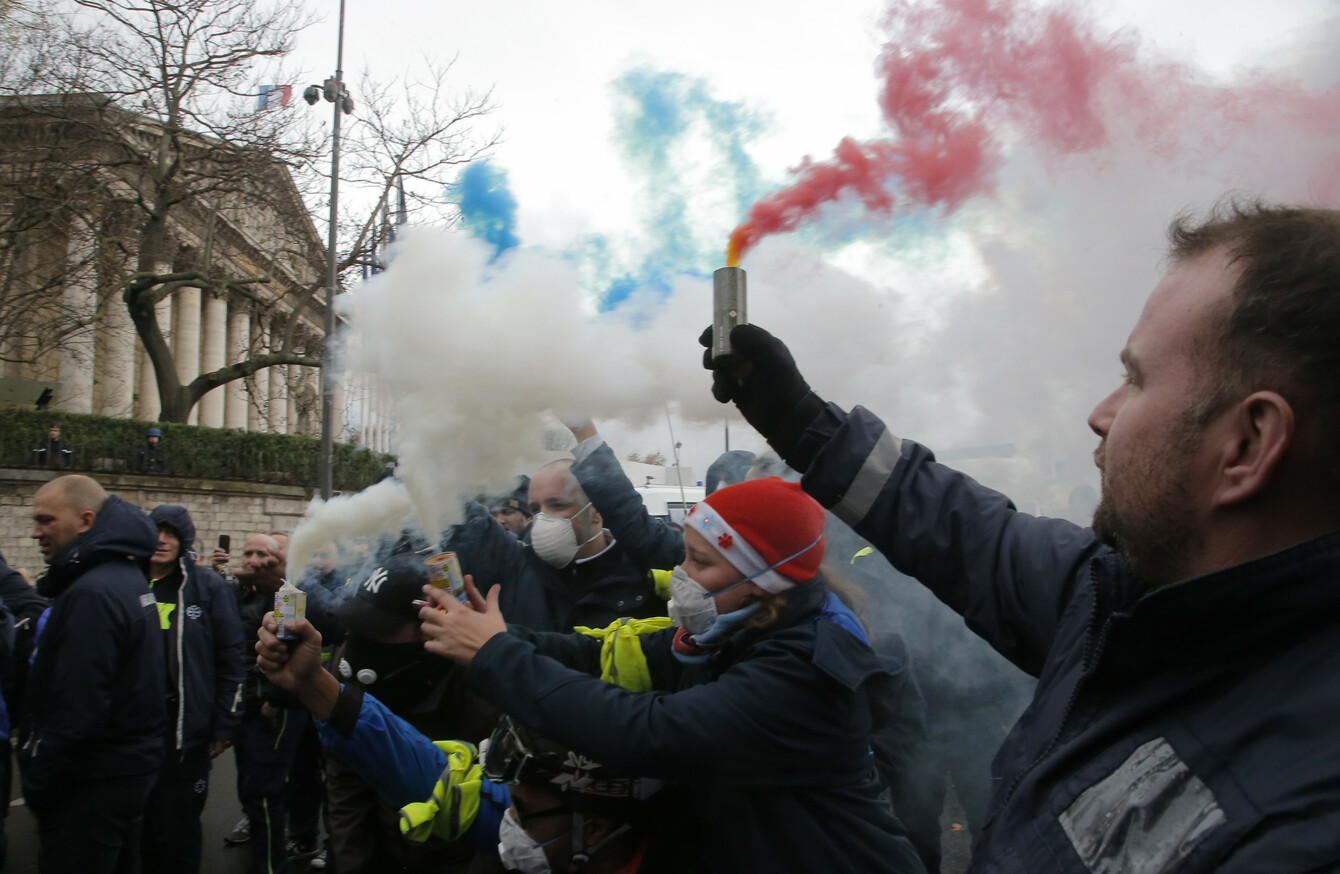 Image: Michel Euler/PA images
Image: Michel Euler/PA images
AS A FRENCH native living in Ireland for the last twelve years, I feel the information that Irish people are getting about the situation in France is incorrect or biased.
According to Irish newspapers, the root cause of the problems is Macron's politics as well as the planned increases on tax on petrol. But there is much more to the story than that.
The French people have endured consistent and cumulative cuts to living standards over the course of the last twenty years. The French are a practical people and they tightened their belts as much as they could until eventually they found they could no longer survive. 
What the government is doing to the citizens is the proper way to boil a frog.
If you throw a frog in boiling water it will jump out for sure. But if you leave the frog in cold water and turn up the heat gradually it will stay there not realising it is being boiled until it is too late.
It is nearly too late now for the majority of French citizens. This is a country where working hard is not enough to provide a basic living.
My experience, like that of many other people around me, was that we had to cut out nearly everything. Restaurants and nights out became a rare occasion, instead inviting friends to your home for food and drinks is so much cheaper.
Flowers for your wife? Forget about that – it's too expensive. Toys for the kids? Wait for Christmas and so on. It is a frugal life, watching every penny.
From my experience, even with qualifications and a 'good job' I had to work two part-time jobs, just to make it to the end of the month. Most French people are paid monthly and a famous French comedian named Coluche once said: "The end of the month is difficult, especially the last thirty days."
It's difficult to work in a country where your wages are just enough to cover your expenses. You wonder what is the point of it all if you can't earn enough to feed your family?
Food Poverty
Today there are so many people who are working but can't afford the basics, like housing and food.
This is a country where one soup kitchen charity, Les Restos du Coeur, has 2,000 outlets. In one year between 2016 and 2017, they handed out 136 million meals to approximately 1 million people including 30,000 babies.
And that is just one charity providing meals, there are many others. The fact is that one in five French people cannot afford three meals a day. That's embarrassing.
The poverty threshold in France was set at €1,026 per month in 2016 and in that year there were 8.8 million living in France living on less than that. That is 14% of the total population.
I could keep talking all day long about all the social violence perpetrated by the government against the vast majority of French citizens. New taxes, increased taxes, taxes for all except the rich, but the time for talk is over – now it is time for action.
Violent Protest
Macron rejects the violence seen last weekend in Paris and throughout the whole country. But who threw the first stone? Not you Macron, you threw the last one.
The first stone was delivered by your predecessors: Mitterand, Chirac, Sarkozy, Hollande. You are just one in a long line of presidents who spits on their citizens, who forgets he must serve the population and not the opposite.
Most protestors condemned the violence, but if you look closer you will notice that violence is the result of 30 years of political abuse. The government created this monster.  You cannot poke a bear forever and expect him to be quiet.
The violence is a response to the frustration endured by the French people and if people are burning cars or throwing objects at the riot police, then that shows the level of frustration they feel.
#Open journalism No news is bad news Support The Journal

Your contributions will help us continue to deliver the stories that are important to you

Support us now
The fact that some of the people involved in the violence had never committed any criminal act before they were caught doing this shows that people are getting desperate. 
The Final Straw
Macron says he wants to go green.
French people love their country and they are respectful of nature, of course they understand the importance of reducing pollution. But how can people buy an electric car when they can barely change the tyres on the car they have?
The increase in petrol tax has become a central sticking point, but what all of this is really about is the fact that the purchasing power of the majority of the population is collapsing – while the richest have never been so rich. 
France is a great country to go on holidays, to enjoy good wine, fine food and beautiful landscapes but it is a different place when you have to live and work there.
Now is the time to stand up to the government, once and for all. For the sake of future generations, we cannot allow our living standards to be eroded any further. 
Renaud Beranger is a French citizen from the Alps region who lives in the Midlands now with his family of five.