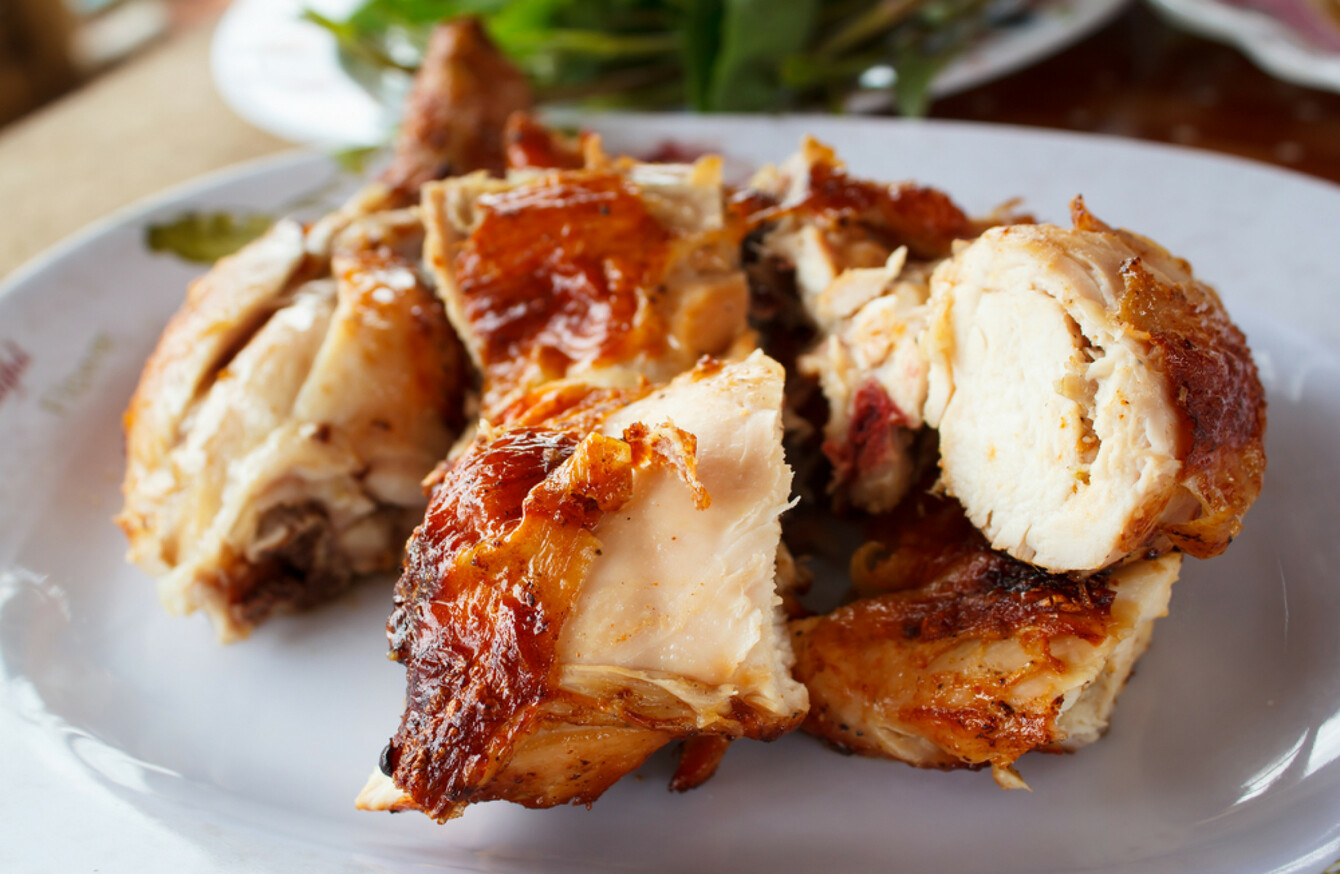 Image: Shutterstock/Tachjang
Image: Shutterstock/Tachjang
IT'S NIGH ON impossible to cook a Sunday roast without ending up with heaps of leftovers, be it extra portions of veggies or that third helping of chicken nobody had room for.
If you're like me, you'll intentionally make more than you need, to ensure there's enough for lunch or dinner the next day. As a huge fan of roast chicken, sometimes I look forward to the leftovers even more than the roast itself.
Economically, it is much more cost effective, too. Buying a whole chicken and cooking it all at once costs far less than individual cuts cooked throughout the week.
If you do find yourself with a Tupperware container full of leftover chicken, here are the recipes that'll see you through.
1. Vietnamese spring rolls
These are so simple to make, and taste deliciously fresh. Get a strong leaf like butterhead lettuce or cabbage, and fill with cooked rice noodles, shredded carrot, chicken, lime, chilli and herbs. Wrap everything in the leaf (or make lettuce 'cups' with romaine lettuce). Enjoy with some soy or sweet chilli dipping sauce.
2. Chicken pasta bake
Once you have chicken to hand, this one's easy to pull together. To start, fry some onion and garlic in a pan, add a tin of tomatoes, a cup of chicken stock and some veggies. I love a hint of creaminess so at this stage I like to stir in a spoonful of creme fraiche or cream cheese if I have it in the fridge. Add cooked chicken, cooked pasta and transfer to a baking dish. Top with grated cheese and once baked, serve with some crusty french bread. A definite crowd pleaser!
3. Chicken stock
No leftover meat from your roast? There's no need to throw away the carcass just yet. Chicken stock forms a flavoursome base for plenty of everyday meals (like the noodle soup and risotto mentioned below). To make a stock, simmer the chicken carcass in water with onion, herbs, carrots, celery and seasoning on a low heat for about four hours.
4. Chicken noodle soup
There are fewer things more comforting than a big bowl of steaming chicken broth – and it's a great way to use up chicken bones too. Put the chicken carcass along with any leftover meat into a pot and add some water, chopped garlic and grated ginger. Bring to the boil and add in some veggies -like shaved carrots, chilli, peppers or mushrooms – and cook for a further 10 minutes. Remove the carcass, and add a dash of soy sauce and some noodles.
5. Chicken and asparagus risotto
Creamy, warming and full of flavour, risotto is perfect comfort food – but it takes a little stovetop TLC. Start off by softening chopped shallots or onions and garlic in some butter. Add in arborio rice and stir, followed by a glass of white wine and a large spoonful of hot chicken stock. From there, constantly stir and periodically top up with hot stock until the rice is cooked through (about 20 minutes). When the rice is almost cooked, add your roast chicken and chopped asparagus. Finish with a grating of Parmesan.