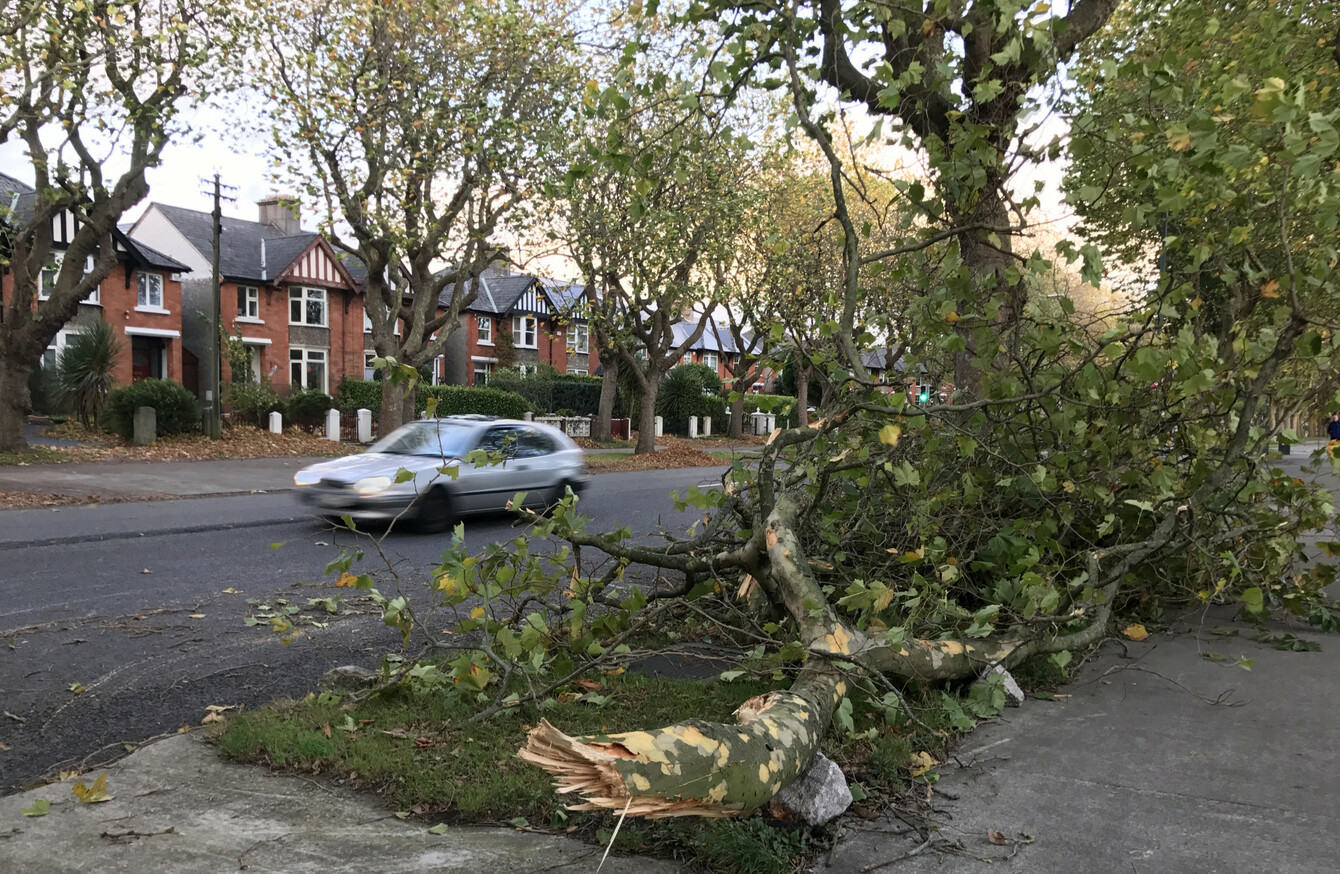 Image: RollingNews.ie
Image: RollingNews.ie
EMPLOYERS IN THE private sector may have to set out specific policy for their employees as to what to do in the event of a red alert weather warning.
The measure, which could come into effect next year, comes after there was widespread confusion among workers and employers during Storm Ophelia last month as to whether people should travel to work after Met Eireann issued its highest warning.
The widow of a young father who died while driving home during Storm Ophelia has written to Oireachtas members in Louth, where the family lived with their two children, saying a set of such regulations are needed to remove the confusion for employers about whether staff need to come into work during a severe storm.
Pamela Goss' husband, Fintan Goss died when he was driving home from work during Storm Ophelia when a tree fell on his car.
Housing Minister Eoghan Murphy told the Sean O'Rourke programme on RTE Radio One yesterday that they could have offered clearer guidance to the public.
'Lessons learned'
"In December I will have a report on lessons learned and part of that report will talk about how we can work with private enterprise to make sure they have actions in place for when a status red alert occurs.
"Now we were very clear on that day, the message was stay indoors as this storm passes you. In some parts of the country it only passed for a very brief period of time," he said, adding:
Businesses have different ways of working today and we feel it is for the businesses to decide what is in the best interests of the safety of their employees.
It's understood the new report will not recommend that the government instruct all private businesses to close during a red weather alert, with one source stating that the "government is not in the business of directing companies to shut down".
By doing so, the government could be held liable for any losses incurred by giving such an instruction.
Instead, it is envisaged the report will recommend that all companies in the private sector will have to draft a standardised policy as to what their employees must do in the event of a red warning weather alert or disaster, and specifically deal with whether employees should turn up for work.
The specifics as to what each business does in the case of such an event will be up to the company to decide.
However one well-placed government source said each employer has a duty of care to their employees and that should be reflected in the policy drawn up for each company.
Red alert
TD Peter Fitzpatrick said the Goss family have many questions about what happened on the day in question, such as – what are the rules or guidance for employers in respect of dangers during a status red weather warning? What guidelines were issued to employers, the self-employed and those working in the public sector.
"Much has been made of the correct decision to close every school in the country in the interests of safety. However, there was widespread confusion before, during and after Storm Ophelia as to the position regarding private sector employers and other parts of the public sector," Fitzpatrick told the Dáil this week.
Taoiseach Leo Varadkar acknowledged that there was confusion regarding what private sector businesses and self-employed persons should do during a red weather alert.
He said the report on how Ireland responded to the storm will be submitted to Cabinet in January 2018.
Fitzpatrick said that while the Taoiseach conveyed his condolences of the country and government to the Goss family, the "fine words" are of little comfort to them.
"We acknowledge that there is a shortcoming in this area from which we intend to learn. I hope we will give some clarity on this issue on which we should have an answer by January," said the Taoiseach.