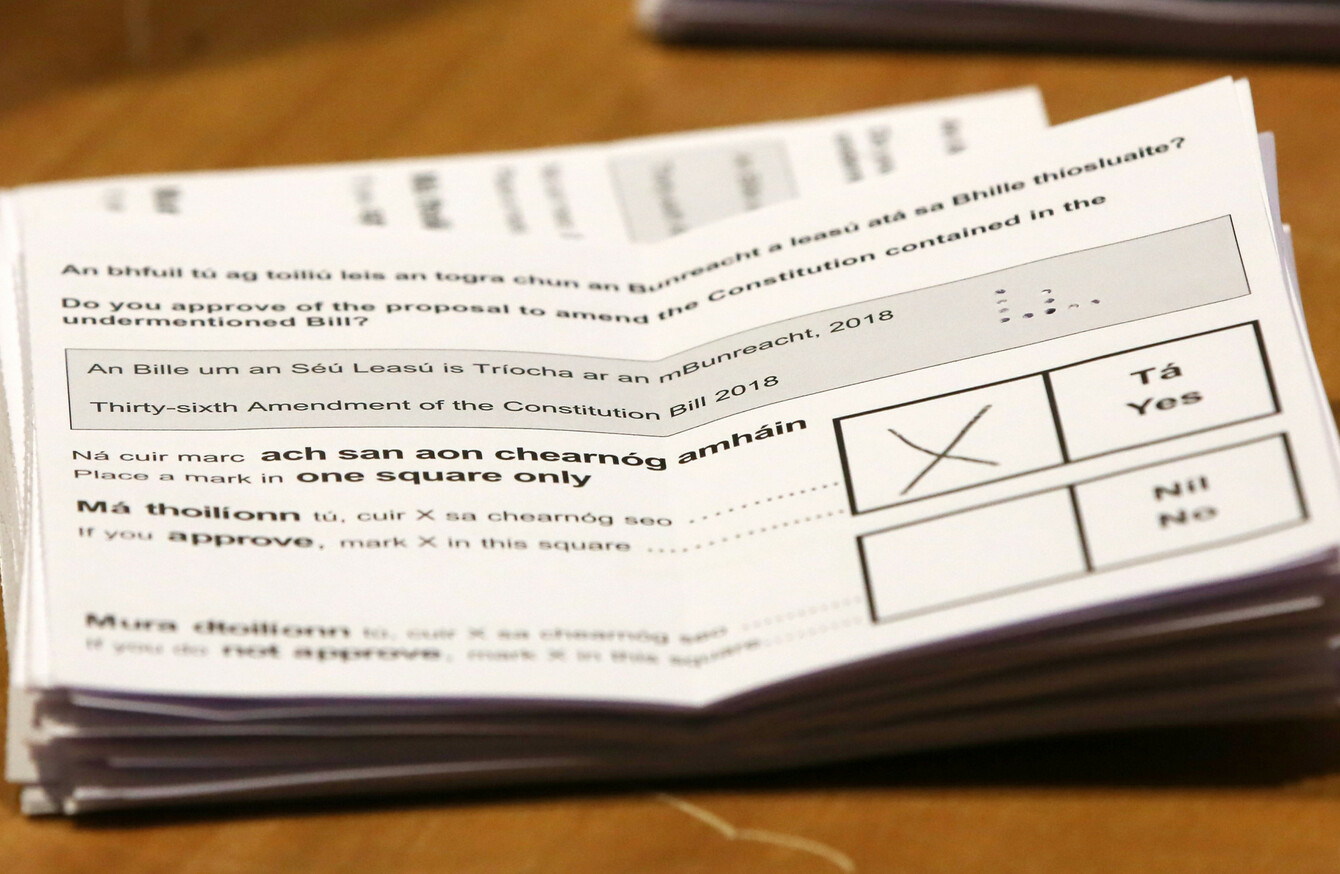 Image: Sam Boal/RollingNews.ie
Image: Sam Boal/RollingNews.ie
A GROUP OF voters who remained undecided on the Eighth Amendment referendum up until last week has told TheJournal.ie that they all voted yes – and outlined why.
Before last week's referendum, which saw 66% of voters choose to repeal the Eighth Amendment, we asked for undecided voters to get in contact.
In a follow-up series of interviews, all said that they had opted to vote Yes.
The reasons they gave varied, though nearly all voiced some concerns about abortion being widely available and availed of in Ireland.
As one woman put it:
"I'm not a fan of abortion, but I was even less of a fan of the Eighth Amendment."
One woman, Jennifer*, said that she had seen both arguments up until last Tuesday when she opted to vote for repeal.
"The Claire Byrne debate and TheJournal.ie's FactChecks were huge for me in forming my opinion.
"The main thing for me was that the No campaign wasn't offering a solution to the hard cases. I wouldn't agree with 12 weeks unrestricted, but the Yes side made their case better in the end."
Another woman, Niamh*, said that her Yes vote was in search of a compromise.
"I wasn't happy with the 12 weeks and the idea of a 12-week-old foetus being treated like medical waste didn't sit well with me, so I was trying to reach some sort of a compromise.
"I would have preferred a softer proposal, but I wasn't really confident that would happen soon if there was a No vote. It wasn't worth risking the results of a No vote.
"I found it hard because the No side were coming from an extreme place. Most of us are in the middle, but nobody was supporting the middle. I'd still have a lot of reservations, I hope there will be the proper counselling and supports for women – not just abortions.
"If I see high stats in a few years of the numbers of people having abortions, I reckon I'll regret voting Yes."
Reasons
For those undecideds, their testimony reflects that outlined in an RTÉ exit poll on voter reasoning. It found:
43% of people said it was people's personal stories that were told to the media
34% cited the experience of someone who they know
10% said posters affected how they voted
And 7% said it was through direct contact with campaigners
Mark* said that for him the issue came down to the balancing of a woman's rights against those of the unborn.
"I just felt the amendment was wrong.
"I would never consider that the unborn child had the same rights as the mother.
I know that it will allow abortion and I'm not in favour of abortion on demand, but I trust our politicians to come up with good legislation.
"What we'll have may be fairly limited."
While the level of coverage around the referendum was massive, Linda* told us that the key driver in her decision to vote Yes was hearing the personal stories of women who've had abortions. She cited the In Her Shoes Facebook page as being instrumental in forming her opinion.
What came to help me was putting myself in the shoes of someone who had a crisis pregnancy. I realised I couldn't say for sure what I would do.
"I felt it would be hypocritical to vote No.
"The more stories you heard, the more you realised that nobody was being flippant about it. It's a sad situation to be in."
*All names have been anonymised at the request of the participants